'To keep laughing is the most important thing in life.'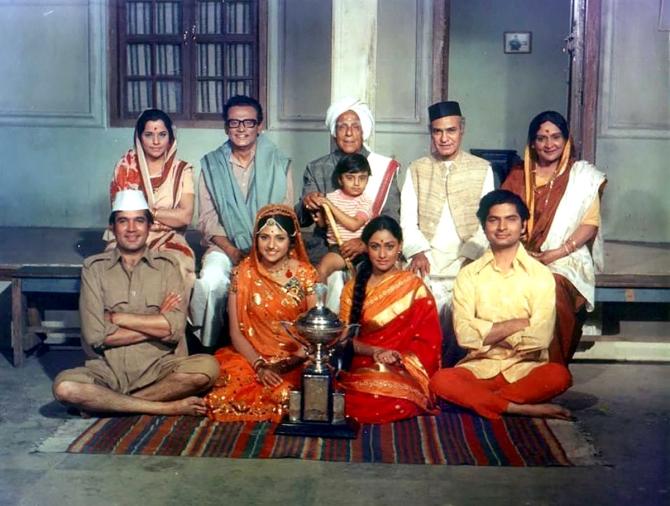 Anupam Kher tells a very interesting story about Hrishikesh Mukherjee.
"We were shooting for his last film, Jhoot Bole Kauwa Kaate. Hrishida's legs had given way, and he'd sit and direct us. I playfully asked him if all his parts had stopped working. 'No, Anupam, my most vital parts still work fine,' Hrishida had answered with a smile," Kher tells Subhash K Jha.
You just have to see Gol Maal, Khubsoorat, Bawarchi or even the lesser-known Buddha Mil Gaya, Naram Garam and Jhoothi to know how much this man enjoyed the lighter side of life.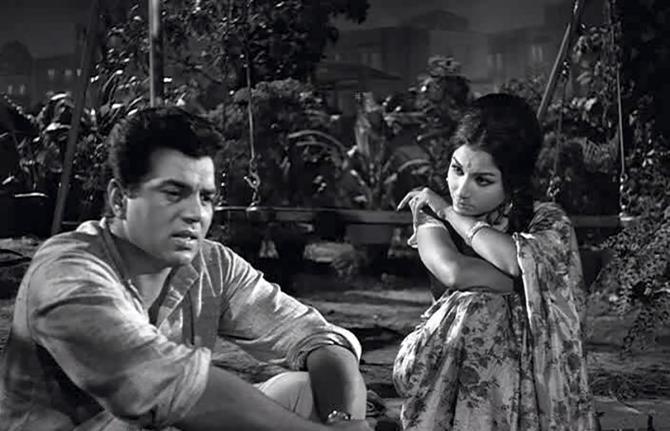 About his penchant for laughter, Hrishida once said, "To keep laughing is the most important thing in life. Our aim in life is to be happy, but we go wrong looking for happiness in transitory pleasures. You fall in love with a girl and pin your happiness on her. She dumps you."
"You produce a son and place all your dreams in him. He leaves you. Happiness shouldn't control your life. You should control happiness."
Yet, this man also directed some of life's most lingering moments of tragic pathos in Anuradha (the story of how a male ego thwarts a woman's talents. This was inspired by Kishore Kumar's marriage to his first wife Ruma Guha Thakurta) and later, its quasi-remake, Abhimaan.
Anupama -- about a man who hates his daughter when his wife dies in childbirth -- was inspired by Hrishida's uncle, who became an alcoholic after his wife died during childbirth.
Satyakam was the director's favourite work featuring his 'favourite actor and human being' Dharmendra.
Anand -- based on Hrishida's intense friendship with Raj Kapoor -- featured Amitabh Bachchan as Hrishida and Rajesh Khanna as Raj Kapoor.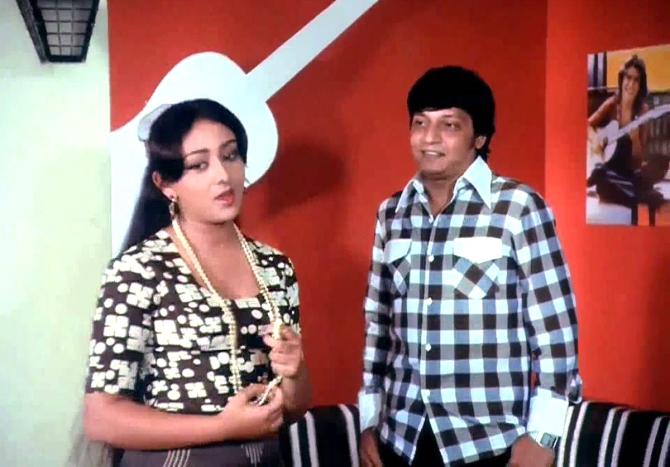 Before he moved to hospital two months before his death, Hrishida was bedridden for close to two years.
But the spirit never flagged.
This writer's last conversation with Hrishida had him imploring him to visit him: 'Beta, come and see me soon. I'm just counting my days now.'
When I visited a few years before that, Hrishida had moved into a high-rise in Bandra (north west Mumbai), just next to where his bungalow used to be.
There he sat with his arthritis and memories, trying to cope with both. His living room had only one picture, that of Lata Mangeshkar.
"People call her a reincarnation of Saraswati Mata. I call her Saraswati. Beta, do you know this is where Lata and I sat with composers like Sachin Dev Burman and Rahul Dev Burman and Salil Choudhury to compose those gems in Abhimaan, Jurmana and Anand?" he had said.
He then revealed an unknown facet of Lataji's personality: "Do you know she doesn't charge a single paisa for any of the songs that she sings for me? She once made a mistake while singing one of my songs, Ik Baat Kahoon for RD Burman in Gol Maal. I had my answer ready for people who asked why I allowed Lata to sing wrongly. 'A wrong Lata is worth more than all the right singers in the industry.'"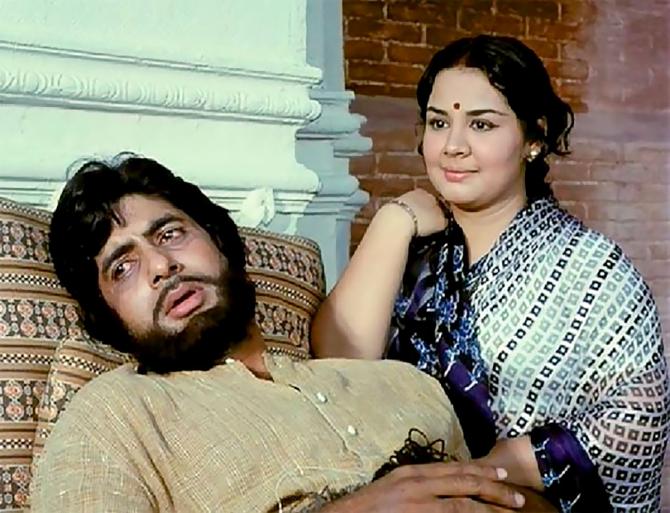 Simi Garewal once recalled how he spent hours playing chess with her during the shooting of Namak Haraam.
"What an erudite and entertaining film-maker. I learnt so much from him," she had said.
Hrishida loved his actors. From Ashok Kumar, who was a permanent fixture in a majority of his films, to Rajesh Khanna, whom Hrishida affectionately called Pintu Baba, to Rekha (for whom he had a special Tamilian term of affection Chinnapunnu, which means youngest daughter), Jaya Bhaduri and Sharmila Tagore.
Hrishida's well-wishers wanted him to sign Nutan for Anupama.
"How can Sharmila play the demure repressed character when she's busy running around in a bikini in An Evening In Paris? But I knew she had the expressive eyes for it," Hrishida told me.
Jaya and Amitabh were Hrishida's favourites. AB went to Hrishida to say he was marrying Jaya.
Recalled Hrishida, "I told Jaya I'll be attending her marriage from my son Amitabh's side."
He was very unhappy with the kind of work AB did in the 1980s.
"Many directors reduced him to a stuntman. Some people thought I had blundered badly by making Amit sing classical songs in Alaap when he was holding guns and booze bottles."
Alaap was made during the Emergency.
"It was a depressing film because I was very depressed. I thought it was the end of my life. I couldn't believe Mrs Gandhi had become such a dictator."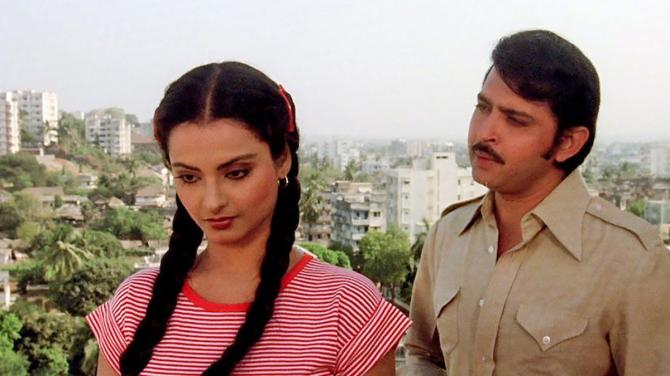 To snap out of that mood, Hrishida made the comedy, Khubsoorat.
He went from the grim directorial debut of Musafir to the happy Biwi Aur Makaan from the dark Majhli Didi and Satyakam to the frothy Guddi and Chupke Chupke, from the nifty Naram Garam to the elegiac Jurmana and Bemisal...
Hrishida said, "I'm an agnostic. I believe my conscience is my God. But having said that, we're all creatures of moods. At times, you want to cry, at other times you want to laugh your head off. Critics ask me why I always have a death scene. I'll tell you why. Death is the ultimate truth. Deven Varma once observed, Sabse Bada Sukh was my only film where no one died. I told Deven he was wrong. It flopped so miserably that it killed the distributors."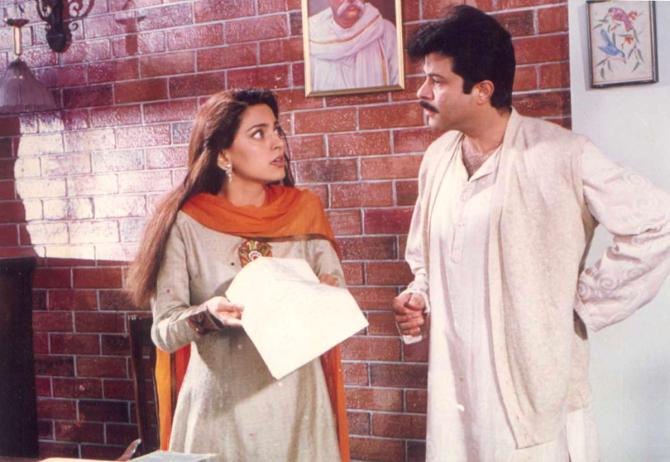 Hrishida had lamented on the quality of present day cinema.
"Everyone is stealing stories from laser discs. I confess I'm guilty of making potboilers like Do Dil and Asli Naqli. That's because I had a unit and their family to maintain."
"I am aware my talent is severely restricted. I can never make a film like Satyajit Ray. I console myself with the thought that I've made decent films on family values which have touched people's hearts. I've made films which have recovered their investments and fed my unit."
After his last film, Jhooth Bole Kauwa Kaate, Hrishida was planning to adapt a short story called The Dressing Table written by composer Salil Choudhury.
What Hrishida loved about the story was its quaint old-world values.
"It talks about the value of a letter at a time when people are sending e-mails to one another."