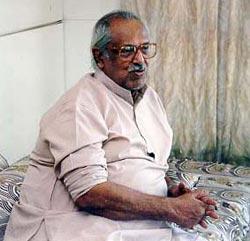 On Hrishikesh Mukherjee's 91st birth anniversary on September 30, we bring back excerpts from a Rediff interview with the brilliant filmmaker, just after the release of his last film, Jhoot Bole Kauwa Kate. The interview was first published on rediff.com in December 1998. Read on:

He is 77 years old. And has two artificial kneecaps. Which stops Hrishikesh Mukherjee from being very active these days. Age and infirmity though have not deterred his zest for film-making. Even though Jhoot Bole Kauva Kaateis his first film in ten years, Hrishida -- as he is known respectfully throughout the film industry -- seems almost casual about this week's release of his latest film.

Hrishida has always made films with small budgets and the family at its core, films which have often hit the bull's eye at the box office. Films like Musafir with Dilip Kumar, Anupama and Satyakam with Dharmendra and Sharmila Tagore, Ashirwad with Ashok Kumar, Anand and Bawarchi with Rajesh Khanna, Guddi with Jaya Bhaduri, Abhimaan and Mili with Amitabh and Jaya Bachchan, Chupke Chupke with Dharmendra, Sharmila Tagore, Amitabh and Jaya Bachchan, Khubsoorat with Rekha and Golmaal with Amol Palekar.

Abruptly in the late eighties, Hrishida stopped making films. With the changing tastes and times, he didn't want to make films which people might not like. He moved to television for a while, directing 84 episodes.

What brought him back to the movies was the dream run films like Golmaal, Chupke Chupke and Khubsoorat had on the satellite television channels. Producers began to pester him to return to the sets. Convincing him took the best part of two years, and Polygram finally signed him on to make Jhoot Bole.

Hrishida never formally learned film-making. His dream of wanting to be a cinematographer led him to become a laboratory assistant. He went on to edit films for Bimal Roy, at whose instance he moved from Calcutta to Bombay in the early fifties. He edited all of Roy's films tillMadhumati, after which he decided to direct his first film at good friend Dilip Kumar's behest.

Hrishida says Jhoot Bole... is a comedy, but the treatment is different. "It is very simple to be happy," he adds, "but it is so difficult to be simple."

Despite ill health, Hrishida took time off to speak with Sharmila Taliculam.

You have always worked with dedicated, serious actors. What do you think about actors today?

I have made lots of comedies apart from serious films. I have worked with brilliant artistes. But today such films are not being made. The actors then were great performers.

Look at the performances of Dilip Kumar or Raj Kapoor. They were so effortless and entertaining. I have always worked with good artistes even when I made serials.

Anil Kapoor and Juhi Chawla are brilliant artistes and I have no complaints about them. I liked Anil in Viraasat. Juhi has performed extremely well in my film (Jhoot Bole Kauwa Kate).

My film is a situational comedy. It is a comedy, not slapstick. So I needed good artistes. They (Anil and Juhi) are fantastic artistes. The only thing is that film-making is so costly these days. People are not geared to do good, serious films.

How is that?
Growing consumerism demands expensive entertainment. I think the audiences are to be blamed too. Otherwise, we still make films like Hazaar Chaurasi Ki Maa, but they are for very select audiences.
In my time I used get back the money invested in the film. They may not have been superhits, but they were hits. I was sure I would not lose money on a film.
I used to make films for Rs 6 lakhs or Rs 7 lakhs (Rs 600,000 or Rs 700,000). Today the negative alone will cost Rs 10 lakhs (a million rupees). Forget the artistes, sets, the camera and such things. There are a lot of restrictions for a film-maker these days.
I think somebody famous once said that till the price of raw materials comes down to the level of paper and pencil, it's very difficult for films to survive as an art form.
How have you adapted to the changing trends?
I have always adapted to the changing trends. I have moved with the tide, always. I have been in the industry for 53 years now. Since 1945.
I made my first film in 1956 (Musafir). I joined New Theatres as a laboratory assistant. Then I started editing and then started writing scripts. But I was always flowing with the tide. There was no question of adapting to anything.
How did you come to the industry?
I was a teacher of mathematics and science. I had majored in chemistry and I wanted to be a cameraman. I was told to join as a laboratory assistant first. I did that. I would help the editor sometimes in my spare time. He was a friend.
I would give my opinions and suggestion about various scenes and that impressed Bimal Roy who was directing a film. He asked me to edit his film, but I was a little apprehensive.
I told him I had been editing for only two to three months and asked him if he had the confidence in me. He was a man of few words. He just told me he wouldn't have asked if he didn't have the confidence.
He asked me to take the permission of (New Theatre owner) B N Sircar. I did that. That's how I became an editor, with the film Tathapi. It was a big success.
Then I quit because I wanted to continue studying. At that time, Bimalda came to Bombay and asked me to accompany him. I accepted and did all his films till Madhumati.
Is that how you made your first film with Salil Choudhary and Ritwik Ghatak? They were also involved in Madhumati...
I was instrumental in getting Salil Choudhary here to Bombay. We did Do Bigha Zameen together. We were childhood friends. I was always approached to make films while I was editing. But I didn't want to do it then. It was Dilip Kumar who convinced me to make a film finally.
During the shooting of Madhumati, he would come to me and we would talk about a lot of things. Once he told me I should write and direct a film about a man, who would be the main character in the film, and a house where people came, lived and left. Only the house remained, with the memories. The subject should deal with three things. Birth, marriage and death.
I told him with a subject like that it would definitely be a flop. Dilip assured me he would work in the film if I wrote it. And that's how I made Musafir. The film had three interwoven stories.
Was directing easy for the successful editor that you had become by then?
Editing and directing a film are two different things. I think.
The editor keeps the tempo of a film going, but a good director doesn't necessarily have to be a good editor.
Bimalda was a cameraman. He never edited films. But he was a good director. There are many like that. It certainly helps if you are a good editor since you keep the film interesting that way by maintaining a certain pace. But it is not necessary.
Did you always want to be a film-maker?
I wanted to be a biochemist and I became a film-maker. That's my fate.
I was interested in plant life and wanted to study and teach it. But in a country like India you have little choice.
Go wherever you are pushed by your fate. Mine got me to this industry.
I have never regretted it. I believe one shouldn't waste time regretting things. Whatever one gets, one should make the best use of that and make it successful.
We had a tradition of science in my family since my father was a student of chemistry too. He stood first class first in his college, St Xaviers, Calcutta.
So I took the same subject. And since you have very little control over your fate, I came to this industry.
From the laboratory, I became a well-known editor and then I wrote my first script for Bimalda which was Do Bigha Zameen, and then went on to direct a film too.
My first film got the Gold Medal, the second got the Silver Medal. It was a meteoric rise and it was difficult to come back to your original plans since I enjoyed doing what I was doing. I was successful too. So I stayed on.
You have also worked with great actors. Have you at any point faced any problems with them?
I have worked with lots of stars. All superstars because they were popular and very successful too. Raj Kapoor, Dilip Kumar, Balraj Sahni, Sunil Dutt, Rajesh Khanna, Amitabh Bachchan. Lots of them. You name them -- I have worked with them.
I don't think anybody has worked with so many stars. I never faced any problems with anybody. Or how could I make so many films? I was very fortunate. I got their full co-operation while making those films.
I made maximum number of films with Amitabh. About seven of them. And with Rajesh Khanna I made four, I think. If I had any problems with these stars, I wouldn't have repeated them.
Why is that you always make simple family socials?
I am a simple man and I make films that I live. Maybe that is why they are called family socials. Middle class is the class I know and I always wove stories around the middle class.
I am born in a middle class family and all my friends have middle class values. My attitude towards everybody is that way too. And most of my films have my scripts.
How did you manage to get the actors right for the characters in your films?
One can be very good at what one does. But specialisation is a different thing. You can call a mason an artisan, but it is the architect who knows what his building should look like. He doesn't have the skills of the mason.
Satyajit Ray got artistes who had never seen a camera. But they gave him what he wanted.
I have a character in mind and I mould my actor into that character. How did I make Amitabh into the main character in Anand?
He was the main character because he is there throughout the film and through him, we get to know the story. Rajesh Khanna was the second main character. I just had to look at Amitabh to know that he was right for the role. People have their limitations. Sachin Tendulkar is the most brilliant cricketer I have seen, but can he sing a song? Everybody does what they are best at and this is my observation of life.
What about audiences these days? They like something of everything. Like violence, sex, romance, dances...
I don't think we can make a film with the audience in mind always. It doesn't work that way at all. Something is making you very indignant and you want to convey that to the audience.
I read this book called Satyakam and I felt that indignation. I felt there should be no corruption when Independence comes. There should be honesty and this country should be beautiful.
But we find there is more corruption and the politicians are not patriotic at all. They are fighting amongst themselves. They don't care about the freedom of the country. That indignation was there within me. I made that film because of my feelings. It was a serious film and it didn't do well. That was my destiny.
Then I heard about a short story about this girl who suffered a kind of anemia. And she is going to die as a result. But she falls in love and wants to live too. So I made Mili. But since the audience wouldn't understand the kind of the disease I would mention I made it simple with leukemia. Then Golmaal and Khubsoorat were made when I felt that I should make a comedy.
One should have freedom to do what they want, but then isn't a little discipline good too? Look at the tantriks. To attain freedom, how much discipline they go through. If you convey what you feel, then you are successful.
I have my level of people, my generation who I explain these things to. I might not strike a chord with the front benchers maybe, but the middle class appreciates my films.
How did you meet Ritwik Ghatak?
Ritwik was a friend. I have never worked with him as such. He just helped me with my first film. We had a circle of friends who would discuss films everyday.
Ritwik, Mrinal (Sen), Bijon Bhattacharjee, Salil (Choudhary), Utpal (Dutt), myself. We were one group. Then I came to Bombay, Mrinal went to Kanpur and we got busy with our lives. We made films of our types. That's it.
You have worked with Bimal Roy too. What was he like as a person?
Bimal Roy is my film father. I have learnt from him. He was a man of tremendous sincerity. I have never seen him talking to a friend, going to a cinema or a party.
Twenty-four hours he would think of films. And he had so much confidence in himself that he would take a newcomer like me and make an editor out of him.
All the people he took under his wings are great artistes today. He had a tremendous knowledge and grasp of the medium. He was a very open minded man. He made me an editor and also a scriptwriter. He suggested I should write the script of Do Bigha Zameen. The story was Salil's and I wrote it.
How did you come about editing Ramu Kariat's Malayalam classic, Chemmeen?
Ramu was a good friend and he had shot Chemmeen. He had shot quite a bit and he didn't know what to do. He came to me and showed me what he had done and told me to edit it. He had shot the book page by page and there was a lot of material that wasn't required.
He left it to me to do what I wanted. So I shot a scene of waves crashing against the rocks since this was a film about a fishing village. This scene was then used to bridge two scenes that would have jarred if put one after another.
I have done many things like that to help friends. They had the confidence in me. And I am grateful to them that they found my suggestions important. That was my job. I was assisting, that's all.
How do you visualise scenes when you edited them?

There is a lot of imagination involved in making a film. Especially, if you are an editor too.
In Do Bigha Zameen, there is a rickshaw accident and when I wrote the script, I had imagined the camera following the wheel and people screaming and shouting. Then the next scene was in the night when the boy enters his house and asks his mother about the father.
There was something not right there. I shot the scene and I edited too, but I was not happy. The anxiety of the audience was not there and I thought why not transfer it to the child?
So what did I do? The moment the accident happens, I cut to a night scene and bang, the door flies open and the child enters, asking about his father.
Many advised that I should not cut a day scene directly to a night scene. But I was sure I did the right thing. It was perfect. One has to think about a scene this way, there is no doubt about that.
Even for Jhoot Bole I wanted to improvise a scene and I told Juhi about it. She liked it so much she wanted to re-shoot the scene again. I refused. But I will keep that in mind and maybe use it somewhere else.
Have you ever had formal training in film-making?
There were no schools those days. We had to learn hands on. For me, Bimalda was the best institution I could ever hope to get. Also B N Sircar.
We learnt everything from the old masters by observing them constantly. That is why, though we friends had one mind about things, we still made films of our type. There was not much similarity in our films.
Of course, if I had been in Calcutta, I would have made those kinds of films. Because in Bombay there is such a cosmopolitan set-up, I made films, which had that flavour.
In a Bengali film, one wears a dhoti and kurta, in the south they wear a vesti and in the north a kurta-pajama. The culture has to be maintained.
Is that how you gave that distinct look to your characters in Anand?
In Anand, one was a Bengali and one was a Punjabi. So it was clear what they had to look like. I got the idea to make this film after I became friends with Raj Kapoor.
In fact it is a kind of biography. I wrote Anand when Raj Kapoor was not well. He was suffering from a pulse problem, but he still managed to smile and spread happiness around. I used to think if something happens to him, what will happen to me? We all were worried about him and he would be smiling always. The same way Amitabh would worry and Rajesh would brush it off.
Have you ever re-shot an entire scene after editing it?
Only once have I re-shot a whole scene after editing it. But I don't do it otherwise. Not because I can't afford it. I was producing my own films then and I could have done anything I wanted. But I had confidence that I could do it at the shooting itself. I didn't need to re-shoot them again. I made Anand in 30 days and I was confident of what I shot.
Rajesh Khanna didn't give you any trouble, such was his reputation then?
No he didn't. He gave me the required dates and shot through. He didn't give me any trouble at all. I used to call him Pintu Baba. I give nicknames to everyone. I call Amitabh 'Maharaj'.
You must have your favourite actors and actresses though.
I can tell you of my favourite actress. Durgabai (Durga Khote). She was a brilliant lady and she was there in most of my films too. I had this feeling that with Durgabai in my film, it has to be successful. I considered her very lucky for me. It was her blessing.
Another actor I liked was Deven Verma. He always had a very joyful face. I liked his laugh very much. And Utpal Dutt. I almost stopped making films after his death. He was a very learned man and very close to me.
I like to laugh a lot. Sometimes I get indignant and then I make films like Satyakam. They are hardly anything to laugh about. They are very serious subjects. But mostly I want to laugh and make people laugh too. Even Jhoot Bole. Don't expect my film to be very poignant at all. It's a very simple film.