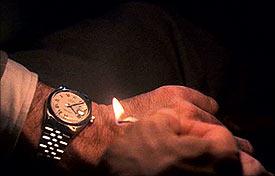 New York City's Museum of Modern Art (MoMA) showcased The Clock, a meticulous effort showing clocks and watches from thousands of films from the last 100 years of cinema.

It is 7.45 am when young Billy Kramer wakes up to go the toilet. And then as is his habit he walks to his parents' bedroom. But this time something is different.

"Where's mom?" he asks, shaking his father Ted Kramer (Dustin Hoffman) who is sprawled on his bed in work clothes from the day before. Anyone who has seen this opening section of Robert Benton's Oscar winning masterpiece Kramer vs Kramer will remember that at night Billy's mother Joanna (Meryl Streep) had walked out of her home and her marriage.

"What time is it?" a startled Ted asks Billy. The little boy checks the watch on his father's wrist and says: "The little hand is on seven and the big hand is on nine. Where's mommy?"

I watched the brief classic segment exactly at 7.45 am on Sunday morning at New York City's Museum of Modern Art (MoMA). That sequence and thousands of others are part of a remarkable video installation - The Clock, a meticulous, detailed effort by the Swiss-American artist Christian Marclay.

Winner of the Golden Lion award at the 2011 Venice Biennale, The Clock takes clips with references to time or showing clocks and watches, from thousands of films from the last 100 years of cinema. The fascinating piece of film montage unfolds in real time over a period of 24-hour. So for instance, at midnight the specific clips would relate to that time.

The Clock, a special treat for film fans and others, is packed with scenes of people waking up, going to sleep, families having meals, car chases, hospital emergency wards, bank heists, shootouts, dramas, and comedies.

The installation played at MoMA for a month -- January 21 was the last day -- and as expected the lines got long over the weekend. There was a two-hour wait on Saturday at 3 pm. So I decided to come very early on Sunday, since the show was playing round-the-clock over the weekend.

It was tough waking up early in the morning, but I was ready for an adventure. By the time I reached MoMA, it was 7.30 am and to my delight there was no line. "There was a one-hour wait at 3 am," the two ushers informed me, validating my belief that New Yorkers are from a totally different planet.

It took me a few minutes to find my bearings. The couches were full, so I had to stand at the back. And clips kept pouring in -- some I recognized and they took me back to the times I watched the particular films, others unfamiliar. But they were all fascinating and gripping. It was like visiting the history of cinema (well, mostly Hollywood and some European films) on a shuffle mode, expect that they followed a time sequence.

One of the first clips that registered in my mind was from Kramer vs. Kramer. But just about the same time I caught a glimpse of a creepy Robin Williams from the disturbing 2002 film One Hour Photo. The time registered on a digital clock in that shot was also 7.45 am. Immediately after that I saw a couple of clips of Peter Sellers, playing the lovable Chauncey Gardner, leaving his home in the morning in the 1979 comedy Being There. Also at the 7.45 slot , we saw a quick clip of Charlie Sheen as Bud Fox in Wall Street,
standing across from Central Park looking in the direction of Fifth Avenue.
Closer to 8 am we saw clips of kids waking up, rushing through breakfast, heading to school and commuters waiting for trains, including a shot of Leonardo DiCaprio waiting for the train on a crowded platform in
Revolutionary Road
(2008). At 8 am in
Mary Poppins
(1964) the father of Jane and Michael Banks (his name in the film is Mr. Banks) gets up from his breakfast to interview a bunch of nannies who have lined up outside their house.
In this lot there were two clips from
Cold Creek Manor,
the 2003 thriller by Mike Figgis with a harried Dennis Quaid getting his kids ready for school while the mother played by Sharon Stone, is on a business trip.
I also saw two clips from the cult classic
Arizona Dream
(1992) by the Serbian master Emir Kusturica with Johnny Depp and Lili Taylor. The second is a fun scene ending with Taylor throwing a pitcher of milk at the Depp.
Arizona Dream
is one of the inspirations for Vishal Bhardwaj's
Matru Ki Bijlee Ka Mandola.
Real and reel time passed and I managed to get comfortable on a couch at the back of the screening room. At 9.05 am we watched a long segment of Tom Cruise driving around Dakota House and the Upper West Side of Manhattan in the muddled 2001 film
Vanilla Sky
. Those scenes were interspersed with others, including the hilarious classic moment from
Five Easy Pieces
with Jack Nicholson ordering his breakfast in a diner.
And this was followed by Mia Farrow, as Rosemary Woodhouse in Roman Polanski's
Rosemary's Baby
(1968), waking up from what seemed liked a nightmare, until she notices scratches on her naked back. That scene – also set in Manhattan's landmark Dakota House building, includes her creepy husband Guy (John Cassavetes), who promises that he had recently cut his nails and so those scratches were not his doing.
Exactly and hour later at 10.05 am, we were thrown into what seemed like another universe of films, as Carrie Bradshaw (Sarah Jessica Parker) and Mr. Big (Chris Noth) say their wows in the New York City Hall in
Sex and the City: The Movie
(2008).
By 10.30 am I had been in the theater for three hours. I was still riveted by the clips, images of stars and the stamp of time. But I was also getting hungry and so I took the difficult decision of leaving the theater, which also meant losing my comfortable spot on the couch.
But before I headed out, I saw two remarkable clips from my favorite films -- the young Antoine Doinel (Jean-Pierre Léaud) running on the beach in the last seen from François Truffaut's
The 400 Blows
(1959); and then the young Flora McGarth (Anna Paquin in her Oscar winning performance) doing cartwheels on a beach in Jane Campion's
The Piano
(1993).
As I walked out a little after 10.30 am, I saw nearly 200 people lined up outside the screening room. An usher informed me the approximate waiting time on the line was two and a half hours. I felt good about my decision of waking up so early on a Sunday morning.