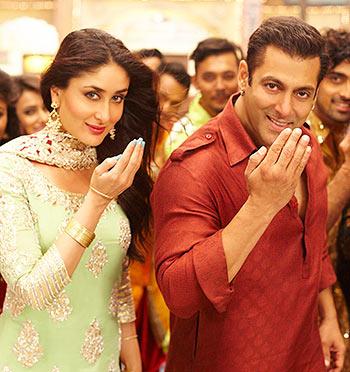 Are the National Awards bending over backwards trying to celebrate popular cinema, simply in order to gain more relevance and eyeballs, asks Raja Sen.
After the 63rd National Film Awards were announced, two statements in the press a couple of days later took me by surprise.
Both were by people who had won awards for their films, and yet could not be more different: On one hand was Kabir Khan who had won the confoundingly (and consolingly) named award for 'the best film providing wholesome entertainment', which went to his Bajrangi Bhaijaan. He expressed his pride and declared that the National Awards were the country's only credible awards.
On the other end, Gurvinder Singh, who won the Best Punjabi Film award for his Chauthi Koot,, dismissed the awards as a complete farce while calling Baahubali, the winner of the Best Film, 'a totally crap film.'
It is peculiar to find such dramatically opposed viewpoints coming our way from two winners, but -- keeping my opinion of the individual winners out of this column -- it has to be stated that the winner's list of the National Awards does sounds a lot Filmfarier this year, with the top awards going to movies like Piku, Tanu Weds Manu Returns, Bajirao Mastani and the aforementioned Salman Khan superhit.
The Golden Lotus for the best film of the year did certainly go to the Telugu/Tamil blockbuster Baahubali, which, while not technically a Bollywood film, was by far the biggest budget production of last year.
This is a change considering the kind of cinema the awards champion.
It makes me wonder if the mainstream is really getting award-worthy -- and it certainly is, in the case of films like Piku -- or if the National Awards are themselves bending over backwards trying to celebrate popular cinema, simply in order to gain more relevance and eyeballs.
IMAGE: Priyanka Chopra and Ranveer Singh in Bajirao Mastani .
It also strikes me as odd that the jury, instead of being taken aback and impressed by one or two popular films, seems to be spreading the wealth, so to speak.
S S Rajamouli's Baahubali has been crowned Best Film, for example, but while the film has been hailed for its vision and as a gigantic visual extravaganza, the awards for Best Cinematography and Best Direction have gone to Sanjay Leela Bhansali's Bajirao Mastani.
The Best Original Screenplay award has been split between Piku and Tanu Weds Manu Returns, showing a further lack of consensus.
This is perhaps most tellingly illustrated if we consider what is the Best Hindi film.
If Bajirao Mastani has the best director, Piku has the best screenplay, Bajrangi Bhaijaan is the best wholesome entertainer, then how does the math allow the jury to crown Dum Laga Ke Haisha the Best Hindi Film?
Also, are we saying movies like Bajirao Mastani and Dum Laga Ke Haisha are not wholesome? (Whatever that means. I remember Dabangg winning that award a few years ago, so perhaps the word wholesome exists in this context only to make Salman Khan feel good.)
Or the National Awards may indeed be trying to replicate one of the myriad televised award shows where new award categories are created for everyone who shows up -- and certainly for everyone who shakes a leg. Perhaps the Ministry of Information and Broadcasting has decided it wants the retweets.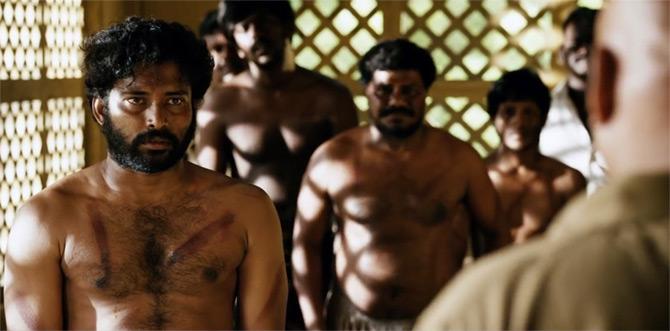 IMAGE: A scene from Visaranai.
As for regional cinema and Gurvinder Singh's fury, it seems justifiable.
The National Awards, like any awards decided on by a jury, have been accused of favouritism and biases in the past -- Saif Ali Khan's Best Actor trophy for Hum Tum remains impossible to explain, as does anything on Madhur Bhandarkar's mantlepiece -- but the fact remains that the awards have championed regional cinema.
Now, when they give out all the big awards to bigger films and give everyone else a regional award, the sheen is lost: Best Punjabi Film is this context means as much as a 'Best Actress (Critics)' award does during a glitzy awards show: It's well and good to say you're honoured and all, but you didn't really win.
All, however, is not bleak, and with all award lists, there are wins to celebrate and films to discover.
The late Kishore TE was posthumously honoured with the Best Editing award for Visaaranai.
We had Priyamanasam, a winner in the Best Sanskrit film category for apparently the third time ever.
Across the gamut of regional films, the awards went mostly in the right direction: from Singh's Chauthi Koot in Punjabi to Kothanodi in Assamese, Pathemari in Malayalam, Thithi in Kannada, and Visaaranai in Tamil.
These might be consolation prizes kept away from the top awards, but the list of their names may prove consolation enough to film-lovers fed up of the obvious.