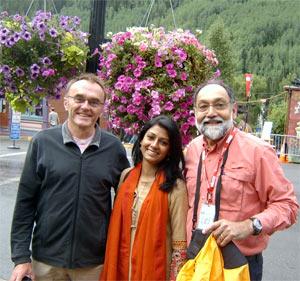 Aseem Chhabra celebrates 40 years of the prestigious Telluride Film Festival.

On Wednesday, I'll be going home -- for the 20th time.

Since 1994, I have been taking an annual pilgrimage to the Telluride Film Festival in Colorado -- the Mecca of films for lovers of cinema, and the first major North American film event of the fall season. The town and the festival have become a home for me.

It started quite innocently.

A friend told me about the festival over dinner in the summer of 1994. I made a sudden decision to take an extended Labour Day vacation. I was blown away by what I saw when I reached Telluride, after a nearly nine-hour trip -- flight to Denver, followed by another small plane to an airport close to Telluride and then a two-hour van ride through the majestic mountain ranges of Colorado, which includes a scenic ride along Ralph Lauren's estate.

Telluride is a stunning sky town, nearly 8,000 feet high. Tom Cruise still makes his vacation home there. Oprah and Oliver Stone were former celebrity residents of the town. The crisp air quality in the last days of summer, beautiful mountains, clear skies at night, a small river, and then there are films and more films.

There are big fall festivals -- the glamorous Toronto International Film Festival starts a few days after Telluride ends and then there is the prestigious New York Film Festival in late September.

But the Telluride experience is unique. Each year the festival's pass holders -- hard-core film lovers who spend hours standing in lines from early in the morning to late at night, sleep deprived and sometimes eating meals while they wait for the films to start -- are often treated to special world or at least North America premieres.
We were the first audience in the world to see Ben Affleck's Argo, Danny Boyle's Slumdog Millionaire (at a time when Fox Searchlight did not know they had a goldmine in their hand), weeks before the films started generating strong Oscar buzz.
And we were the first in North America to see Ang Lee's Brokeback Mountain and Crouching Tiger, Hidden Dragon, Michael Hazanavicius' The Artist, Asghar Farhadi's A Separation, Michael Haneke's Amour, Mira Nair's The Namesake, Jason Reitman's Rushmore and Juno, and Darren Aronofsky's Black Swan. And each year we are exposed to a healthy dose of retrospectives, and restored masterpieces.
What makes Telluride stand apart from other festivals is that its film schedule is only announced on the day the event opens. So each year festival-goers make a long trip and substantial financial commitment buying passes and booking hotels without any idea what they will be offered. But they are never disappointed.
There is a reason why one year a woman in the flight from Denver said to me that Telluride was the "crying game" of film festivals -- alluding to Neil Jordon's hit 1992 film with a surprise twist.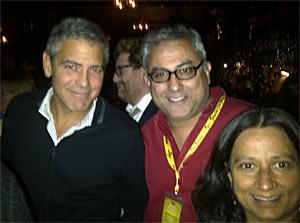 But Telluride is not just about films. It is a small town. For a few days the organisers convert everything from a school gym, a conference center and even a Masonic Lodge into world class movie theatres with Dolby sound system and plush seats.
Then there is experience of interacting with film stars and directors or watching them being regular human beings.
Many years ago, I saw Clint Eastwood eating pizza with his young daughter in one of the town's small parks. And one time I was standing right besides Stone browsing magazines at the town's only bookstore.
Two years ago, I walked up to George Clooney at the bar of the New Sheridon Hotel where he was celebrating the successful premiere of Alexander Payne's The Descendants. And I mustered enough courage to ask Clooney to pose for a picture with me (left).
I saw Salman Rushdie the first time at Telluride in 2001. He was the guest programming director of the festival that year.
As a sidebar, he shared with the audience his three favourite films - Raj Kapoor's Shri 420, Satyajit Ray's Sonar Killa and Jean-Luc Godard's Alphaville. At a book signing event Rushdie asked me if I had seen Lagaan, a film he wanted to bring to the festival.
That was the India year at the festival, with Ismail Merchant unveiling his film version of VS Naipual's The Mystic Masseur and the film's lead Asif Mandvi was there along with Om Puri. That year the festival paid a tribute to Puri. His films East is East and My Son the Fanatic had been huge hits in the previous years.
The next year Rushdie engaged in one of the most thrilling conversations at Telluride with Terry Gilliam, filmmaker and former member of Monty Python. The two talked about magic realism in cinema and literature. Rushdie was back in Telluride in 2008 to introduce Nandita Das' Firaaq.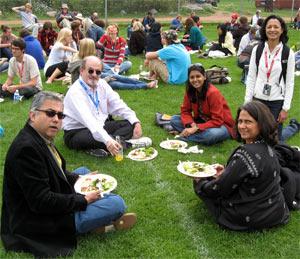 The same year on a Saturday morning, I saw Danny Boyle standing in the line to enter the theatre where Firaaq was scheduled to play. The night before I had seen Slumdog Millionaire and Boyle obliged me with an early morning interview while standing in the line.
Then in 2009, Shyam Benegal was honoured by the festival for his contribution to cinema.
Following a screening of Ankur, Benegal talked about his films at the town's historic Sheridan Opera House. One evening I indulged in some guilty pleasure as I watched Benegal's most Bollywood film Zubeidaa in a small theatre, with AR Rahman's magical compositions, and Rekha and Karisma Kapoor in a domestic tug-of-war over their love for the maharaja, played by Manoj Bajpayee.
There were other India moments at Telluride. One year Werner Herzog -- a regular at the festival, introduced a small audience to V Shantaram's Do Aankhen Barah Haath.
Herzog told us that had seen the film years ago when he was a student in Munich and since then he had been searching for a print to share with people. He finally found a print with an individual in California and managed to bring it to Telluride.
Another year Pierre Rissient -- critic, programmer who had long associations with the Cannes and Telluride film festivals -- showed us Ritwick Ghatak's Meghe Dakha Tara. In his introduction, he credited Sunil Dutt and Nargis for introducing him to Ghatak's films.
I have so many fond memories of visiting Telluride with friends and even family. My son came to Telluride a couple times. He was young then and walked around with his autograph book. I would tell him who was a big star or an important person. So he got an autograph from Catherine Deneuve and also from another Telluride regular, the late Roger Ebert.
In one memorable moment, Ebert took a picture of my son getting an autograph from Peter O'Toole.
Ebert was a very approachable person -- always open to talking to strangers while he was also sought by celebrities. From Ebert I learned to sit in the aisle seat -- often right behind him -- to have an unobstructed view of the screen.
This year Telluride marks its 40th anniversary, and the organisers have added an extra day to the festival. There will be more films to watch.