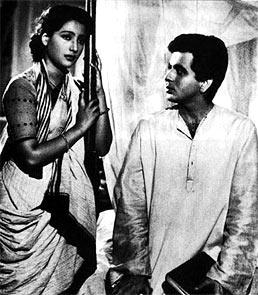 Eyebrows were raised when Bimal Roy cast the unknown Suchitra Sen opposite Dilip Kumar in Devdas (1955). But if Dilip Kumar was tailor-made for Devdas, the charismatic heroine was born to play Sarat Chandra Chattopadhyay's tragic heroine, Parvati.

Bimal Roy's daughter Rinki Roy Bhattacharya pays tribute to Suchitra Sen.

The woman, who stood talking to my mother, did not resemble a glittering film star.

She did not have the bright red lips nor did she wear tons of ornaments that a young adolescent, as I was then, associated with film stars.

She looked like a contented housewife.

She could pass for anyone, a relative, a friendly neighbour, anyone at all.

My first glimpse of Suchitra Sen was on the night she came home to attend a family dinner. She was a part of our family, I heard later from relatives. Her father-in-law, Adinath Sen's first wife was my father's eldest sister, Roshenara, who died young.

Suchitra Sen's husband, Dibanath, was the son from Adinath's second marriage.

This fragile family tie justified Suchitra addressing my father Bimal Roy as 'Bimal mamu'. He was not Bimalda to her.

Eyebrows were raised when my father cast the unknown Suchitra Sen opposite Dilip Kumar in Devdas.

The actor, everyone agreed, was tailor-made to play Devdas.

But who was this Suchitra Sen? Was she the perfect Paro? People wondered... and waited.

Then Devdas released.

We watched it, mesmerised.

Suchitra Sen was completely transformed into Paro. If Dilip Kumar was tailor-made for Devdas, Suchitra Sen was born to play Sarat Chandra Chattopadhyay's tragic heroine, Parvati, the childhood sweetheart Devdas lost because of his foolish, whimsical nature.
She was every inch a match for the thespian Dilip Kumar. Suchitra's rendition of Paro was an understated interpretation of her unfulfilled love for Devdas, the man she had secretly adored in her heart as her husband.
Paro loved Devdas to distraction -- enough to court shame and social outrage by offering to run away with him. Her pathos shone like drops of unshed tears.
No one has since then questioned the validity of selecting Suchitra Sen as Parvati. For the Indian viewer, Devdas's beloved Paro is Suchitra Sen, not Jamuna Devi (in PC Barua's 1936 version) or Aishwariya Rai (in Sanjay Leela Bhansali's 2002 version).
It was Bimal Roy, who introduced the gem from Bengal to the world outside Bengali cinema. But Hindi cinema rarely writes roles that deserve a supremely talented actress. She performed in one of the trilogy stories in Hrishikesh Mukherjee's debut Musafir and until Asit Sen remade the Bengali hit, Uttar Phalguni as Mamata, Suchitra Sen continued to blaze a trail in language cinema. Again, it was a Bimal Roy protégé, Gulzar, who decided to cast Sen as the female protagonist in Aandhi.

Suchitra Sen's incredible body of work belongs to Bengali cinema. Her screen pairing with the mahanayak, Uttam Kumar, 30 films in all, is part of cinema history. The chemistry between Uttam and Suchitra soaked through the screen to touch viewers with its intense intimacy.

The final farewell of this magnificent star was expected. She was 82, and passed away on January 17.

What is unexpected, unforgivable, in fact, is the reluctance of the committee of the National Awards to confer the Dadasaheb Phalke Award on this outstanding Indian actress.

The argument that Suchitra Sen did not qualify as she refused to appear in public is utterly unconvincing. The same National Awards committee conferred the Phalke Award on the ailing director Tapan Sinha at his home in Kolkata and honoured Pran with a Phalke Award at his Mumbai residence.

Neither man was able to attend the Delhi ceremony. So why deny the same privilege to Suchitra Sen, who so richly deserved this honour? Not bestowing the Phalke Award on her is an embarrassing omission.

She may not be honoured by her own government, but she had many other honours heaped upon her. The Moscow festival honoured her for her extraordinary performance in Saat Pake Bandha.

Her greatest award was the adoration and the high regard she was held in by thousands of grieving admirers.

An icon of grace and beauty, the charismatic heroine of outstanding films, Suchitra Sen will forever remain the brightest star on the horizon.
In the picture: Suchitra Sen and Dilip Kumar in Bimal Roy's Devdas.