'The true conceit of Drishyam,' says Sreehari Nair, 'is that it makes its audience an honorary accomplice in the crimes that its lead characters commit.'
Warning! Spoilers ahead.
The final sequence in Jeethu Joseph's Drishyam has Mohanlal's character George letting the audience in on a major secret.
It's a secret that most characters in the movie don't know.
The scene plays out like a private conversation that the actor has with those present in the theatre.
The true conceit of Drishyam is that it makes its audience an honorary accomplice in the crimes that its lead characters commit.
And we don't even realise this.
But we, as an audience, aren't very different from those who testify for George and his family. Whatever changes across the many remakes of Drishyam, this conceit has to stay untouched for the movie to work.
Does this make Drishyam a great movie? I don't think so.
But it makes it a smashingly effective one.
If it's Georgekutty's ingenious recreation of the crime scene tapestry that does the testifiers in, it is Jeethu Joseph's careful supplying and withholding of information that pulls us in a particular direction.
The testifiers' errors of judgment may be collective, but ours are rather peculiar.
So peculiar that the central crime shown in the movie -- the murder of a young man -- starts hitting us, like a freak occurrence. His evil designs and lack of decency might even force someone in the audience to say that he had it coming.
Nevertheless, the cover-up of the murder starts becoming the movie's focal point. And because the scenario is so tightly plotted and Jeethu Joseph knows exactly when we need to be given a peek and when to be cut off, we start siding with George.
Liking Drishyam made me feel guilty.
A common complaint I've heard from even those who loved Drishyam is that its first half seems tame as compared to the second.
But here again, Jeethu has a bag of tricks that he unloads without making us even aware. If you were to go over it carefully, the first half of Drishyam is replete with sequences that predict each and every important event that occurs in the movie's second half.
Plot-points that seem only incidental to the story later become critical parts of the larger story -- the compost pit, the quarry, the under-construction police station.
Even the mother's forewarning about the usage of a mobile phone, the jabs at social inequality, George reprimanding his younger daughter and the mother's mention of the elder daughter becoming more aware of intimacy -- they all have reverberations at a later point in the film.
When George confidently states, 'I have never done anything unlawful yet,' that really signals his induction into crimedom.
Yet another smart trick the movie plays is make the audience believe that it is reinstating Mohanlal's image as a 'family man.' The truth of the matter, however, is that the actor has already transcended such easy classifications.
As a man torn between his desires and his masculine ideals in Thoovanathumbikal; as the sexual predator in Padamudra; or as the politician who smiles when his best friend hurts him in Iruvar, Mohanlal doesn't just give great performances but also creates fresh templates for other actors.
The role in Drishyam is not challenging for Mohanlal; it's just a relief for those who grew up watching the actor portray far more complex characters but now want him to settle in on something more congenial.
That said, he is mightily efficient here.
As George, Mohanlal plays the kind of patriarch who is constantly chided for single-mindedly deciding what his family should do -- a quality that funnily enough bails them out in the end.
In a passing scene, his daughter hugs him and he rocks back a little -- his eyes closed and his jaded face for the first time conveying the stress he is being made to go through.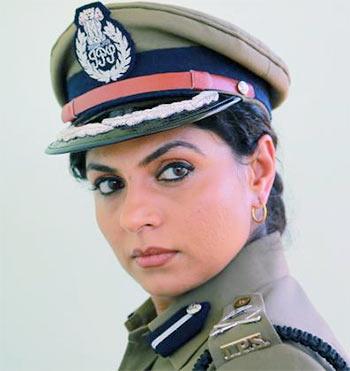 The standout performance of the film, however, is Asha Sarath's, who plays the policewoman. Hers is a far more intricate character and the actress is spell-binding. She is tough and vulnerable.
At one point, her eyes convey dismay, and the next second she breaks down inconsolably before gathering her toughness again.
In her final encounter with George, she stands there tugging at her sari; her guilt too strong to mask and her personal sense of loss too much to take in. I can't wait to see Tabu play this role in the film's Hindi version.
Asha Sarath's character is also memorable because she isn't easily swayed by George's cover-up job. That is an essential part of Drishyam's success -- that there are no stupid characters in the film.
It is a film where a sharp mind dresses up a crime scene and an intuitive police officer gets to its bottom, only to realise that she has uncovered a bottomless pit.
The strength of Drishyam perhaps lies in the fact that it sucks us into its world.
It is a movie that knows, as a country, nothing quite shakes us up like a case of power abuse. When this happens, we don't quite see the way it works us up as an audience. We don't even complain when the movie chooses to call itself 'Drishyam (visual)' as a nod to the movies itself.
Aren't movies supposed to be as verbal and aural as they are visual? Aren't Georgekutty's testifiers as deceived by what he says as they are by when and where he says it?
The lead characters in Drishyam may have escaped the law, but does the movie implicate us in some way? Maybe, it does.
And maybe we are okay with that.