Syed Firdaus Ashraf, who grew up in the 1980s, tells us why Befikre is a must watch to understand the new generation.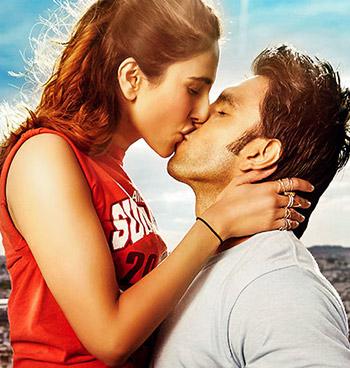 Aditya Chopra, who defined love with 1995's Dilwale Dulhaniya Le Jayenge, gives it a new twist in Befikre, only the fourth film he has directed in 21 years.
1. It's easy to learn, but very difficult to unlearn and then re-learn something
Director and scriptwriter Aditya Chopra, 45, does just that.
Whatever he learnt about love at 24 when he made the iconic Dilwale Dulhaniya Le Jayenge, he unlearnt in the 21 years that followed and re-learnt a new meaning of love in Befikre.
Chopra gives a completely new twist and meaning to love -- different from the 1990s' Raj-Simran kind of love -- with Dharam and Shyra's relationship in 2016.
The 1990s' generation needs to watch Befikre and see how love has changed over the years.
2. If the Class of 1995 was clear about love, the Class of 2016 is clear about lust
If they felt pre-marital sex was taboo, the new generation doesn't believe in such things.
Go for lust, love will follow. Or maybe not.
Lust is more important than love.
Ranveer's Dharam and Vaani's Shyra hit the bed the day they meet.
If love doesn't happen, just find someone else.
The poet Daag Dehlvi told us 100 years ago: Tu nahi toh aur sahi, aur nahi toh aur sahi (If not you my beloved, I will find someone else).
3. What about heartbreak?
Yes, that's a problem, but to each his own.
In today's times, you will surely bump into someone who's experienced heartbreak.
So just keep looking, and you will find someone of your interest.
And yes, no harm in getting in touch with your ex-girlfriend like Dharam did. Shyra becomes his best friend.
No hard feelings, like there were in the 1990s.
The Tu meri nahi ho sakti toh kisi aur ki bhi nahi ho sakti (If you are not mine, I won't let you be someone else's) kind of feeling doesn't exist anymore.
4. Parents shouldn't ask their children any questions
Dharam and Shyra are financially independent.
Youngsters today live life on their own terms. They can walk in and out of their homes according to their own terms like Shyra does.
So parents, don't ask questions.
Even if kids are moving out, keep your mouth shut.
Call it bad manners or badtameezi, who cares? That's the attitude of this generation.
Will this generation never listen to you? They will, on one condition.
As Jaun Eliya wrote, Ilaj yeh hai ki majboor kar diya jaaun varna yun toh kisi ki nahi suni maine (My treatment for illness is that I need to be compelled to do something or else I would never do anything that I am told to do).
5. If boys are called 'studs' for sleeping around, one can't call a woman a slut for doing the same
Befikre begins on this note and makes you realise that men and women are equals.
Please note, men. This is 2016. Women have the right to decide.
6. Composers Vishal-Shekhar rock, as does lyricist Jaideep Sahni
The best songs are easily Arijit's Nashe Si Chadh Gayi and Ne Dis Jamais Je t'aime.
Sahni brings in the Urdu word reham (mercy), which rhymes with Je t'aime so beautifully.
Aditya Chopra's visualisation of this song is exceptionally good.
If you ever were in love in life and your beloved has gone away, watch this song to understand the meaning of love.
7. Ranveer Singh
The way he carries off Dharam, no other actor could have done.
With Befikre, Ranveer proves he is a true Bollywood superstar.