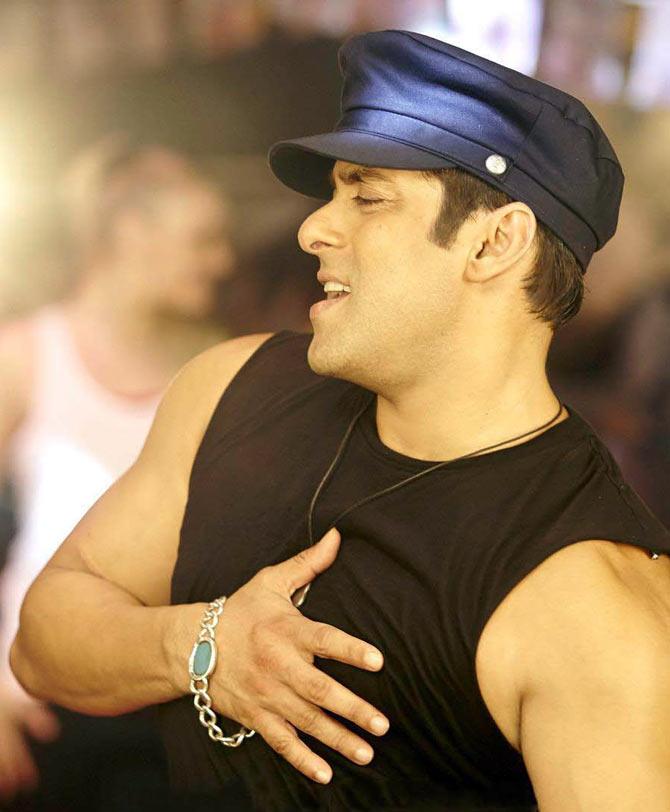 'He's misunderstood, but has a heart of gold. Salman has a penchant for getting into trouble. But he means well, and is extremely kind-hearted,' Amitabh Bachchan once told Subhash K Jha.
Salman Khan is a simmering bundle of contradictions.

There's the Salman who kept me awake till three in the morning with his rather strange antics when I met him for the first time.

Then there's the other Salman who went down from my hotel room at said unearthly hour to counsel Abhishek Bachchan on matters of the heart. At the end of the conversation he took off his Rolex watch and gave it to Abhishek.

Often described as extremely generous by industry friends, Salman turns livid when provoked and pushed into a corner.

He once narrated an incident to me -- this was when we were on talking terms -- when a bunch of guys started heckling him with unflattering names at a restaurant. Salman tried to ignore them as long as he could. He lost his cool after a while.
That's exactly what Salman is expected to do and more often than not. He doesn't disappoint.

I remember being at the same restaurant with him after the heckling incident when suddenly he began banging on the toilet door.

Everyone in the restaurant stopped everything they were doing and anticipated a fight.

Fortunately, actor Zayed Khan emerged from behind the door. When he saw who was creating the ruckus, he instinctively gave Salman a warm hug.

Salman is essentially a child who needs to be noticed constantly.

He doesn't realise most of the times where his attention-seeking antics would take him.

It could be to Aishwarya Rai's doorstep, where, towards the end of their courtship, he allegedly pounded his hands into a bloody pulp on her door when she refused to let him in.

Or it could be from the backseat of his costar Kareena Kapoor's car to the front -- to my horror, he jumped into the front seat (where I was sitting) because a Neele Neele Ambar Pe remix was playing on the car's stereo and we (Kareena, fellow passenger Sanjay Leela Bhansali) had to hear it over and over again because Salman loved it.

Salman has to get what he wants and has to go where he wants to go.

He'll ignore all warning signs and launch headfirst into forbidden territory.

More than a film actor, Salman sees himself as a rock star.

He loves to be on stage while thousands of fans cheer him on. That moment is his most intimate, infantile fantasy -- of the child who climbs the parapet of his house to get mom's attention.

At home, he's a wonderful son, not just to his biological mother but also to Helen Aunty, the veteran actress whom his father Salim Khan married later.

The Khans run a very liberal household in which all religions are regarded equally and unexpected guests are always welcome.

Whether on screen or off it, Salman is at the centre of things.

If he's known to get physically aggressive with his directors -- Satish Kaushik and Puneet Isaar, who directed Salman in Tere Naam and Garv respectively, can vouch for that -- he's also known to go out of his way to accommodate filmmakers.

Shah Rukh Khan was supposed to play Amitabh Bachchan's adoptive son in Ravi Chopra's Baghban.

When he backed out because of his back problems, Salman sportingly stepped in. And then he played the Big B's son in Chopra's next film Babul.

AB is all praises for Salman.

"Salman is God's child. He's misunderstood, but has a heart of gold. Like Sanju (Sanjay Dutt), Salman has a penchant for getting into trouble. But he means well, and is extremely kind-hearted."

Revathy, in whose Phir Milenge Salman played a supporting role with Shilpa Shetty, also swears by the actor's kind heart.

Salman not only agreed to play a supporting role in her directorial debut, but also refused to charge Revathy any money; she was his co-star in one of his earliest films Love.

Salman often says and does things which he doesn't mean. His unabashed aversion to the media doesn't help his notoriety either.

He would rather be a rockstar than a rock-steady movie star with a sense of propriety.

"The press didn't make my career," he reasons. "So how can they unmake me?"