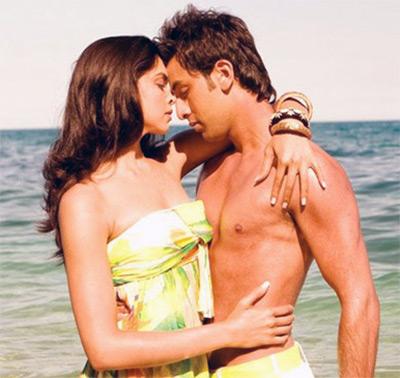 Sukanya Verma shares her nostalgic filmi week with us.
From recalling my favourite moments in cricket in the enthusiastic vein of Amitabh Bachchan (think Namak Halal) and Aamir Khan (think Andaz Apna Apna) to revisiting Mowgli's jungle in all its live-action glory, my super filmi week teemed with nostalgia.

Monday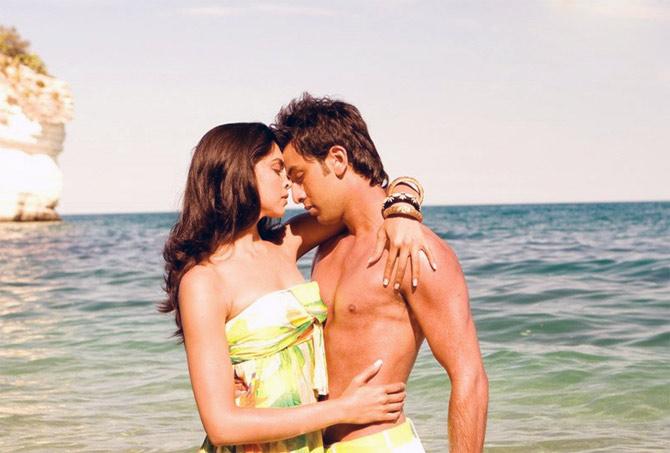 It's neither a profound script nor a massive success but delivers just about enough verve to make for dinnertime fluff. I am watching Bachna Ae Haseeno. Not for the first time, obviously.
Ranbir Kapoor is all charisma and cheek as the charming, commitment-phobic Casanova whose conscience kicks off in the second half leading to a Broken Flowers-reminiscent premise of atonement.
The ladies who fall for this cad: Minissha Lamba -- conveying the naiveté of a girl who'll be a woman soon, Bipasha Basu -- a deadly mix of sizzle, sensitivity and spite and Deepika Padukone -- the weakest link, provide the narrative its heart and head.
I still cringe at how conveniently DP's cool, independent girl is dumbed down into a victim of 'she loves him she loves him not' to allow Bachne Ae Haseeno its predictable conclusion.
I am curious about the story's fourth track, which never made it to screen.
Director Siddharth Anand said retaining it would make it the "longest Hindi movie in history" so he dropped it entirely. It also helped that he hadn't shot the portions meant to star Katrina Kaif.
While I didn't miss her histrionics (or lack of it), I wonder (from a strictly movie point of view) if Kat were a part of Bachna Ae Haseeno, would Ranbir's character still end up with Deepika?

Tuesday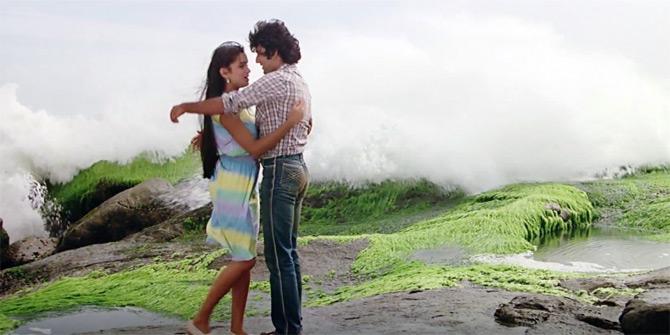 Despite a phenomenal start, Kumar Gaurav never made great strides in his career. Still, he can take comfort in the fact that so many gorgeous Rahul Dev Burman songs got picturised on him.
I rediscovered a little-heard melody of RD's today.
Called Aa Mulaqaton Ka Mausam Aa Gaya, the song featuring a mellifluous Lata Mangeshkar and soulful Amit Kumar belongs to P Bharatiraja's Lovers.
A remake of his Tamil flick, Alaigal Oivathillai, the awfully dated Goa-based confection stars Gaurav and Padmini Kolhapure.
What hasn't aged is RD.
I played the song over and over again. Like repeatedly studying an old photograph you had forgotten even existed. It's probably not your best picture but a throwback to a fond phase, a happier time. The tune, arrangement and tempo have Pancham's stamp all over it but the familiarity is comforting.

Wednesday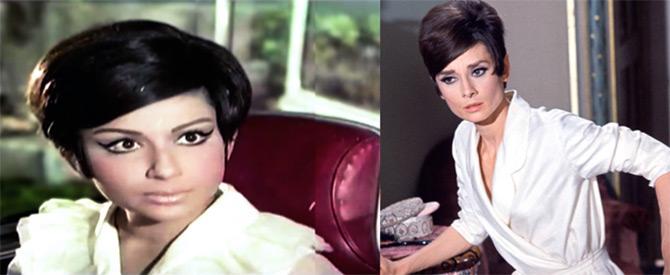 It's easy to see why the fashion-conscious folk of the 1960s and 70s doted on Sharmila Tagore's lithe grace and sophisticated glamour. Her bold and effortless ways became a rage among the ladies of her time.
When I think of the Amar Prem star, I instantly imagine dimples and bouffant. So it's a bit surprising to see her in a chic pixie during a scene of Suhana Safar (turns out Chori Chori and Dil Hai Ki Manta Nahi aren't the only movies to remake Frank Capra's It Happened One Night) co-starring Shashi Kapoor.
It's not just the film but even Sharmila Tagore's look here is inspired by Audrey Hepburn's in the 1966 heist caper, How to Steal A Million. Guess no one can resist copying the last word on style.

Thursday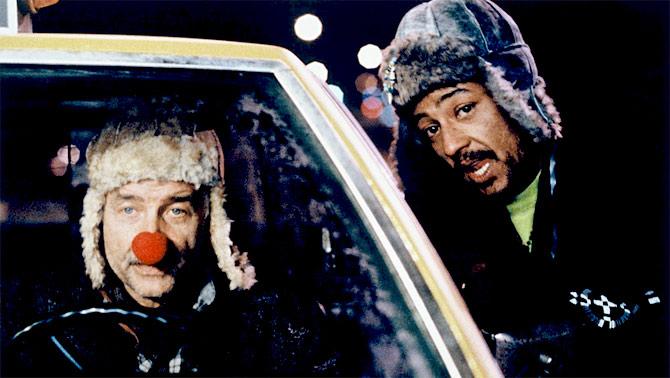 Although it's just one movie, it gives the gratification of five. I am talking about Jim Jarmusch's Night On Earth.
Can't believe I hadn't seen it until now. Apparently, Jarmusch wrote the script in eight days after the project he was supposed to start work on got stuck indefinitely.
In this fascinating 1991 anthology, five cabbies in five different cities -- Los Angeles, New York, Paris, Rome and Helsinki -- unravel in the magic of the night, dawn really, to curious, comic or cold realisations. It's not so much a slice of life as it is of moments that leaves its viewer completely enraptured for as long as it lasts.
Usually potpourri films, designed like a series of mini shorts, tend to dissatisfy but Night On Earth's multi-hued texture and unfinished quality renders it life-like.
I enjoyed all the five segments but the one in New York had me in splits. Do watch if you haven't already.

Friday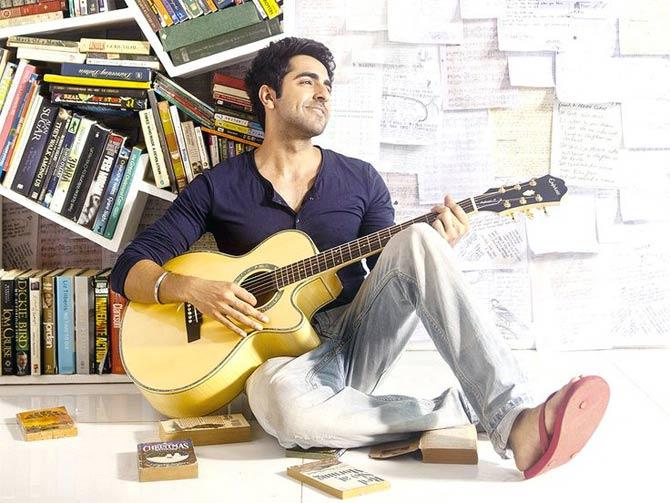 Anup Kurian's The Blueberry Hunt and Jon Favreau's live-action take on Disney' The Jungle Book have a lot of greenery in common but no two movies could be more different. If one broods in inactivity and anticipation to depressing effect, the other roars and rages giving into its wild impulses and soaring imagination.
Later at a house party, I enjoyed Ayushmann Khurrana's spontaneous rendition of Tere Ghar Ke Samne's Dil Ka Bhanwar.
Often the reality of songsters in the absence of audio-enhancing technology is off-putting but the Dum Laga Ke Haisha hero's dulcet singing is pretty effective even in the middle of wolfing down nachos and salsa.
'You've got good bass, man,' acknowledges another singer in the room whose story is quite like Farhan Akhtar's in Rock On!!!

Saturday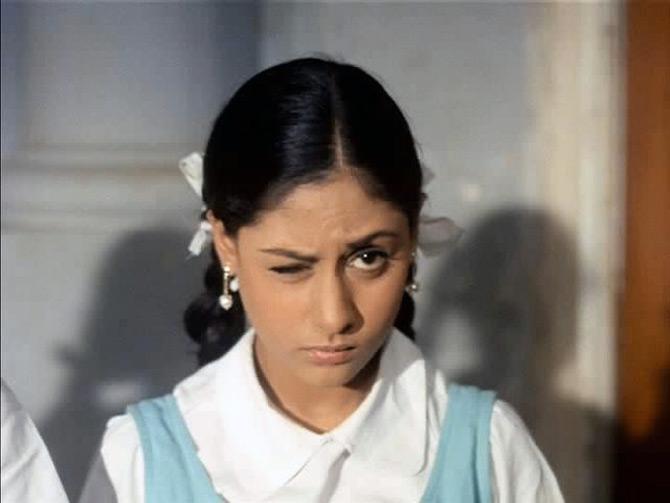 It's Jaya Bachchan's 68th birthday. But the press and photographers do not gather outside her famous address for cake or bytes like they do for her superstar husband or daughter-in-law.
She probably doesn't care for it either.
I mean I have no clue what she's like in real life but there's an unmistakable self-assuredness to her. The conviction she brings to the scene in the recently released Ki & Ka, where the senior Bachchans pitch in a cameo as themselves, is a triumph any way you look at it.
Between Mahanagar to Ki & Ka, there are many a highs and hits -- few I've revisited too -- Mili, Kora Kagaz, Jawani Diwani, Zanjeer and Sholay each portrayal unique from another, each laced in believability.
The next Amitabh Bachchans, there've been plenty, but Hindi cinema's Guddi is still one of her kind.

Sunday
Amrish Puri's donned some seriously creepy avatars in his career.
Yet few compare to the sort of lunacy he partakes in what is easily one of the worst films I've ever seen, Dil Tujhko Diya.
From mad beast to possible rapist to Kattappa-level loyalist to memorialized bust, Puri's character unlocks new levels of bizarre.