The question 'Who was/were behind Aditha Karikalan's killing?' will continue to remain a historic mystery despite Mani Ratnam setting out to unravel it in his own way, points out N Sathiya Moorthy.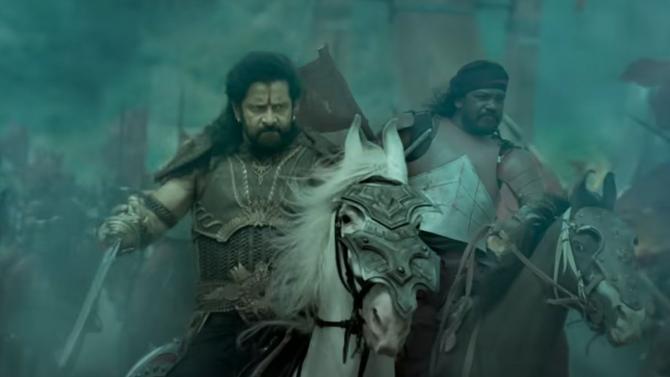 The verdict is split, jury is hung.
The question upper-most in the minds of movie-goers, both fans of film-maker Mani Ratnam and Tamil writer the late Kalki Krishnamurthy, and also others, was all about the climax, the conclusion, in the former's silver screen epic drama, Ponniyin Selvan: 2.
The spectacle that Part I was continues in Part II, with the scenic beauty of Thailand competing with the majesty of palaces, both real and those erected in the sets, captured with greater care and passion.
Kalki did not venture to answer the question, 'Who killed Chola crown prince Aditha Karikalan?' That was because recorded history is inconclusive in the matter. In his time, the ace film-maker has taken cinematic liberty to give a response that is as much convincing as any other.
Other questions should be addressed, if at all, to Kalki, as otherwise Mani Ratnam has stuck to the original as far as possible, with the cinematic liberties that he has already taken.
For instance, how does Princess Kundavai (played by Trisha Krishnan), who at a tender age had decided that the orphaned lass Nandini should not be the future consort of her prospective-emperor brother Aditha Karikalan, settle for Vandiyathevan (Karthi), a crown-less, chieftain by legacy, sans territory?
There are many others of the kind, but just as the film-maker has taken liberties with the original, the author too took his own -- going beyond the obvious.
More importantly, why did Kalki call his five-part magnum opus Ponniyin Selvan, centred on the younger Chola prince Arulmozhi Varman (Jayam Ravi), emperor Rajaraja Chola in later days, while the story is mostly centred on plots and counter-plots for succession in which he has had no role.
In his story, Kalki allowed what at best might tantamount to be Aditha Karikalan's (Vikram) surrealistic teen-age infatuation (?) for Nandini (Aishwarya Rai) as an add-on underpinning in places.
But in the two-part film franchise, Mani Ratnam has sort of built his story around this infatuation-turned-infuriation, as if Karikalan's belated guilt over beheading rival king Veerapandiyan, more so when seen in Nandini's company, was the cause of his impotent rage and all the cathartic wars that he fought afterwards, including the one within -- leading up to his ruin.
In turn, Nandini's belated remorse too tells a tale.
Yet, neither the original story, nor the screenplay, supports the uninformed reader's belief that it's all said from Vandhiyathevan's eyes or perspective, which is the impression that Kalki's writing generates in the first place. It is a story in which Vandhiyathevan is only a part.
Yes, the serialised novel begins with his traversing the Chola countryside, maybe because the author possibly wants to set the time period and transport his readers to a different era.
In his celluloid re-telling, Mani Ratnam sort of laid the ground and introduced the characters in Part I. Now, in the conclusive sequel, he has built up the story part, as if it is the post-intermission session of one whole film. The pace hence is fast, uses the same technique of story-telling in the first half of the second part.
Maybe if Ratnam had tightened the script in places, he would not have had to sacrifice some of A R Rahman's tunes, which are as enchanting as in the first part, with picturesque photography, at the editing table. Now, they are available only on YouTube to watch, as with one deleted song from Part-I.
In their respective departments, Art Director Thota Tharani and Cinematographer Ravi Varman have both transported the film viewer to a different age, without forcing him to take note of their presence -- just as in the prequel.
Yet, the cinematography does not support the action sequences in the war scenes, as they should have. In effect, it is Rahman's background score that does it mostly, as elsewhere in both Part I and II.
Otherwise, the PS series will be remembered for superb acting by Vikram and Aishwarya Rai, especially in their encounter scene.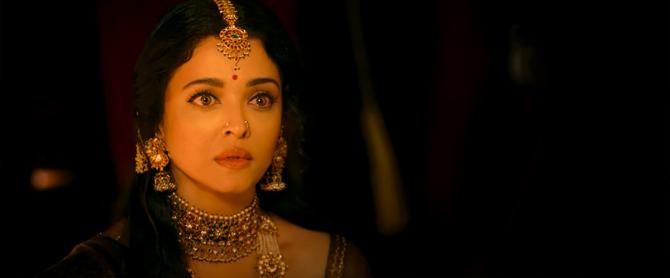 As the wag puts it, with her enchanting beauty and the villainy that Mani Ratnam has brought out of every look, nook and pore of her, Aishwarya Rai Bachchan could be the most sophisticated of all scheming temptresses whom the viewer loves to hate, in Indian cinema for a long, long, time to come.
The same goes with Trisha's depiction of Princess Kundavai, all class and elan, the majesty that goes and grows with regal women of yore, with loyalty and intelligence as their core, as the film-goer has come to picture in his mind. It is par for the course here than in Part I, possibly for no fault of hers.
Yet, there is no denying the kind of hard work the director has extracted out of each and every one of his actors, all of them easily getting into the skin of the roles.
More importantly, the body language that even co-stars donning minor roles display, with particular care to their facial expression to what is happening around them, is what actually elevates the mood of the film without the viewer actually knowing it for him to acknowledge it as the experience-stimulant.
For Mani Ratnam, who is also the co-producer along with Sri Lankan Tamil expatriate Alliraja Subaskaran, marketing PS: 1 as a pan-India historical was as big a project as producing an iconic film of epic proportions.
In comparison, the publicity for PS: 2 was relatively subdued but not absent. There were the usual city-wise launch campaigns, which touched more cities, mainly in south India, the target-viewership, with the mainstay Tamil version and also those in Malayalam, Telugu and Kannada, apart from the Hindi edition for the all-India market.
Maybe owing to this, the kind of controversies induced by self-styled YouTube experts on the historicity of the film and the actuality of the Chola period too were missing this time. Rather, film-goers, starting with aged admirers of Kalki, had come to accept that Mani has attempted only to reproduce Kalki's novel as faithfully as possible but with additions and deletions to give it a complete filmi feel -- and has not tried to tell or retell the Chola history of the times.
Some now feel that PS: 2 may have taken too much liberties than the first part, though for those that have not read the original (and whose numbers are larger and also outside the Tamil-speaking world), making sense out of it all was a must.
Mani could not have done it otherwise, when looked at from the commercial angle. For this reason, story-telling is more comprehensive in the second part than in the first.
Yet, Mani's Chola history sticks to Kalki's depiction of Aditha Karikalan's killers as spies of the rival Pandya clan, whose ruler Veerapandiyan he had beheaded during the war. He does not delve into the historicity of claims, based on the Udayargudi stone inscriptions, that of the four banished from the empire by Rajaraja Chola year after he came to power, three -- namely, Ravidasan, Soman and Parameswaran -- were brothers and highly-placed officials in the Chola empire, as it was not in Kalki's brief either.
With the result, the question 'Who was/were behind Aditha Karikalan's killing?' will continue to remain a historic mystery despite Mani Ratnam setting out to unravel it in his own way, but in logical continuance of his script, co-authored by writer Jeyamohan and playwright Kumaravel, whose troupe had staged PS as a long play decades ago, again with trimmings of the script-writer's choice.
All that Ratnam has done is to produce a historic fiction that is as entertaining for the post-modern IT generation as it is convincing for Kalki's aficionados, give or take a few points.
All comparisons, if any, thus, with S S Rajamouli's Baahubali franchise, among others, should end there.
After all, Rajamouli was working on his own script and did not have to bother about respecting an iconic writer's originality and imagination. This may be the reason why viewers also did not miss the fantasy angle of Baahubali in Mani's movies.
Where Mani might have slipped up -- and he was not ready for a three-part movie -- is mainly at the editing table.
For the uninitiated, for instance, characters like Periya Vellalar (Prabhu), Thirukovilur Malayaman (Lal), Parthibendra Pallavan (Vikram Prabhu), Sembiyan Mahadevi (Jayachitra) and Vanathi (Shobita Dhulipala) do not make any sense in the film as they are all left hanging.
Even the Tamil movie-goer who has not read Kalki's original is unable to make the familiar familial links -- as to why some of those characters are there in the first place.
That way, in Kalki's three great fictional histories, it's his imaginative characters that often score over real-life protagonists.
It's Nandini, her look-alike mother Mandakini, the speech-impaired 'Oomai Rani', the boatwoman Poonguzhali (Aishwarya Lekshmi) and Azhwarkadiyan Nambi (Jayaram) in Ponniyin Selvan, serialised in the weekly magazine bearing the writer's name in the early fifties.
Likewise, Sivanadiyar (emperor Narasimha Pallavan in disguise), boatman Ponnan and his wife Valli in Paarthibhan Kanavu (1941), and title-character and danseuse Sivagami, Chalukya King Pulakesin's twin brother and monk, Naganandi, Pallava spy-master Sadhruganan and his top aide, Gundodharan in Sivagaamiyin Sabadham (1944), too, became readers's delight.
Yet, there is no denying the parallel characterisation of Azhwakadiyan Nambi and Gundodharan, for instance, as the two are described as short, pot-bellied, funny, smart and intelligent, all at the same time. Paarthibhan Kanavu having been canned in the black-and-white era (Gemini Ganesan and Vyjayanthimala, 1960), and Ponniyin Selvan now, there are open appeals for the Mani Ratnam-Subaskaran duo to leave behind a film version of Sivagaamiyin Sabadham, too.
If the duo -- or anyone else -- decide to do it, then the indelible marks that Mani's etching of each and every character in PS: 1 and 2, will leave them with fewer choices from among present-day Tamil actors to don the main roles in the new film. So complete has been Mani's handiwork, his dream of years and Tamil cinema's dream of decades.
That is because the PS franchise is so very complete, that too in an era with heroes like MGR and Sivaji Ganesan, and P S Veerappa and M N Nambiar (on-screen villains), and possibly more intense in most parts than any Tamil historical fiction told on the silver-screen.
Maybe it is good that Mani Ratnam and Kamal Haasan (who lends the voice-over introduction in both parts) gave up their early attempts to take Ponniyin Selvan to the silver screen.
That is because the earlier generation of film-goers might not have been able to accept any actor other than the above-mentioned and their contemporaries as king-emperors, princes and princess, leave alone as villains and vamps, on the silver-screen!
N Sathiya Moorthy, veteran journalist and author, is a Chennai-based policy analyst & political commentator.