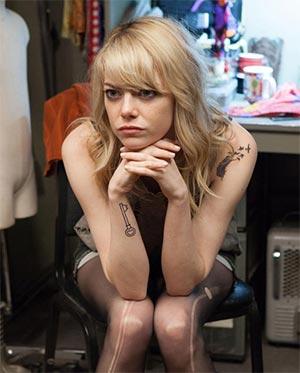 'Something for everything may be fine for the Golden Globes, but the Oscars should (ideally) look for individual excellence'
Raja Sen takes stock of the Oscar 2015 nominations.
First things first, The LEGO Movie didn't get nominated.

Without exaggeration, that Phil Lord and Christopher Miller frontrunner not getting a nomination in the Best Animated Feature category is akin to Boyhood being left out of the Best Picture race. (That, thankfully, didn't happen, but the LEGO snub is inexplicable unless the presiding body recently and sneakily changed its name to The Disney Academy Of Motion Picture Arts and Sciences.)
Image: Emma Stone in Birdman
For the most part, though, the Academy did rather impressively -- even though the lack of love for Jake Gyllenhaal and his Nightcrawler is most disheartening.

The nominations are led by two fantastic movies, Birdman and The Grand Budapest Hotel, with nine nominations apiece. It is to that fact -- that two brilliantly original independent movies by two of the world's most visionary directors are leading the pack instead of some studio-driven extravaganza -- we must look when preparing to whine about the rest of the nominations, because the big picture looks okay.

'Well, this is surreal,' Emma Stone reportedly said in a statement, on being nominated for Best Supporting Actress for Birdman, 'I am completely knocked out. Thank you to the Academy for this incredible honour.

'I am very proud and lucky to be a part of Birdman and can't believe it came to this. I am so f***ing excited. Are you allowed to say f*** when you're making a statement for the Oscars? I'm just really f***ing excited.'

Honestly, it's not at all a bad year to be f***ing excited.
Jennifer Aniston campaigned hard for Cake but was left in the dust by Marion Cotillard for the Dardenne brothers film Two Days, One Night.

The marvellous Laura Dern surprisingly got a Best Supporting Actress nomination, as I'd hoped with crossed fingers.

Again, as I willed it, the fabulous Alexander Desplat was nominated not just for The Imitation Game but for his more delightful work in Wes Anderson's The Grand Budapest Hotel. (Seriously, I could listen to A Prayer For Madame D on loop all day long.)

Other great films and performers I wistfully rooted for -- like Jim Jarmusch's achingly beautiful Only Lovers Left Alive, the Swedish masterpiece Force Majeure, Christopher Nolan and his massively-mounted Interstellar, Tom Hardy's wonderful work in Locke, and Nightcrawler, as I mentioned earlier -- were all ignored, but I've mostly made my peace with that.
The Gyllenhaal snub smarts more than the others, but the Best Actor race doesn't include Ralph Fiennes either, who was electric in The Grand Budapest Hotel -- maybe it's for the best, this is going to be down to a slugfest between Benedict Cumberbatch (The Imitation Game) and Michael Keaton (Birdman). And now, we can all root for Sherlock getting the trophy kicked outta him instead of worrying about our favourite concierge.

There has been talk of a lack of diversity in the Oscar nominations, with very little love shown toward Selma -- only nominated for Best Picture and Best Song -- and the fact that it's only for the second time in 20 years that all 20 of the acting nominees are white.

This has always seemed like an argument made for outrage's sake, since the list is made up different, individually-voted-upon categories -- actors vote for actors, cinematographers for cinematographers, etc -- and there is thus little chance of an Academy voter taking any big-picture consensus into consideration.

And a good thing, that.

Something for everything may be fine for the Golden Globes, but the Oscars should (ideally) look for individual excellence.

I've said it once and I'll say it over and over: this is the year of Boyhood, Birdman and Budapest, and may those films be celebrated by us all.

Even if occasionally a few others get in the way, the night belongs to those movies and the masters behind them.

As for Clint Eastwood's much loathed American Sniper and its six nominations, well, every story needs a villain, someone we can all root against.

You're going down, punk.