'Despite the pornographic quality of its name, Lust Stories is something of an event in Indian popular culture,' says Shuma Raha.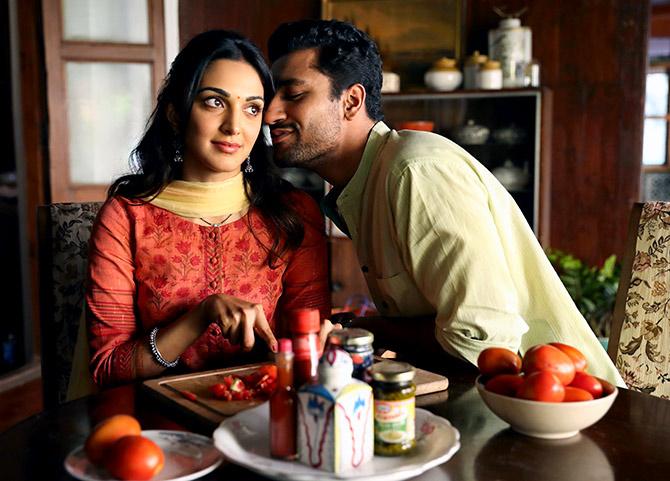 The name Lust Stories doesn't inspire much confidence.
It reminds you of posters of movies with names like Sexy Dreams that you saw stuck on roadside walls as a child, right next to ads for clinics which promised to treat people for 'gupt rog'.
You remember looking at those small posters with horrid fascination. The red silhouette of a voluptuous woman against a black background; an invitation to something you instinctively knew was forbidden and hence irresistible.
As far as its moniker goes, Lust Stories, a clutch of four short films streaming on Netflix, is similarly in-your-face: you're being told that these are stories of hot, strident lust as opposed to gentle, romantic love.
It's guaranteed to summon up the eyeballs.
As a hook, it's a triumph.
However, despite the pornographic quality of its name, Lust Stories is something of an event in Indian popular culture.
No, not because it shows women in steaming lust, but because it attempts to explore the many shades of the modern Indian woman's attitude to sex.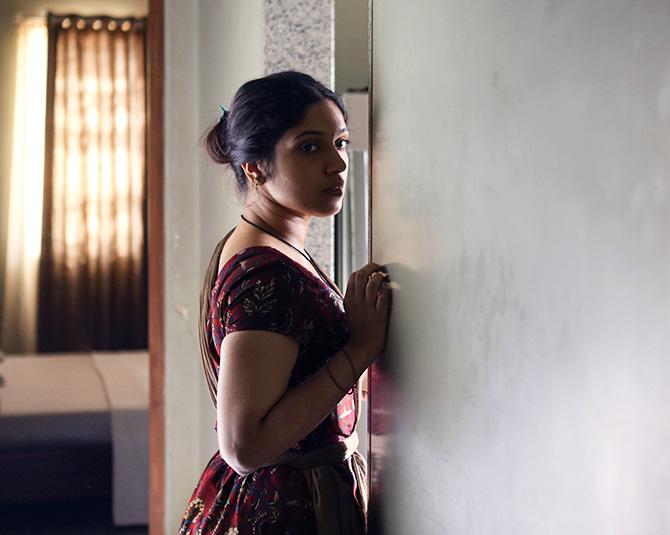 Made by such A-list directors as Anurag Kashyap, Zoya Akhtar, Dibakar Banerjee and Karan Johar, the four films rip into Indian society's dearly held notions about women's sexuality or the lack thereof.
The treatment may be flawed at times and nuance absent for the most part -- Johar's film, for example, is decidedly hammy and over the top.
Even so, Lust Stories is like a shriek in the face of Indian filmdom's mouldy representation of a woman as a saint or a slut or a romantic doll.
Hence, though the domestic help in Akhtar's stark, sensitive and quite brilliant film is sexually exploited by her employer, she shrugs it off and retains her agency.
The rich man's middle-aged wife, played by Manisha Koirala in Banerjee's short, has an affair with her husband's best friend and comes out looking the most sorted and unrepentant amongst the three of them.
In Kashyap's film, a college teacher who seems to be in an open relationship with her husband, is on a perennial manhunt.
Though one wishes Kashyap hadn't 'feminised' her by making her bang on incoherently about her moral, emotional and sexual angst, it is delicious to see her mimic legions of adulterous husbands by not wanting to rock her marriage even as she sleeps around.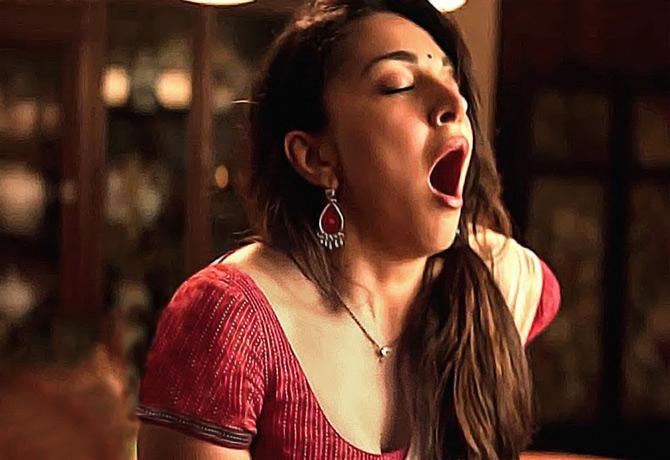 Last, but certainly not the least, in Johar's offering, a sexually unfulfilled woman reaches for a vibrator to get what her husband isn't giving her.
She too is unapologetic about her action and the message -- what is a Karan Johar film without a message? -- is that a woman's desires are not confined to having babies and bringing them up.
The finicky amongst you might ask if the vibrator is now a thing when it comes to depicting modern Indian women.
Thanks to Swara Bhasker's magnificent convulsions, the device gets a starring role in the film Veere Di Wedding too. Johar allegedly lifted his vibrator scene in Lust Stories from the Hollywood movie The Ugly Truth (2009).
But that apart, and also apart from his crude representation of a racy divorcée who indulges in self-gratification (with a vibrator, of course), Lust Stories goes where Veere Di Wedding only promised to before sinking into the morass of a non-existent plot, cardboard characters and some blithe anti-feminist messaging from its oh-so-feminist protagonists.
Lust Stories scores because it offers vignettes of reality in the lives of modern Indian women.
It is by no means the whole reality, but the fact that it trashes the old binaries of good or bad, moral or immoral, the fact that it junks taboos and shows women who are unabashed about seeking sexual pleasure, is refreshing.
Another film, Lipstick Under My Burkha (2016), where four women try to assert their identities, including their sexual identities, made a similar attempt to stretch the boundaries of the idea of Indian womanhood -- albeit with far more deftness and nuance.
Will we see more such films? Probably.
The urban Indian woman has moved beyond the straitjacket of stereotypes.
It's time popular culture caught up with her myriad moods and impulses.