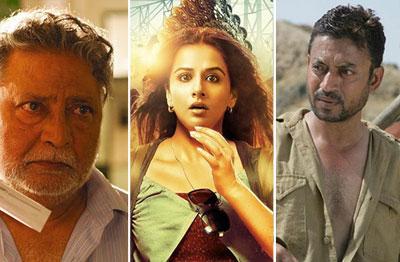 Indian cinema doesn't mean just Hindi cinema; excellent films are made in many other languages in India, says Shobha Warrier, who also feels the national media gave the impression that Hindi films swept the National awards which is far from the truth.
Year after year, when the National Awards are announced, I feel angry and frustrated. No, I am not a Malayalam or Tamil film chauvinist. Nor do I get angry when good "Indian" films are ignored and less deserving Hindi films are given awards, which I must admit has happened only very rarely. Generally, the National Award jury has been reasonable and fair in its assessment of films.
My frustration has nothing to do with the selection of films for awards. I am passionate about good cinema, and I don't care whether the awards go to Hindi, Marathi, Bengali, Assamese or Malayalam films. I feel happy when good films and work of talented people are acknowledged and appreciated.
But I do get extremely angry and irritated when the so called 'national media', which includes newspapers and TV channels, exposes its ignorance and bias.
Take for example, this year's National Award winners. All the TV channels and national newspapers screamed, 'Big win for Paan Singh Tomar, Vicky Donor and Kahaani'. There was absolutely no mention of the best director or actress.
When the win of Irrfan Khan was celebrated, there was no mention that he has shared the award with another actor called Vikram Gokhale for the Marathi film Anumati.
The best actress award went to Usha Jadhav for the Marathi film Dhag. Though reams were written about Irrfan Khan, I did not see anything about this actress. Her name never appeared in the headlines and her image was not seen.
On the other hand, I see Vidya Balan's still from Kahaani whenever there is some mention of the National Awards. Why? For the film winning the best original screenplay and editing award?
Usha Jadhav won the best actress award for Dhag, and Shivaji Lotan Patil, director of the same film, won the best director award.
Have we seen his face or read an interview of his? Had it been a prominent Hindi film director, his name would have made headlines, I am sure.
Dhag, in fact, won three National Awards -- the third was a special mention for the child actor Hansraj Jagtap for his amazing performance as a young boy trying to break from the low traditional jobs done by his family.
Last year, Vidya Balan won the best actress award for The Dirty Picture. The entire Mumbai based media celebrated her and wrote heaps and heaps on her. But they totally ignored the best actor, Girish Kulkarni, who also won the best dialogue writer award for the Marathi film Deool. The film had also shared the best film award with Byari, the first and only film made in the Beary language.
Marathi actor Girish Kulkarni does not live far from Mumbai but it was only Vidya Balan everywhere as if this man did not win any award.
I wanted to know more about him but could not find any interview of his anywhere. Finally, I got to read all about him on Manorama Online and not in any national media. Had Vidya Balan been a Kannada, Tamil or Assamese actress, she would not have received the same kind of attention or adulation.
Coming back to this year's National Awards, the reports give the impression that Hindi films swept the awards. That is far from the truth.
Among the top awards, the best director, best actor and best actress awards went to Marathi cinema. Why is it that nobody wrote that Marathi films swept all the major awards?
Malayalam films may not have won any of the major awards but they did win 15 minor ones. Except for Malayalam newspapers and Malayalam TV channels, nobody has bothered to mention this. Only The Hindu wrote, 'Bollywood shares the spotlight with Malayalam and Marathi films.'
Those who celebrate Vicky Donor winning three awards failed to write that it shared the best popular award with the Malayalam film Ustad Hotel, and the Malayalam actress Kalpana shared the best supporting actress award with Dolly Ahluwalia, for her performance in Thanichalla Njan. The latter film also won the Nargis Dutt award for national integration.
In fact, Ustad Hotel won three awards.
But then, how many people want to rejoice about these lesser known actors and the excellent films they have made? What is news for some is Barfi and Ranbir Kapoor not winning, and not Usha Jadhav or Thilakan or Lal or Kalpana winning the National Awards!
This is like celebrating only Hindi films when Indian cinema completes 100 years. Indian cinema doesn't mean just Hindi cinema; excellent films are made in many other languages in India.