Every time a filmmaker wishes to explore history or religion on his or her terms, self-appointed experts and limelight-seeking zealots swoop in to protest.
Extreme prejudices are formed without even seeing the final product, triggering a disturbingly destructive impulse, feels Sukanya Verma.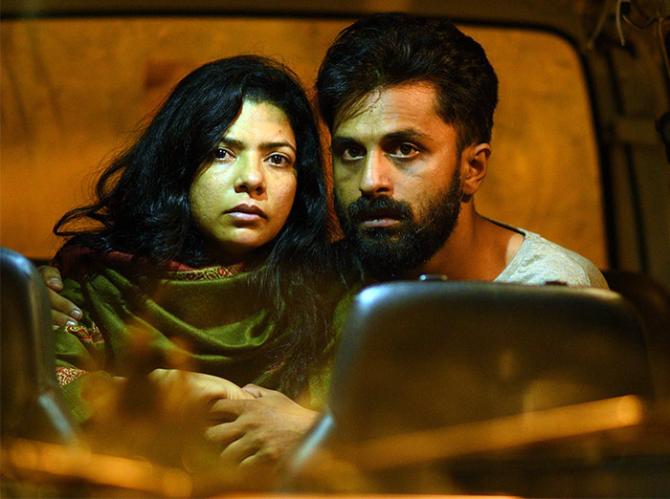 IMAGE: A scene from S Durga
There's an air of unrest surrounding the Indian movie industry these days.
The Sri Rajput Karni Sena is hell-bent on stalling Padmavati's release since Sanjay Leela Bhansali's ambitious period drama went on floors, the Uttar Pradesh government is edgy about its proximity to the civic polls while a BJP MLA believes it should be banned altogether.
The Karni chief, Lokendra Singh Kalvi, has said that Deepika Padukone -- who essays the titular role -- should receive the same punishment Shurpanakha received at the hands of Lakshman (In the Ramayan, Ram's younger brother cuts off the ears and nose of Ravan's sister).
And now, Union Minister for Road Transport and Highways and a senior member of Prime Minister Narendra Modi's cabinet, has weighed in on the controversy surrounding the film.
'Padmini is part of our history. The film cannot distort history. The film needs to maintain cultural identity and sensitivity,' he told India Today in an interview.
Meanwhile, barely a week before Goa unveils the 48th edition of the International Film Festival of India, the Information and Broadcast ministry has dropped a bombshell on the Indian Panorama section's 13-member jury by unceremoniously pulling out two significant films -- S Durga and Nude from the final list -- prompting IFFI chief Sujoy Ghosh's resignation.
Often, under the pretext of 'hurts public sentiment', social organisations and government officials arbitrarily dismiss films and control what the audience should see or abstain from.
Yet, the only thing this large-scale child locking on the authority's part hurts is the freedom of expression and artistic license, causing endless delay, hassle and losses to the film's makers and collaborators.
So what is the hue and cry about?
Every time a filmmaker wishes to explore history or religion on his or her terms, self-appointed experts and limelight-seeking zealots swoop in to protest.
Extreme prejudices are formed without even seeing the final product, triggering a disturbingly destructive impulse.
This Did Not Happen versus This Could Have Happened is a fascinating conflict but, by enforcing toxic resistance, detractors abuse the fundamentals of opinion and criticism.
In a country besieged by genuine evils like poverty, crime against women, corruption, unemployment, population explosion and inflation, it's frustrating to witness dissent wasted on foolish ideas of safeguarding heritage.
At the Q&A session following the screening of the Malayalam thriller, S Durga, originally titled Sexy Durga, at the recently held Mumbai Film Festival, director Sanal Kumar Sasidharan explained his objective behind the film's controversial title.
People have no qualms about eve-teasing a girl whose name might be Durga (after the Indian Goddess) on the street, but one adds 'sexy' before her name, everyone is easily offended.
"Why these double standards? Why this contradiction? I wanted to ask this question," he says about the film, which received the India Gold Special Jury Mention at MAMI, the Golden Apricot at Yerevan International Film Festival and the Hivos Tiger Award at Rotterdam 2017.
Clearly, the I&B ministry is stuck on the 'Durga' bit and fails to see the relevance of Sasidharan's chilling commentary on the unsafe environment for women and interfaith liaisons in a film that masterfully conveys its ferocity without a single scene of explicit violence.
Previously, Deepa Mehta's Fire faced the ire of right-wing politicians objecting to a homosexual liaison between two women called Radha and Sita -- names of religious significance in Hindu mythology.
Director Pan Nalin was ordered innumerable cuts on Angry Indian Goddesses for the most random of reasons.
Filmmaker Karan Johar changed the lyrics of his song from 'sexy Radha' to 'desi Radha' in Student of the Year to escape further controversy.
'We are living in a society, where people shamelessly compromise to get the benefits of governments. Those compromises make things smooth for dictators,' reads one of Sasidharan's recent Facebook posts.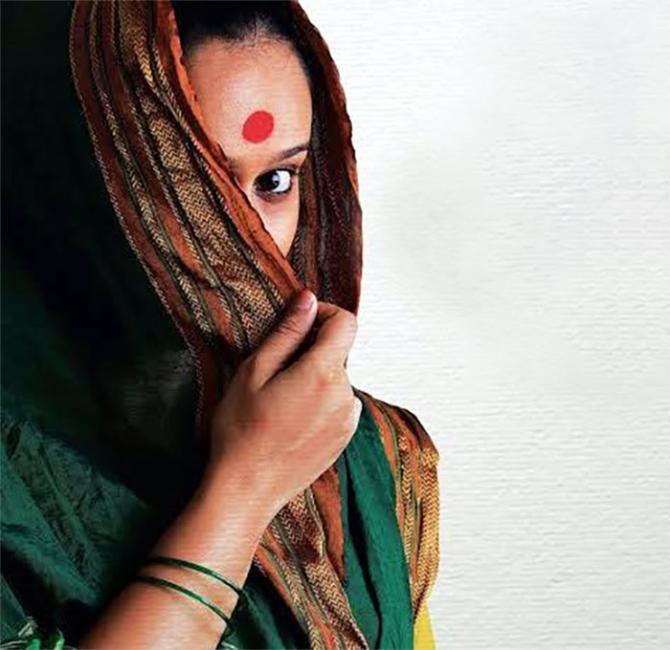 IMAGE: The Nude film poster
Meanwhile, Ravi Jadhav, director of the Marathi drama, Nude -- supposedly a jury favourite and touted to be the opening film of the Indian Panorama section -- is understandably perplexed about its ouster.
Jadhav tells the story of a woman volunteering to model for nude paintings at an art school.
If the aesthetic trailer is anything to go by, Nude brims with promise. But the folks at I & B appear to be too put off by the title to pay attention, revealing a shamefully orthodox mindset.
Cinematic censorship is the flimsiest expression of authority. Aversion to creative coexistence only confirms a lack of confidence in one's own beliefs, striving for credibility in its misplaced pursuit of propriety.
The late Italian director, Federico Fellini, looked at the chaos caused by censorship more favourably. 'Censorship is advertising paid by government,' he once said.
All that noise certainly boosted controversy-ridden Udta Punjab's box office charm. Perhaps it will do good for these regional indies as well.
But the real need of the hour is for the Indian film industry to act like a unit and not as individuals.
Selective support, widespread apathy and bowing down to demands cannot help its cause. To be taken seriously for all that magic it is and provides, it's imperative to put up a united, responsible front whose word is neither overruled nor restrained.