Jagame Thandhiram is a failure alright, but it is certainly an interesting one, given that both the ideas that it was borne out (twin seeds, if you may) were sure-shot movie ideas on their own, observes Rohit Sathish Nair.
SPOILERS AHEAD!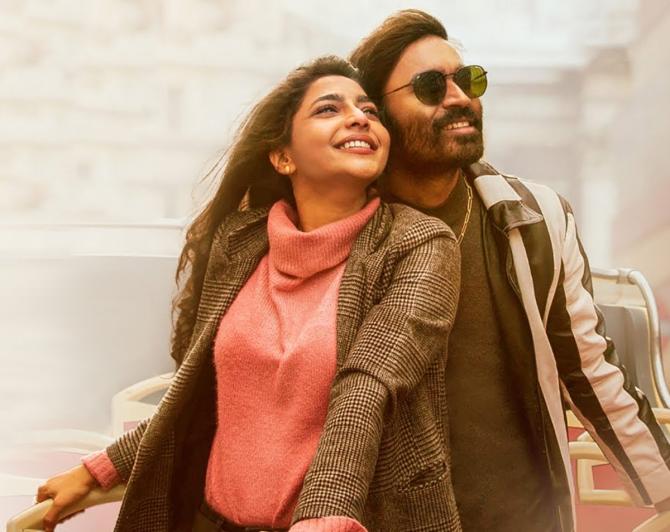 Making rather analytical (at least with respect to subtext) proclamations about movies and their various aspects could come with rather high stakes.
You could cook up a slightly erroneous theory (innocently or otherwise), and it could get lapped up in a manner way easier than you expected, or you could get caught in the act and get mobbed.
That said, when it comes to a film that wears so many references on its sleeve, there certainly is some merit to going out on a limb, going beyond the easy readings and making a risky hypothesis. Even at its worst, it's only a bit foolhardy, and at its best, it might even be a little brave.
So, if you may allow me: Both Jagame Thandhiram and Director Karthik Subbaraj s previous feature Petta can be seen as regressions from the Yojimbo prototype. (I know this snobby-sounding, potentially inaccurate theory sounds worse along with that self-aggrandising preface. Not immune to that irony, but let's move on, I'm adding on the bait...)
In Petta, the 'outsider' does bestow retribution where he arrives.
He cheats and withholds information (from his cohorts) to meet his ends.
He takes to revenge only as a means to survival.
Yet, we are never in doubt about him being the good guy.
But while the film swayed back towards convention, it was still marginally interesting because it was still a bit out there for what we know as the usual masala routine of late (I guess it helped that the good folks at times went about their business with indignation and vengefulness a little less)
Jagame Thandhiram, on the other hand, has the 'rat of an outsider' Suruli (Dhanush doing an extension of Maari and the Kokki Kumar cameo in Vai Raja Vai) get to a seemingly grey dynamic, and do his duty as a hired hand, only to realise that the circumstances were much starker, and he had joined the wrong side.
Jagame Thandhiram is a failure alright, but it is certainly an interesting one, given that both the ideas that it was borne out (twin seeds, if you may) were sure-shot movie ideas on their own.
The film was initially conceived as a crossover gangster film, with Madurai's aruvaa-verse and New York's Cosa Nostra intersecting: Something that seemed shallow, yet playful, spoofy and film-conscious, the kind of sensibility that gave birth to the first half of Tarantino's filmography, and by extension, something that was right up movie-mad Mr Subbaraj's alley.
Even the issue of immigration that got appended to the above-mentioned seed idea (at the very start) made thematic (if not tonal) sense, given that the modern gangster picture was one of immigration's gifts to cinema.
As mentioned before, the movie teems with references, a lot of them to older crime movies.
The two raid scenes in the film come with hat-tips to The Killing (and by extension The Dark Knight) and The Town respectively (these are rather fleeting yet important scenes, but YES, they HAD to be wearing the EXACT SAME masks).
London-based Tamil gangster Sivadoss (Joju George) is referred to as a Godfather (a Das Kapital-reading, Marx-resembling one at that, according to the accompanying shot which underlines that Droste effect) for many disadvantaged immigrants.
A window shooting towards the end harks back to the second Godfather, and the climax half-alludes to the remade Scarface (the subsequent denouement comes right out of Inglourious Basterds, but more about that later).
Problem is, a lot of these films which Jagame Thandhiram alludes to, occupy different positions in the gangster movie spectrum depth-wise.
While surface pleasures and depth (which seem to be diametrically opposite on the spectrum) wouldn't have been difficult to link, the film mostly borrows its devices from a lot of those melodramatic gangster classics, none of which had the hindsight of the more accomplished works.
The problem aggravates when all of these works, which aren't equal to each other, are cited in a straight, unironic, manner.
A key example would be a sentimental flashback sequence set in Sri Lanka that turns out to become the 'pair of cement boots' for the movie (if I may slip into Mafia movie parlance).
There are rather joyful bits of homage present too, though, primarily a running joke on Nayakan in the first half that kills every time.
There's also a nice routine involving Suruli (who doesn't know English), his friend and interpreter Vicky (Sharath Ravi) and his employer Peter Sprott (James Cosmo, with what sounded to me like his natural Scottish brogue) which is rather amusing, even though it doesn't get as absurd as Arturo Castro's 'Worst Translator' sketch did.
For a villain with rather cartoonish embellishments like a vehicle plate that says 'White powder' and KKK drapes, Sprott holds up very well till the end (even though I'm not sure if him being a Scot crime boss in London adds any extra layer of subtext).
Joju and Aishwarya Lekshmi (as Suruli's Sri Lankan Tamil girlfriend Attilla) get to hit a few fine notes even with the variable accents, pretty much like Nawazuddin Siddiqui and Malavika Mohanan got to in Petta.
The great joy of watching Dhanush's performance, at least in the initial portions, is to see him realise the optimal, intended, tone of the whole enterprise, and the major disappointment of the whole movie is to see him descend to sentimentality and (later) rather banal showmanship.
Interestingly, his arc resembles that of an earlier-era Tarantino character (who lives by their wits, yet slides off into displays of vanity) who turns, through the course of the film, to a later-era Tarantino character (so assured of their moral superiority that they're never in doubt about their eventual victory).
The film falters further when compared to the post-2000s Tarantino movie on a few aspects.
When the film chooses a current, perhaps ever-contemporary issue, and showcases it in its present, unsettled state (rather than Tarantino's 'once-upon-a-time' settings), and still treats it with the simplistic view of 'cinema being panacea for history', the greyness of the theme at hand remains disregarded (We're thankful that Mr Subbaraj doesn't entirely stoop to slogans like Tarantino did, but the problems remain glaring all the same).
The Basterds-inspired denouement just might be slightly smarter than its precursor, but it especially rankles because of the buildup to it, where Suruli tries to question the logic of Sprott's racism and explains to him the follies of the same: Something that a later-era Tarantino character, even at his smuggest, would never do.
To give credit to Mr Subbaraj, his movies are more visually agile than his idol's recent films, but what they lose is the distance and conscious artifice that the latter films have, with their single-shot-after-single-shot, 'to each main character their on proscenium arch' characteristic.
Thus, Jagame Thandhiram might even be an important failure because as an attempt done by a spiritual-son-of-Tarantino, which further exposes the faults of films that supposedly purify history and enrich cinema simultaneously.