'Maybe for his fans, just to see him in the flesh was worth the ticket price.'
'Maybe they were satisfied with the gig, the whole deal.'
'For me, the night was a dreadful waste of time,' says Jahnavi Patel.
Photographs and Video: Hitesh Harisinghani/Rediff.com
Coldplay performed in Mumbai a few months ago.
Before Chris Martin and his mates appeared on stage, a number of Bollywood stars performed tiresome routines to spread awareness about maintaining hygiene.
Just as we were beginning to lose our patience with the tinseltown crowd, Coldplay entered, and the huge crowd was instantly injected with an overdose of adrenalin.
The way Chris Martin performed, his engagement with the audience, his energy, excitement and enthusiasm on stage, which was instantly transferred to all of us in the crowd...
Oh! It was a-m-a-z-i-n-g! How I enjoyed it! For days, all I could talk about was Coldplay.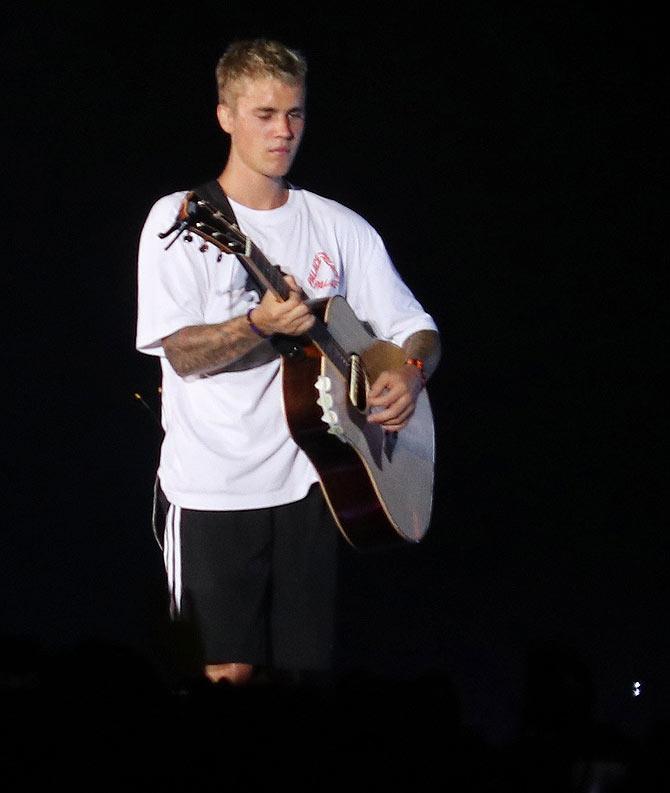 And then last night, phew! the Justin Bieber concert.
Not even remotely close to Chris Martin's electric show.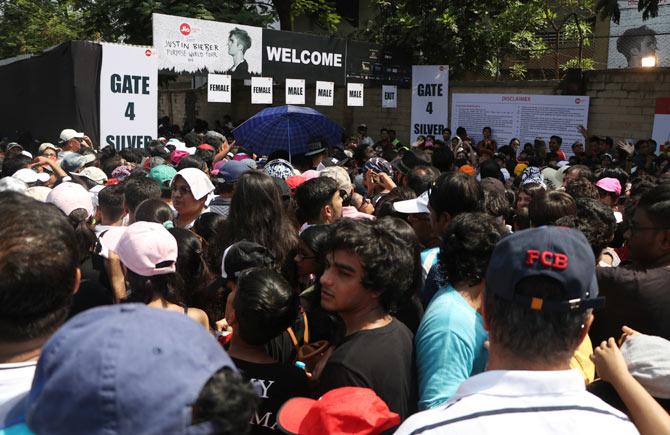 Hours before the Canadian lad showed up on stage, we arrived at the venue, only to encounter never ending queues, unbearable heat, organisational disarray. By the time we secured our media passes, we'd missed most of the crowd action.
It was no better on the red carpet, my colleague Hitesh Harisinghani told us later. The photographers and videographers were assigned an area so that they could shoot celebrities arriving at the venue.
Only the celebrities entered from the other side! Much hollering ensued to attract the celebrities' attemtion before images and footage could be canned.
The D Y Patil stadium is a cricket ground, so it was covered with mats to ensure that no damage was done to the turf.
But there were plenty of folk who stubbed their cigarettes on the mats without bothering about the damage it could do to the ground itself. No smoking in public places, did you say? No drinking in public, did you say? Ha! Ha! Ha!
A little before 8, and it was time for Justin to enter. The lights on stage went off and the crew was busy setting up his gig.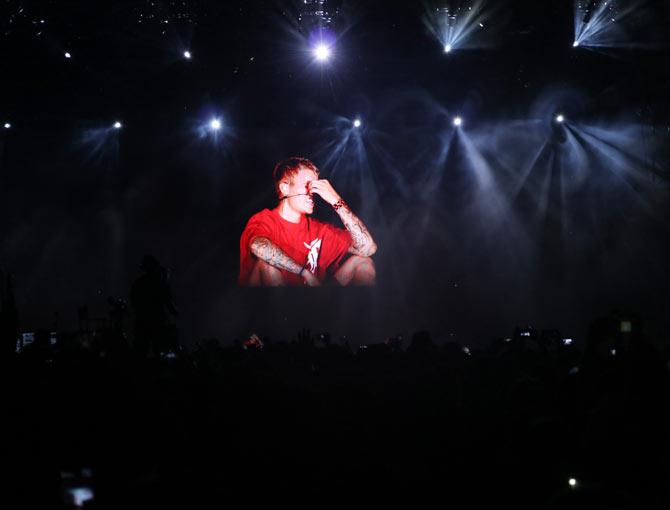 8:10, and there was no sign of him.
"Can you please call him?" a little girl asked me. "In how much time will he be here?" I was clueless about what to say as I surveyed the hordes of fashionably dressed Beliebers. "He'll be here soon," I muttered.
As an AV played before JB got on stage, the crowds rushed to the ramp.
The excitement levels in the crowd were very, very, high at this point.
And then he entered to a huge roar from the spectators!
Sigh. No reciprocal affection from the boy-man.
VIDEO: Watch the Baby singer perform and let us know what you think.
The Bieber show began with Where Are You Now and went on to feature Company, What Do You Mean, Let Me Love You, Purpose, Boyfriend, Baby, Cold Water, I'll Show You, As Long As You Love me, Love Yourself and ended with Sorry.
He danced with the dancers, did some tutting steps, all with near-nil enthusiasm.
Mid performance, he was fixing his shorts; disgustingly, he spat on stage; and worst of all, he lip-synced!
Did folks pay large sums of money to hear him lip-sync? How disrespectful to his audience!! What did he and his minders think Indians are?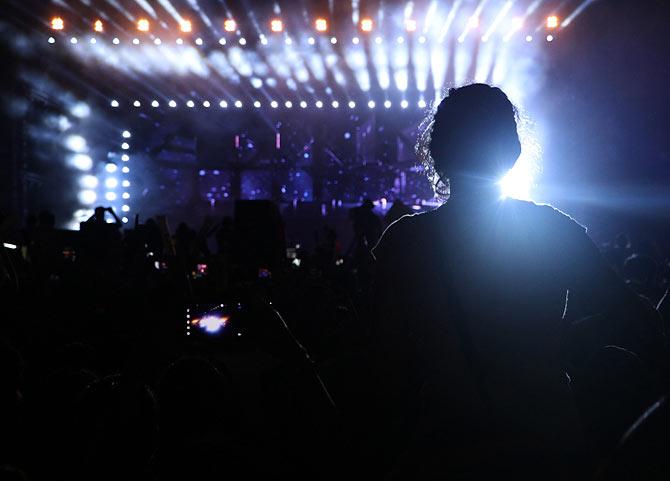 I felt sorry for his fans, many of whom had arrived in Mumbai from other parts of our country. Surely, they deserved more than this mockery of a concert.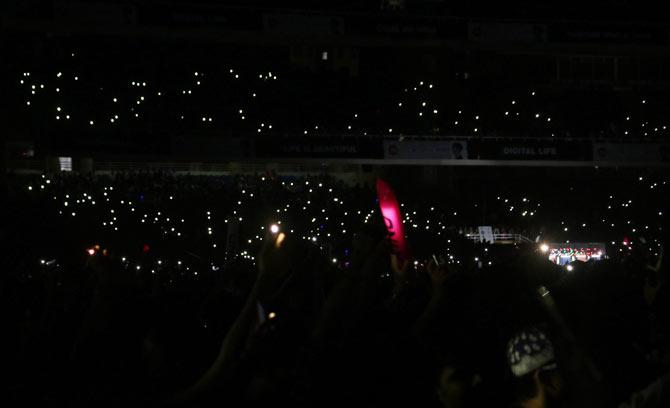 Maybe for his fans, just to see him in the flesh was worth the ticket price. Maybe they were satisfied with the gig, the whole deal. I heard one little girl tell her mom she was just dying to see Justin on stage.
Well, for me, the night was a dreadful waste of time. Thanks heavens, it wasn't my first concert or else I'd never have wanted to attend a concert again in my life.
Chris Martin and Coldplay, I can't tell you how grateful I am to have seen and heard you guys perform live.
You made us feel nice, you respected us, you gave us all the love back we showered you with.
Master Beiber, it's time you learnt from the best!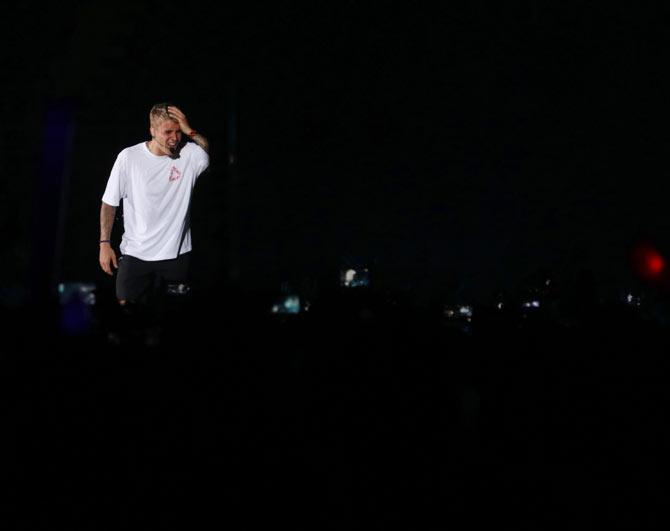 As the lyrics of your song go...
You gotta go and get angry at all of my honesty
You know I try, but I don't do too well with apologies
I hope I don't run out of time. Could someone call a referee?
'Cause I just need one more shot at forgiveness
Is it too late now to say sorry?
We don't know... but I have to say, Justin Bieber, never, EVER!