'Badlapur,' says Sreehari Nair, 'proves that sometimes there are more personal truths to be discovered in our trash cans than in our neatly arranged book-shelves.'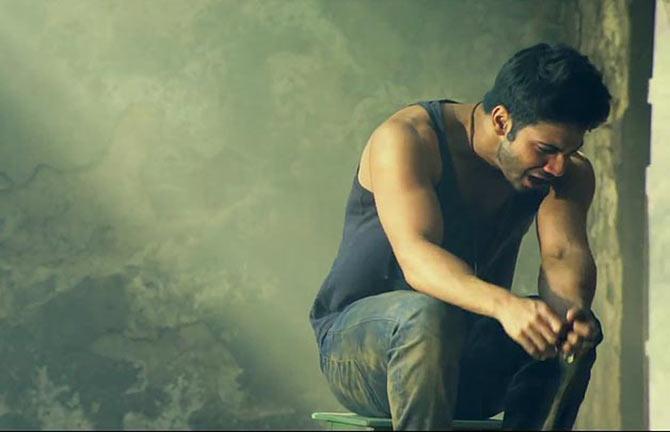 IMAGE: Varun Dhawan in Badlapur.
I strongly believe that there is an independent God for the movies, and for all my money he is a Child; curious, ever-learning, perhaps even pubescent.
It's this Child-God that I am sure Sriram Raghavan fervently worships. For his is a filmography peppered with a very specific kind of beauty; a beauty that's a call-out to the times when we as children allowed our senses to be directly overpowered by the lines we read from a book or the images that flickered on the screen in front of us -- from which, we then created our own little, personal essays.
In Badlapur, all of Raghavan's specific loves and venerations come together to create a movie experience that makes you wonder if everything good he's done in the past -- Ek Hasina Thi and Johnny Gaddar to be specific -- were mere apparatuses to help him get to the heights he reaches with this movie.
As 2015 draws to a close, Badlapur stands alone as the one Hindi movie this year that didn't just tell a story, but also tapped into our collective viewing consciousness.
Kiran Nagarkar, the author of Ravan and Eddie, makes a valid point when he says that we are too soft on our arts; almost anything half-decent gets labelled as 'Great'. 'Great,' Nagarkar says, should be an 'Event'. It's with these strict benchmarks in mind that I dare to call Badlapur 'A Great Indian Movie'.
Let's not try to qualify this claim by considering the genre contraptions that the picture seems to easily lend itself to. With Badlapur, Sriram Raghavan has leapt to the stage that Vishal Bhardwaj reached with Maqbool, Sudhir Mishra with Hazaaron Khwaishen Aisi, Farhan Akhtar with Dil Chahta Hai, Shimit Amin with Ab Tak Chappan and Anurag Kashyap with the two Wasseypur films.
It's the stage where a director doesn't rely on plot alone to suck us into his world, but is also mindful of the cumulative experiences that we carry with ourselves as moviegoers.
Impressionistic and consciously loose in its execution, Badlapur's true triumph lies in its single-minded commitment to subverting each expectation that you would naturally bring to a movie of this nature. In fact, part of the reason why so many in the audience -- and also a big percentage of our movie critics -- thought of Badlapur as sort of 'unfulfilling', is because it teases you with these 'revenge drama breadcrumbs' all along, and then gives you none of the comfort that the genre promises. However, in the process, Badlapur makes you aware of your own awareness.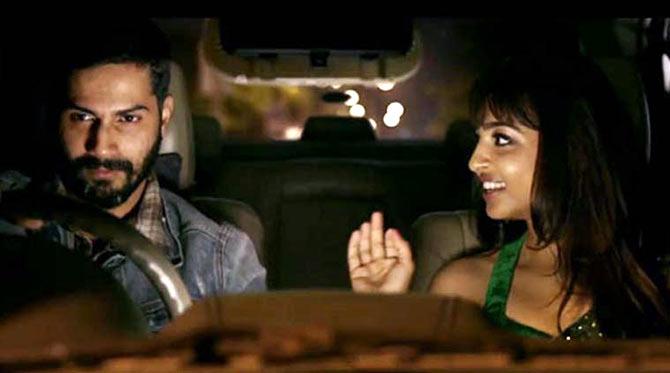 IMAGE: Varun Dhawan and Radhika Apte in Badlapur.
If you've seen the movie, you must have been surprised about how long Sriram Raghavan lingers on -- especially in sequences that he knows will climax in action designed to hit the viewer like a piston rod that's broken through the crankcase.
In a sequence that ends in Radhika Apte being bludgeoned, Raghavan first takes us inside her bathroom, where she has a random shower and talks to herself in her head.
Neil Nitin Mukesh does something of a similar routine, in a pivotal coin-tossing scene in Johnny Gaddar. How many Indian directors allow their characters to mumble to themselves, before they set out on some of their most important life moments? Or follow up a deadly character connection, with a shot of Konkani singers droning out folk numbers in a restaurant?
Through his stretching of the tension rubber-band, Raghavan ramps up our anxieties in an almost Brian De Palma-like manner.
In another series of sequences, the director tinkers with time, and uses nature to amplify our disquiet. We are parallely taken through the lives of Raghu and Liak -- the revenge-seeker and wrongdoer in conventional terms. Suddenly a title tells us that Liak has now spent 15 years in prison, immediately making us curious about Raghu's existence. It's here that Raghavan comes up with a pure genius piece of filmmaking.
We see a lady driving -- later revealed to be Divya Dutta -- on the Badlapur highway, stopping to ask for directions and it's misty outside -- maybe even a little damp.
Cut to: A distant shot of Raghu trundling along in the rain, clutching on to one of those giant-sized umbrellas, his frame partly obscured by the torrential showers, and Marathi poetry being recited in the background.
Cut to: Raghu arriving at a local temple where we see the poetry being actually rendered, and where Divya Dutta sits awaiting his arrival.
I have tried and failed miserably in my effort to verbalise why the aforesaid three sequences when placed end-to-end project such cinematic power. Maybe Sriram Raghavan himself would fall short of a meaty theory; those sequences seem like they are culled out straight from his subconscious.
The images of the desolate highway and the torrential rains and sound of the Bhavgeet poetry in combination paint a picture so powerful and moving that it affects you in the sensual sort of way that only a movie can.
While I was anticipating yet another De Palma-like trick here, the release was pure Kurosawa. Sriram Raghavan, the swindler, had once again set me up for something, and went another away completely.
The Director's careful destroying of genre conventions that I've alluded to before were, for me personally, the most fascinating bits in Badlapur. By the end of the movie, we realise that the distinctions between 'Good' and 'Bad' have blurred -- a feat revenge dramas hardly aspire for. But as this happens, we're made to question our own perspectives of what we've come to regard as 'Noble' and 'Crass' in the movies.
Every character in Badlapur commits mistakes during the course of the film, and most of them are soiled right from the start. However unlike a Zoya Akhtar film, these actions are not presented with an intention of making you side with one character in favour of the other. Even Zakir Hussain, who plays a rank despicable character, has a moment when he quietly subsides; albeit apprehensively.
Corpses pile up and there are scenes of affecting violence. Affecting because, when compared to say the calculated violence in a movie like Detective Byomkesh Bakshy, the violence in Badlapur is sudden, unapologetic and it's of the kind that sensitises us to the acts, than let us view it from a casual distance.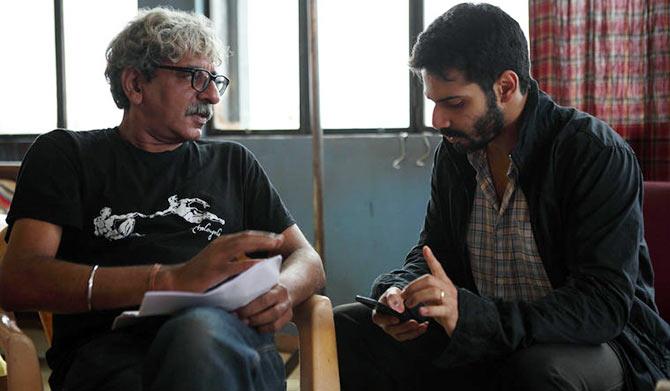 IMAGE: Director Sriram Raghavan and Varun Dhawan on the sets of Badlapur.
At a Dibankar Banerjee movie, you are repeatedly reminded that you are in the company of a 'Great Brain'. When you walk out of a Sriram Raghavan film, you see a 'Great Mind' at work. Raghavan is clearly a humanist and his depictions of brutality are not just harvested from the movies he has seen, but also from the mythical echoes he has heard.
What's interesting to note also is that for all its darkness, everything important that happens in Badlapur seems to stem out of something as simple as 'inappropriate behaviour'. This is why, I thought, the movie can also be viewed as a 'Comedy of Manners'. But then, it can be argued that all great movies are exactly that, on some level.
Take Martin Scorsese's Taxi Driver, for example. All of Travis Bickle's efforts to make his life worthwhile, all his efforts to make a connection, to score a date, or to change the world around him, in addition to being scary and painful, are also awfully funny.
The French New Wave directors were the ones to first propagate this sensibility that Spanish filmmakers have since then, mastered. Sriram Raghavan, like in his earlier films, also seems to possess this uncanny knack of making a sequence seem droll and devastating at the same time.
While there's plenty of broad humour in Badlapur, sample these sequences that follow Nawazuddin's Liak walking out a free man: he makes small talk with a friend, kids with his mother, tidies himself up and generally has a good time before setting out to visit the love of his life. It's the kind of parentheses that novelists often draw, but only an astute director knows, when and how to insert in a movie.
Even as it belts out one great scenario after another, the sequence in Badlapur that really summed up the movie for me is the altercation that Raghu and Liak get into, towards the end. Raghu, after having completely mauled Liak, goes on to explain how he had killed Liak's former associate, and how his associate was ready to part with his share of the money, and his wife, ready to sleep with Raghu to save her husband.
What Raghu essentially tries to do in that sequence is explain to Liak how for all of Liak's courage and codes-of-honour, the world is a far more rotten place.
However Liak, after having heard Raghu, walks out, walks back in and confesses that it was he and not his partner who killed his wife and child. Raghu, the 'mad preacher on a soapbox', has his cynicism thrown back at him, by the same hooligan he'd been planning to get even with, for 15 years.
Hate begets a hate; something that a film like Haider tried to hammer into our heads, Badlapur gets across with deft touches such as these.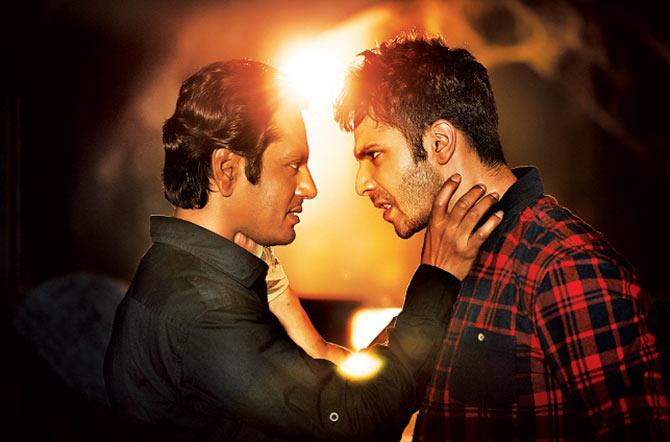 IMAGE: Nawazuddin Siddiqui and Varun Dhawan in Badlapur.
The praise that has been showered on the performances in the movie, to me, seem quite lopsided. Nawazuddin, it can be argued, is the finest talent in the country on present form and the actor has clearly and masterfully improvised a lot of his scenes.
By the end of the movie, a part of Liak's goodness also reaches out to us, and it would have always taken a special actor to pull that bit off, without making the osmosis all-too-evident.
The thing I want to, however, point out to here is the importance of casting someone like Varun Dhawan opposite a performer of Nawazuddin's calibre.
While Nawazuddin brings to the proceedings spontaneity, it is Varun who gives them the necessary jagged edges. For unlike Liak who starts off a pro, Raghu is a stammering stud -- someone whose toughness, he himself only seems to be getting used to.
Even when he goes off on a rampage, Raghu's polish hasn't left him completely; his bearded face and burly figure still needs rehearsals and pondering over.
Working with cinematographer Anil Mehta, Sriram Raghavan transforms Raghu into a force of nature, but holds back his composure; he still clutches on to that umbrella with deep caution. It's a wonderful casting decision that works both in the larger context of the movie and again as a tool to contradict our anticipations.
I have watched Badlapur twice, and frankly I didn't notice things that I didn't the first time -- it isn't a movie that reveals fresh aspects with every subsequent viewing. It is, however, a movie that takes the most banal scenes and set-ups and invests in them a new sense of vitality, a director's personal vision, so that we walk out with an immediate experience that is both beautiful and upsetting.
When we cry hoarse about there being a dearth of good stories in our movies, we often forget that the stories we have relished over the years, can still spawn a million other stories; if only we brought a part of ourselves to them.
Badlapur proves that sometimes there are more personal truths to be discovered in our trash cans than in our neatly arranged book-shelves.