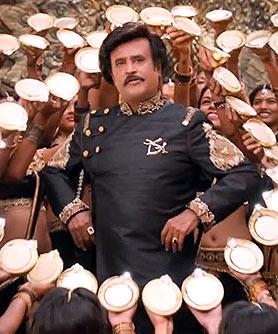 'Experts and critics from the Tamil film industry, as well as other Indian language movies, are of the unanimous opinion that roles and scripts befitting Rajinikanth's acting talent are not being written'
'For repositioning, analysts suggest, he go to the next level -- and take up character roles, rather than play the hero.'
In the wake of lukewarm response to his last two films Lingaa and Kochadaiyaan, T E Narasimhan and Urvi Malvania examine ways in which Rajinikanth can reclaim past glory.

Rajinikanth says, in his latest flick, Lingaa, "I have not failed; I have only postponed success."

His fans and business partners are now hoping this reel line proves to be a punchy real-life mantra for the Tamil super-star, especially after Lingaa's disappointing show at the box office.
This was not the beginning of the rough patch for him.

Earlier in 2014, the much-anticipated animation film, Kochadaiiayaan, his first release since the 2010-hit Enthiran (Robot in Hindi), had also failed to enthral the audience, and had been criticised on technical and creative grounds.
Lingaa, his second release of the year, met with a worse fate -- so much so that the distributors who earlier swore by Rajinikanth's box-office charisma, were now seeking a refund of their money.

Some of them recently sat on a day-long fast to demand compensation from Rajinikanth and the film's producers.
Has the actor lost his pull and popularity among the masses?

Experts do not think so.

They believe it is the need for reinvention, and not loss of popularity.

Experts and critics from the Tamil film industry, as well as other Indian language movies, are of the unanimous opinion that roles and scripts befitting Rajinikanth's acting talent are not being written.
"He is stuck, like Amitabh Bachchan was from the late-1980s to 2000," says a trade analyst.

Analysts say that it is time the actor repositioned and reinvented himself.

For repositioning, they suggest, he go to the next level -- and take up character roles, rather than play the hero.
"One must accept that he is getting old. The current generation might not like to see Rajini flying in a balloon, fighting and romancing young actresses," a distributor says.

He cites the examples of Bollywood stars of yore, Amitabh Bachchan, Rishi Kapoor and Rakhee, who went on to play character or supporting roles in the later part of their career, and met with success.
In Lingaa, 65-year-old Rajini is seen romancing Anushka Shetty and Sonakshi Sinha -- neither of them more than half his age -- and in the climax of the film, he has a fight in a hot-air balloon.
Both Lingaa and Kochadaiiayaan were co-produced by Eros International, which was responsible for their distribution in India and abroad.

The Sunil Lulla-led studio's combined investment in these movies was close to Rs 200 crore.

The studio refused to divulge the loss it might have incurred on the ventures; it did not even make the movies' final collections public.
In a statement, the studio clarifies: "We have no direct arrangements with any distributor claiming refund… that is why MG (minimum guarantee) deals and refundable advance deals exist in the market and everyone entering into these, across the value chain, makes business choices based on the perception of a film before release. In this case we had an MG deal consistent with our pre-sales strategy."
In the minimum guarantee model, a studio or producer provides the prints for the movie after a distributor or exhibitor furnishes a minimum guarantee amount. This means the exhibitor or distributor cannot hope to make any money till box-office collections (the net amount, after tax) match the MG amount.

This model is generally used for movies featuring top actors, in anticipation of a windfall at the box office.
For many years, Rajinikanth's movies had seen some of the biggest box-office collections and people were ready to invest in his films; he was also India's highest-paid actor.

There were a few failures since 2002 -- Baba (2002), Kuselan (2008), besides the more recent Kochadaiiayaan and Lingaa, which fared poorly.

But there were also movies such as Chandramukhi (2005), Enthiran (2010) and Sivaji (2007) that lived up to Rajini's name.
Sivaji, directed by Shankar and distributed by Sun Pictures, part of the Kalanithi Maran-promoted Sun Network, holds the record for collecting a little over Rs 300 crore in gross revenues globally, the highest by a Tamil film.
So far as Lingaa is concerned, it is a different story.
A distributor of the film says: "We have suffered huge losses; roughly 70 per cent of our investment. We seek Rajinikanth's intervention. There is nothing against him but we feel cheated and he should know this."

Smaller distributors, who are said to have been hit the most, usually invest Rs 4-8 crore on an average on a film.