'To me,' says Aseem Chhabra, 'the Golden Globes hold the most meaning as one gets to see stars celebrating, getting emotional, letting their guard down and showing us their regular human side.'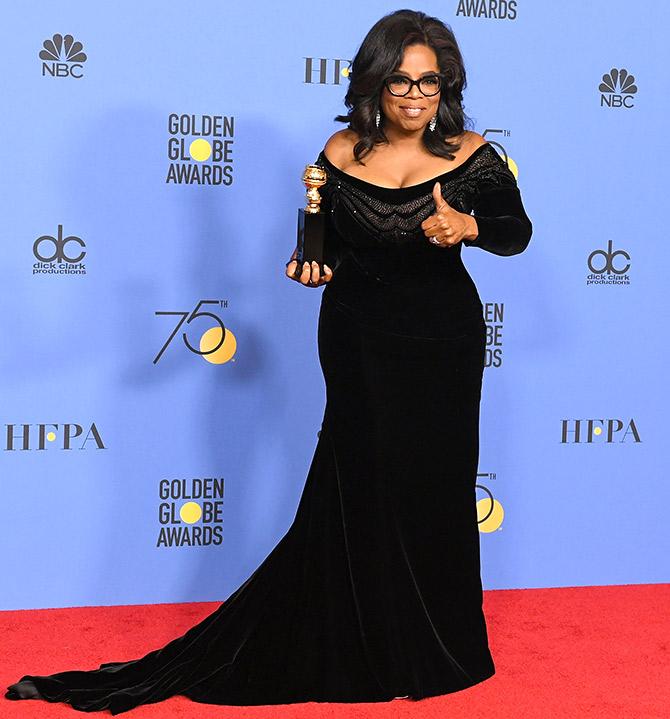 IMAGE: Oprah Winfrey whose powerful speech almost instantly launched an Oprah for President campaign on social media. Photograph: Kevin Winter/Getty Images
When Oprah Winfrey speaks, the world listens.
As the universally acknowledged queen of television talk shows (and an actress and film producer), she has the power to heal and to make people cry.
And that was evident in her emotionally charged speech when she accepted the Cecil B DeMille Golden Globe for her contribution to the world of entertainment.
Dressed in black, like most men and women who attended the annual award show hosted by the Hollywood Foreign Press Association, Oprah started off by speaking of the time when she was 10 years old in 1964 and watched Sidney Poitier win the Oscar for Best Actor for Lilies of the Field.
'I had never seen a black man celebrated like that,' Winfrey said in her nine-minute speech where she also paid homage to Recy Taylor, an African-American sharecropper who was raped by six white men in 1944 in Alabama, and Rosa Park, then a young activist, who was sent to investigate the crime.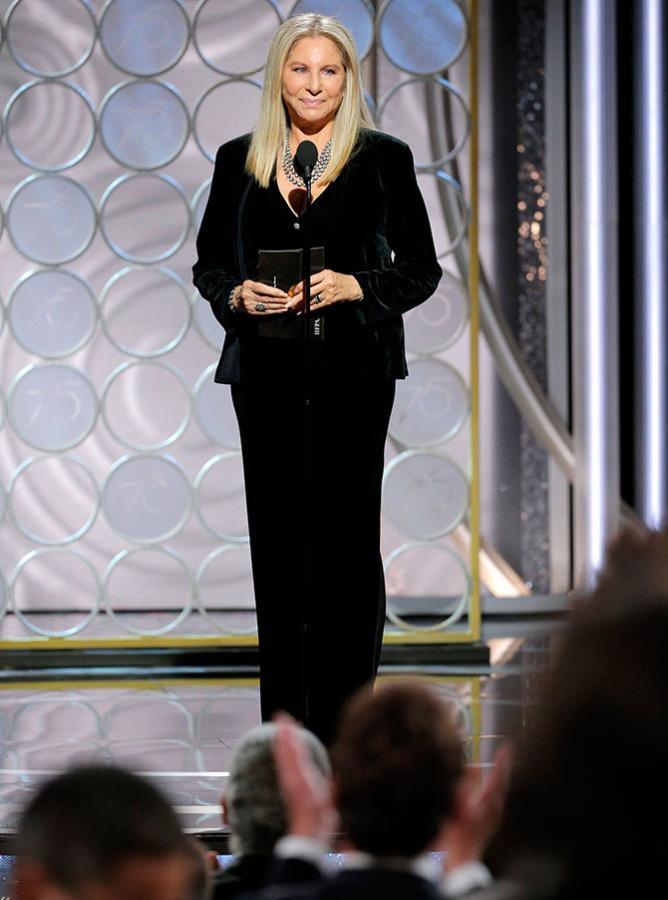 IMAGE: Four-time Golden Globe winner Barbara Streisand pointed out, 'They said I was the only woman to get the best director award (Yentl), and you know, that was 1984. That was 34 years ago. Folks, time's up!'
The 75th Golden Globes -- the first of the many Hollywood events that will mark the best in films and television shows made in 2017 -- was supposed to celebrate Art. But the world, especially Hollywood, has changed a lot since reports of movie mogul Harvey Weinstein's sexual harassment first appeared in The New York Times and the New Yorker.
In this new world, stories of brave women, who have spoken out against monsters who have abused them will take precedence over those who win trophies. At least this year.
'Speaking your truth is the most powerful tool we all have,' Oprah said. 'I am especially proud of all of the women who have felt strong enough and empowered enough to speak up and share their personal stories.'
And then she addressed the importance of the fact that she was the first black woman to receive this recognition.
'At this moment, there are some little girls watching as I become the first black woman to be given this award,' Oprah said. 'I want all the girls watching to know: A new day is on the horizon.'
Oprah's inspiring speech has already created the buzz that she may run for president in 2020.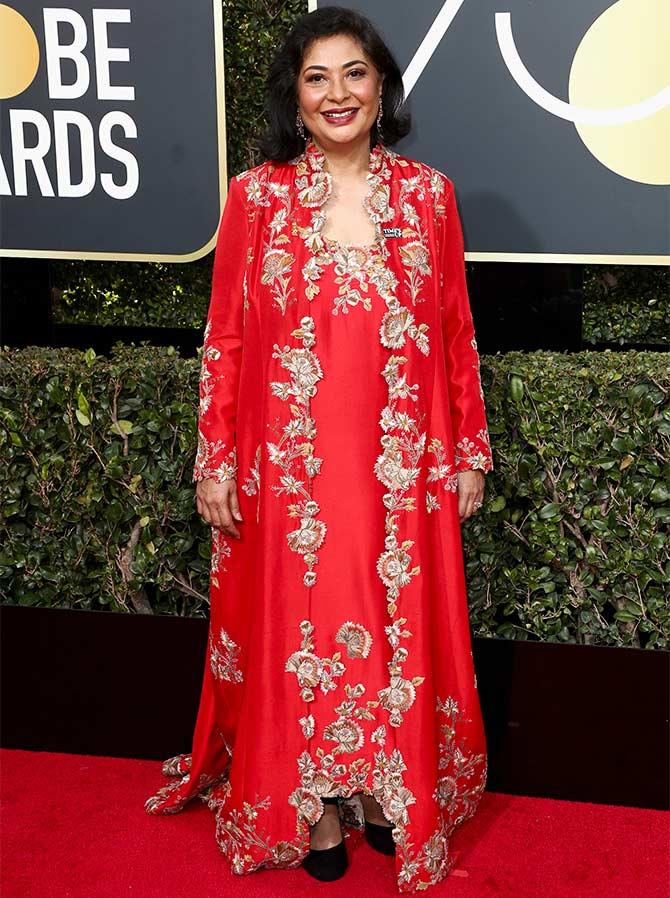 IMAGE: Mumbai-born Hollywood Foreign Press Association President Meher Tatna was among the few guests who did not wear black at the Globes. Photograph: Frederick M Brown/Getty Images
While politics and women fighting back against sexual harassment took centre stage at the Globes, some guests ignored the nudge that they come dressed in black.
Hollywood Foreign Press Association President Meher Tatna wore a bright red dress because she said she did not want to disappoint her mother.
'I'm from India and for a special celebration, we don't wear the colour of mourning,' Mumbai-born Tatna -- who wore a #TimesUp pin -- told Associated Press. 'My mother would be appalled!'
As an awards show, the Golden Globes influences other industry awards presented by writers, producers, directors and actors -- especially the Oscars.
The Academy Awards nomination process commenced on January 5 and will continue until January 12.
Hollywood Foreign Press Association members are clearly aware of the power they wield even when observers question their strange choices. They seem to take pride in picking odd nominees and winners.
But rest assured, every Hollywood studio is pushing their Golden Globe winners -- especially Fox Searchlight with the unexpected four wins for Three Billboards Outside Ebbing, Missouri.
I liked the film which made my top foreign film list.
But I was surprised to see Three Billboard win the top honour: Best Picture in the Drama category.
While the film has a high Rotten Tomatoes score of 93 percent, some critics have pointed out to its weak representation of race issues in middle America.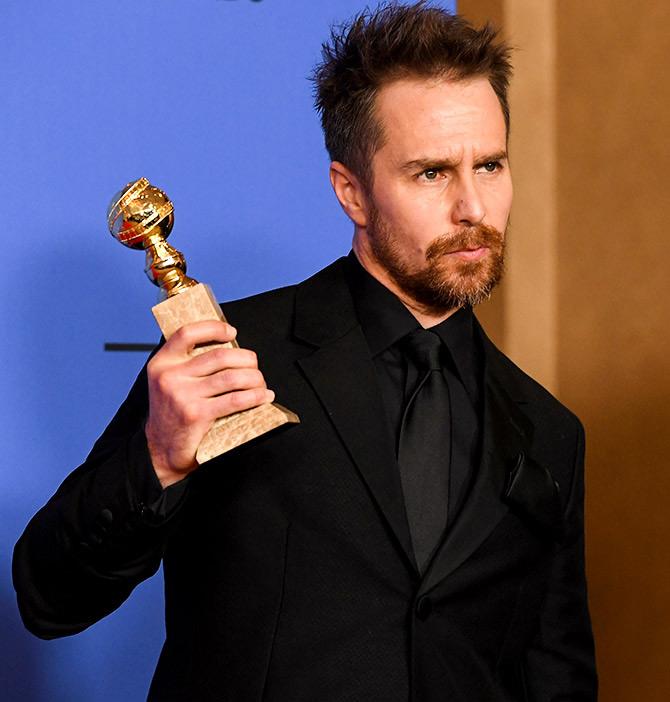 IMAGE: Sam Rockwell shows off his trophy. Photograph: Kevin Winter/Getty Images
I was thrilled that Sam Rockwell, one of the most under-rated actors in Hollywood, won the Best Supporting Actor award for Three Billboards.
Rockwell's win was a big surprise since Willem Dafoe was supposed to be a shoo-in for his heartwarming performance as the manager of a down-market motel and a father-like figure of the kids who live there in The Florida Project.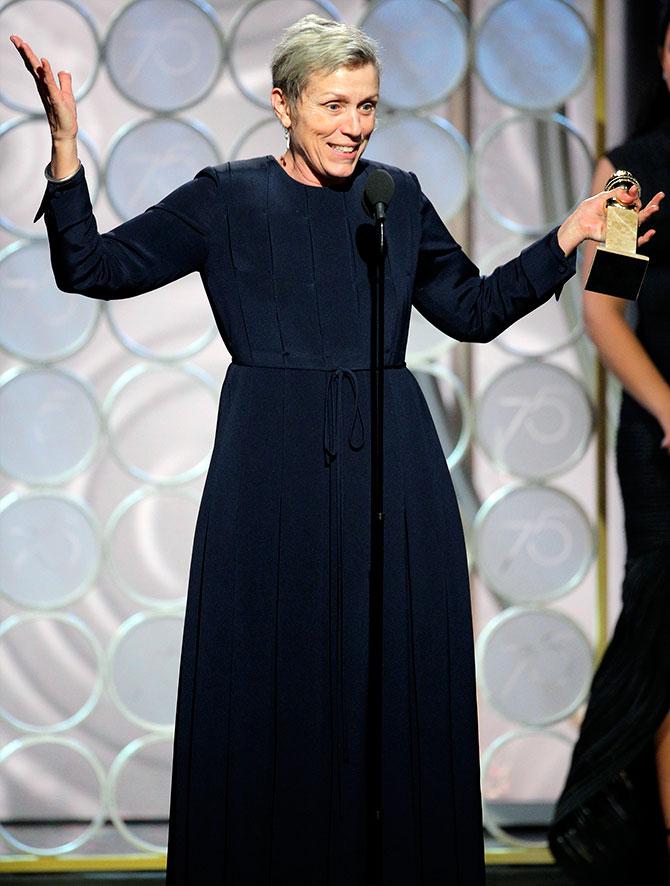 IMAGE: Frances McDormand who won the Best Actress trophy in the Motion Picture-Drama category for Three Billboards Outside Ebbing, Missouri.
When the brilliant Frances McDormand won the Best Actress award in the drama category for Three Billboards, it was time to pause.
The HFPA's 90 voting members had taken a bold and unexpected decision voting for McDormand over the more popular Meryl Streep (The Post) and the most deserving Sally Hawkins (The Shape of Water).
McDormand's speech hit the right note after she said she does not make her politics public. 'It was great to be in this room tonight...Trust me, the women in this room are not here for the food, we are here for the work, McDormand declared.
Both McDormand and Hawkins are nominated for the Screen Actors Guild award (to be held on January 21) along with Saoirse Ronan who won the Best Actress Golden Globe in a musical or comedy for Lady Bird.
Only actors vote for SAG awards and they constitute the largest voting block at the Academy Awards.
The HFPA did right to recognise Mexican master Guillermo del Toro (The Shape of Water) as Best Director over the other popular choice, Christopher Nolan for his World War 2 masterpiece Dunkirk.
But it is anyone's guess what led HFPA to nominate Ridley Scott in what turned out to be an all male group of directors (Natalie Portman referred to them as 'all male nominees') for his middling work All The Money In The World.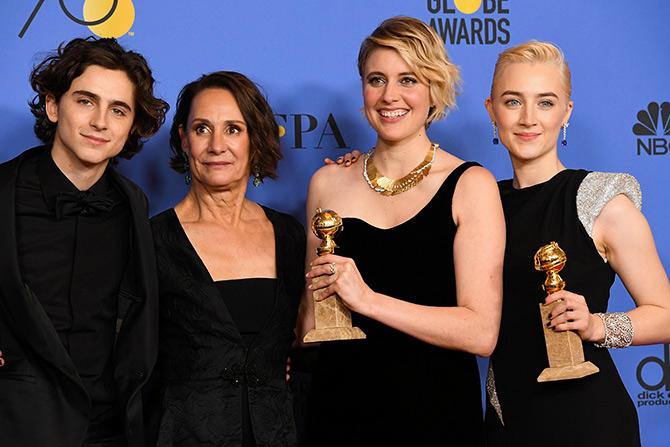 IMAGE: Lady Bird cast and director Timothee Chalamet, Laurie Metcalf, Greta Gerwig and Saoirse Ronan with the Golden Globe for Best Motion Picture Musical or Comedy. Photograph: Kevin Winter/Getty Images
When the Golden Globe nominations were announced, most commentators were shocked that Greta Gerwig's name was missing from the best director's list.
Perhaps to make up for this omission, HFPA members voted for Gerwig's Lady Bird in the best film musical or comedy category.
Of course, the sharply written and wonderfully acted film about a mother and her often strained relationship with her teenage daughter deserved recognition. But the biggest shocker was when HFPA snubbed Laurie Metcalf in the Best Supporting Actress category. Metcalf has won more than 20 critics' association awards for Lady Bird.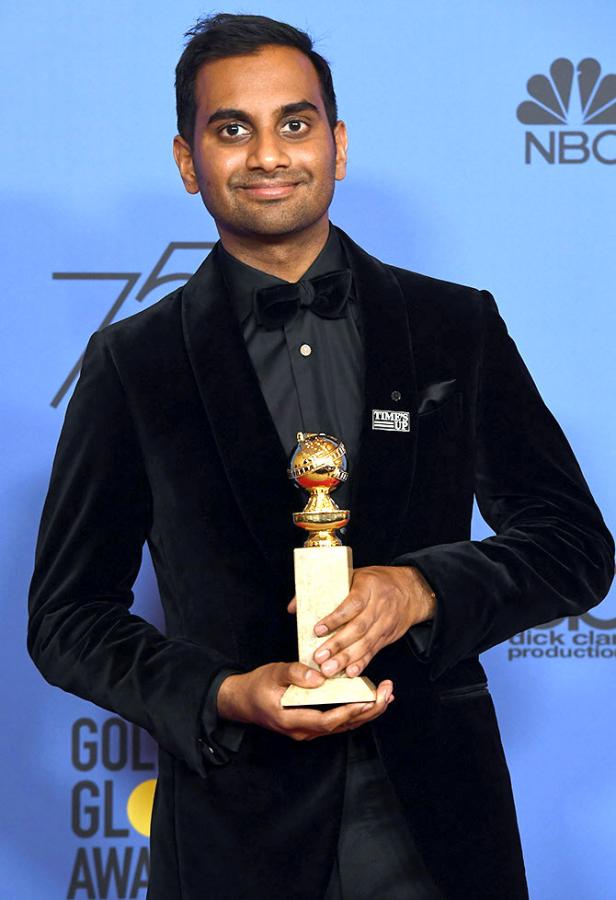 IMAGE: Aziz Ansari wins his first Golden Globe. Photograph: Kevin Winter/Getty Images
It is hard to say how much politics and race issues played in the HFPA voting, but there were signs.
Sterling Brown became the first African American to win the Best Actor in the television drama category for This is Us.
Aziz Ansari (Master of None) became the first Asian and Indian American actor to win a Globe for the best leading performance in a television comedy.
But the critically acclaimed race-related horror-comedy Get Out was shut out by the HFPA.
Its lead actor Daniel Kaluuya was favoured to win the best actor in the musical or comedy category. But HFPA took the safer route and gave the award to James Franco, the eccentric actor, popular with teen girls and gay men, for The Disaster Artist.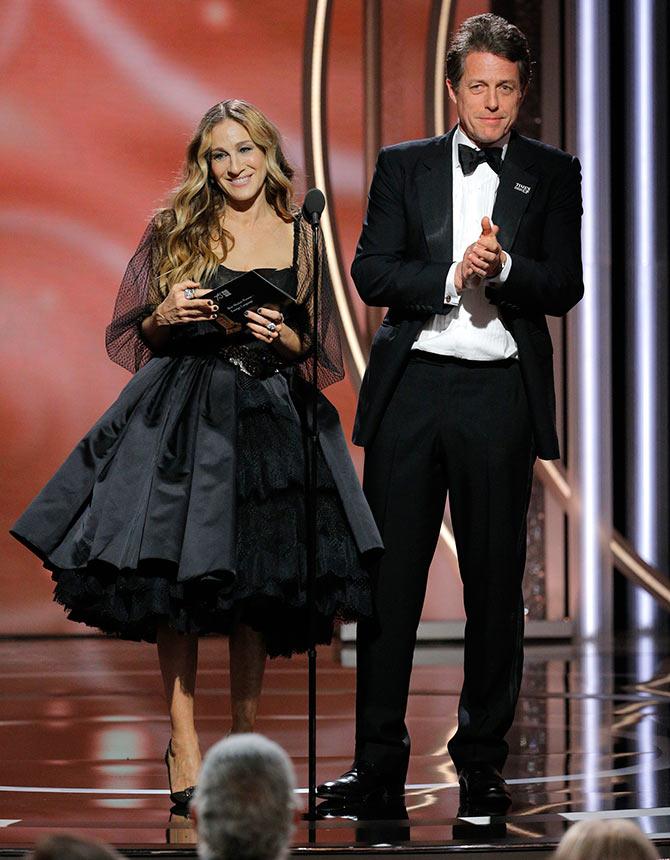 IMAGE: Sarah Jessica Parker and Hugh Grant present an award. Photograph: Paul Drinkwater/NBCUniversal via Getty Images
To me, the Golden Globes hold the most meaning as one gets to see stars celebrating, getting emotional, letting their guard down and showing us their regular human side.
There was a lot of that on display -- from the surprise pairing of Angelina Jolie and Isabelle Huppert to present the Best Actress in the drama category award and Hugh Grant and Sarah Jessica Parker who presented the Best Foreign Film trophy.
I don't know what Parker has to do with foreign films, but it was cool to see the stars of the silly 2009 rom-com Did You Hear About the Morgans? together on stage.