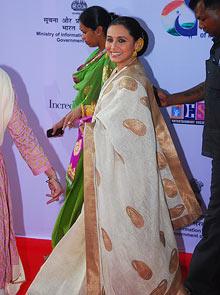 Aseem Chhabra encounters an Indian dinosaur at the Goa film festival.

Wishes do come true. In the late 1970s as a college student in Delhi, I promised myself that one day I will make a career out of visiting film festivals and writing about the new films I watch. That wish of a young man emerged from the frustration of attending the badly managed Indian International Film Festival in Delhi.

While I got my first taste of foreign and Hollywood films (I particularly remember seeing Apocalypse Now and All That Jazz at one of the festival venues), the experience of seeing the films was always riddled with bureaucratic problems and all sorts of corrupt practices -- theatre owners and government officials would keep tickets for themselves and claim they were sold out even before the public could attempt to buy them, and one had to find connections to see most of the films.

My father would get a few tickets released through his journalist quota. And then I remember nearly begging a relative who worked with the Press Information Bureau to give me a ticket for a film directed by the British filmmaker Ken Russell.

My wish did come true. Now as a journalist I attend a range of film festivals in North America, Europe and even India. I have learned to combine my passion for cinema with my profession as a journalist.

These thoughts stayed with me this past week at I made a trip to Goa to attend the 44th Indian International Film Festival. A lot has changed since I first attended IFFI in Delhi -- the venue, the quality of films and especially the ease at getting tickets for screenings. There is clearly no sign of corruption with a much more open and democratic system for buying tickets.

But I was disappointed to realise that the bureaucracy still remains. My first afternoon and evening at the festival on November 20 was spent literally begging a group of junior level government officials -- all brought in from Delhi to run the operation in Goa, to approve my application that had been sent over a month before.

I was a guest of the festival, but none of that mattered here in this all powerful bureaucratic structure.

There were at least 10 more journalists and even a Palestinian filmmaker whose documentary was showing at the festival.

In typical bureaucratic fashion these officials informed us that this was not their job and in any case they would not perform any task that was outside the realm of their work description.

The evening became long, voices were raised and some people in our group were obviously frustrated. Eventually a senior official had to be called, and after a few hours of begging and pleading, our festival passes were printed.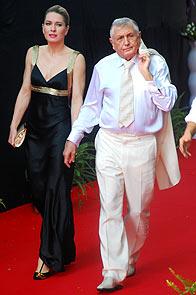 By that time the opening night film -- Czech filmmaker Jiri Menzel's latest, Don Juans -- had already started. None of us had the invite for the film or for the opening night dinner. And so we found our way to the J W Marriott hotel where the National Film Development Corporation was holding its opening night reception for the Film Bazaar -- organised as a parallel event to IFFI.

The evening was warm and humid, but meeting friends -- journalists, filmmakers and writers -- calmed me down.

The four-day bazaar where first-time and even senior filmmakers (both veteran directors Shyam Benegal and Govind Nihalani had projects there) seek financing, co-production deals, is a terrific opportunity to showcase India's film talents.

Filmmakers bring work-in-progress projects and even unveil completed films hoping to be picked by film festivals, sales agents and distributors.

There were discussions about crowd source funding, and Bollywood actors Farhan Akhtar and the young Raj Kumar spoke to television journalist plus critic Rajiv Masand about their career.

Panels and conversations were also a part of IFFI. And the long lines before the screenings at the INOX theaters and other venues were clear indication that the festival was a hugely popular event for the local population of Panjim as well as those visiting from other parts of India.

And the range of films was terrific: From top winners at Cannes, Blue is the Warmest Color, The Past, A Touch of Sin, and a wide selection of Indian films in the Panorama, including the remarkable documentary Rangbhoomi, on the life of Dadasaheb Phalke in Varanasi, by the iconic Indian filmmaker Kamal Swaroop.

On Monday, standing in the line to see the American indie Short Term 12, I spoke to four young men who had come from Mumbai to watch films at IFFI. They were engaged in a conversation about the films of Agnieszka Holland, who has a mini-retrospective at the IFFI.

These young men were just discovering the works of the remarkable Polish filmmaker including her Oscar nominated Europa, Europa.

For a brief moment I forgot about all the bureaucratic problems I faced on the first day I arrived in Goa. In any case my problems were minor in the context of the larger festival goal -- getting young people to explore and experience new cinema. And in that this year's IFFI has been a big success.
In the pictures: Top: Rani Mukerji at the inaugural ceremony of IFFI. Bottom: Czech filmmaker Jiri Menzel with actress Lucie Jurankova.