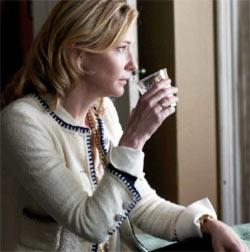 The Golden Globes 2013 nominations is a spread so full, rich and varied it'd satisfy most cinematic gluttons, writes Raja Sen.

It's been a helluva year at the movies.

From Martin Scorsese to Spike Jonze, Alexander Payne to Woody Allen, Paul Greengrass to Ron Howard, Richard Linklater to David O Russell, most of America's top filmmakers showed up to bat this year, and damn near all of them have knocked it out of the park with tremendous force.

Emerging directors have become masters, and we've ended up with an embarrassment of riches for any jury to rattle their jewellery at.

Here, in no particular order (largely because I haven't gotten to see half of them yet) are the films broadly considered among this year's finest: 12 Years A Slave, American Hustle, The Wolf Of Wall Street, Gravity, Rush, Blue Jasmine, Inside Llewyn Davis, Nebraska, Before Midnight, Blue Jasmine, August: Osage County, The Butler, Saving Mr Banks, Her, Captain Phillips, Enough Said, All Is Lost, Blue Is The Warmest Color, Fruitvale Station, The Book Thief, Philomena and Frances Ha.

Whoa.

It is a spread so full, rich and varied it'd satisfy most cinematic gluttons. And speaking of gluttons, the Globe jury -- in their urge to share the wealth -- have, with their characteristic ridiculousness, marked Nebraska as a Comedy and Inside Llewyn Davis as a Musical.

But that shouldn't be a surprise, no sir; what is a surprise is the fact that the field is looking full of fine films, not box office offal as the Globes usually nominate just so Johnny Depp and Angelina Jolie can come attend the show. (CoughTheTouristcough)
The universally acclaimed Steve McQueen film 12 Years A Slave and David O Russell's madcap ensemble piece American Hustle top the list of Globes noms with seven nominations apiece.
And the Best Picture trophies -- and their arbitrary breaking up into Best Motion Picture (Drama) and Best Motion Picture (Musical Or Comedy) -- are anybody's bet, with several films that could cause an upset.
The Best Actress race, I feel, could well swing toward the women who've won the only nominations for their films: Greta Gerwig for Frances Ha and Cate Blanchett for Blue Jasmine.
The Best Actor prizes, on the other hand, will be a bigger slugfest across every award show. Robert Redford has received immense plaudits for All Is Lost, and there can't possibly be a better time to reward Idris Elba's turn as Nelson Mandela in Long Walk To Freedom.
The other Best Actor award, that for Musical/Comedy, is another slugfest, with Christian Bale (American Hustle), Leonardo DiCaprio (The Wolf Of Wall Street) and Bruce Dern (Nebraska) all slugging it out, but if I were a betting man -- and there shouldn't be betting men when it comes to award shows -- I'd say Oscar Isaac could win it for Inside Llewyn Davis ahead of the A-list competition.
Note that his directors, the Coen Brothers, have been left out of the Best Director fight.
Speaking of which, Alfonso Cuaron has to be a favourite in that category with his spectacular Gravity. Scale has traditionally been looked on favourably in more populist award shows, and Gravity's as out of this world as can be.
So while we don't know who'll win Best Picture, and the Oscar race won't be any clearer till films like American Hustle, The Wolf Of Wall Street and Her actually open in theatres, there is a crop of movies at the forefront that is worth celebrating.
Let the voters do what they may; let us now, you and me, go and watch something great.