Just when everything seemed picture perfect for brown faces on American television, Showtime reverts to form with its new series Billions.
Aseem Chhabra points out how popular media still hasn't gained enough distance from accents and towel-turban fixations.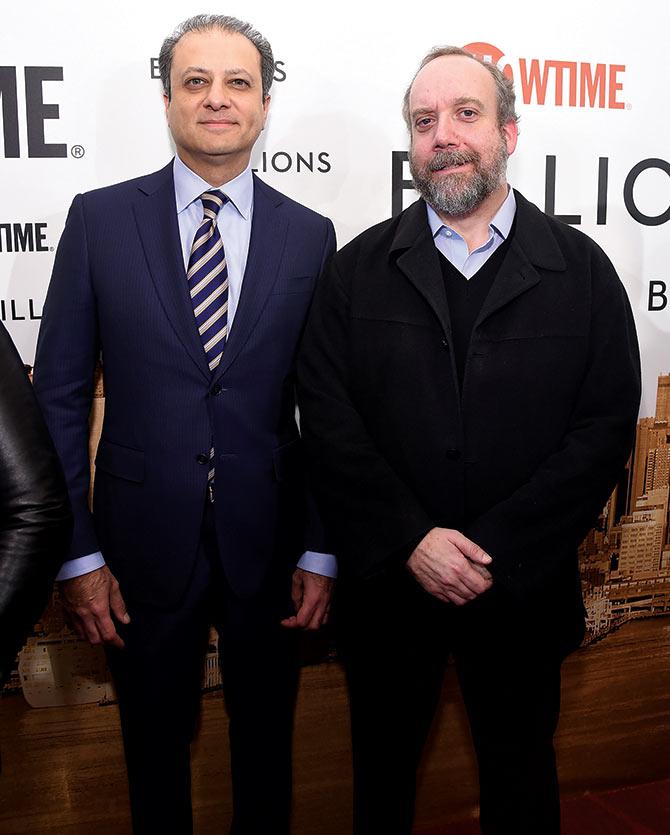 IMAGE: Preet Bharara, the US Attorney for the Southern District of New York, and actor Paul Giamatti at the series premiere of Billions at The New York Museum Of Modern Art, January 7.
Billions will debut on the AXN channel in India this weekend. Photograph: Michael Loccisano/Getty Images for Showtime
Kal Penn once told this story on a television interview.
He was at an audition where a casting director asked him, 'Where's your turban?' and then suggested he wrap a towel around his head.
That story got a lot of laughs from the audience.
It is actually hard to believe that in this day and age American casting agents would be this clueless. But brown South Asian actors often have to face issues of stereotypes.
In one of the segments of his new Netflix show Master of None, Aziz Ansari struggles with being asked by a casting agent to put on an Indian accent. Ansari is auditioning for a small part of a cab driver and the agent is convinced that an exaggerated fresh-off-the-boat accent is suitable for the role. When Ansari refuses to play along, it becomes clear that he will not get that role.
Accents and towel-turban stories apart, it seems like times have changed for some South Asian actors. Many sitcoms on network television now have a token Indian comic character.
Mindy Kaling has her own show, The Mindy Project on Hulu.
Ansari's show recently premiered on Netflix.
And recently, Priyanka Chopra's face was plastered all over North America for her ABC show Quantico. She was everywhere -- in subway stations, bus stops and on large billboards.
So, all should be good about how we brown people are now represented on American popular media, right?
Wrong!
Just when everything seemed picture perfect, Showtime announces a new series Billions. Billions appears to be a clash between two men -- an ambitious hedge fund king Bobby 'Axe' Axelrod (Damian Lewis) and US Attorney for the Southern District of New York, Chuck Rhoades (Paul Giamatti).
Some may ask, what is wrong with this show? After all, it comes across as an entertaining, gripping thriller.
Well, what is wrong is this -- the current US Attorney for the Southern District of New York is a brown man, Preetinder Singh 'Preet' Bharara. He is not an Italian American like Giamatti, and certainly not a WASP -- as the name Rhoades suggests.
Bharara was born in Firozpur, India, and raised in the United States. But even with his sharp American accent, he cannot escape his Indian heritage.
Few years ago, he was picked as India Abroad's Person of the Year by the newspaper's editors.
On the other hand, he is often criticised in the Indian press for being extra diligent when it comes to catching Indians and other South Asians who have committed white-colored crimes on Wall Street.
As The Wall Street Journal reported last week, Bharara and his office fully cooperated with the show's writers to give them an authentic perspective of how a federal prosecutor and his team operate.
'We find Preet to be fascinating and deep, and he really allowed us to find the right reasons that people in that job do that job,' the Journal quoted one of the show's writers Brian Koppelman.
'It's clear that he's somebody who believes tremendously in what he's doing.'
The writers were given a tour of the US Attorney's office and then Bharara also met with Giamatti.
But clearly the producers of Billions and Showtime executives were not comfortable with casting an Indian actor in the lead, for what could be a hit American television show. And this is 2016.
In the same episode of Master of None, Aziz Ansari has a conversation with a TV executive. His question, why cannot a show about three New York-based friends have two Indian guys?
The executive responds, 'If I do a show with two Indian guys on the poster, everyone's gonna think it is an Indian show. It wouldn't be as, you know, relatable to a large mainstream audience.'
'Yeah, but you never say that about a show with two white people,' Ansari says. 'Every show has two white people... People don't watch True Detective and go, "Ohh there's that white detective show."'
The executive squirms and then blames the public, saying he would love to cast two Indian actors on the show. 'But, we're just not at that point.'
Ansari is not ready to give up.
He asks the executive to at least try with two Indians on the show.
But the crafty executive adds 'Or, let's just put you in the show, make 100 episodes, get a huge syndication deal, and you make 50 to 70 million dollars.'
And on that offer Ansari stops arguing.
If someone asked the Showtime executives why they cast Giamatti instead of an Indian actor on Billions, they would give the same argument. That the audience will not accept it.
But those executives underestimate the audience that accepted a Bollywood star like Chopra on a successful mainstream show like Quantico (although ABC invested heavily in promoting the show). ABC took the risk and it paid off, although Quantico is a story about FBI recruits from different ethnic backgrounds. So, Chopra's casting did make sense.
But the team behind Billions would not take the risk. And in casting the show they highlighted their biases and comfort levels with working only with white actors.
In 2016, that attitude is simply shameful.
If you look at the trailer of Billions -- barring an Asian woman in the background and then one African American woman -- everyone is white. And we know that even though Bharara did nab some South Asians for their crimes on Wall Street, the finance world in New York City is packed with smart brown desis.
For risk-averse Hollywood showing a token brown person in a film is just about fine. They did that with new film The Big Short (Rajeev Jacob as a Goldman Sachs analyst) and in Margin Call (Asif Mandavi playing Ramesh Shah, a banker).
Usually Hollywood gives the important roles of South Asian characters to white actors. British actor Max Minghella (son of the late director Anthony Minghella) played the key character Divya Narendra in The Social Network.
In the 2008 film American Violet, actor Tim Blake Nelson played the role of an ACLU attorney. Nelson's character was modeled after Indian-American ACLU attorney Vanita Gupta who performed the heroic task of defending 46 African Americans who were wrongfully convicted by an all-white jury in Texas. Earlier, Halle Berry was supposed to play Gupta's character in another film that was never made.
We can say that lot has changed in this second decade of a young 21st century. But frankly, all of Hollywood would be happy if Ansari and his peers would just play along with the Indian accents for the roles of New York City cabbies.