As Imtiaz Ali's Jab Harry Met Sejal releases, Aseem Chhabra feels it's the best time to revisit the Hollywood classic When Harry Met Sally, which tries to answer the question in the title of this feature.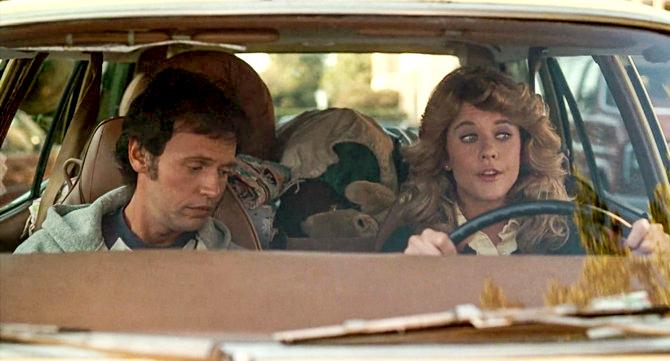 IMAGE: Billy Crystal's Harry and Meg Ryan's Sally in When Harry Met Sally.
In 1977, two college graduates from University of Chicago set out on an 18-hour car trip to New York City. They have never met before.
The only connection is that the man, Harry Burns, is dating a woman whose friend Sally Albright is driving the car.
Five years later, Harry and Sally -- director Rob Reiner's hopelessly-clueless-in-love characters, fleshed out by writer Nora Ephron in one of the sharpest Hollywood scripts -- will struggle to remember the Chicago girlfriend/friend' name.
Imtiaz Ali's Jab Harry Met Sejal open in theatres with a big bang this week. Like it always happens with new Hindi films, little is known about the plot, other than snippets revealed through the teasers and trailer.
Perhaps its title is just a play on Reiner's title of his classic 1989 film. It is said that Ephron was not very thrilled with the title and toyed with many other options including How They Met, which sounds similar to Imtiaz's 2007 film Jab We Met.
As JHMS comes up for release, I can say there's never been a better time to revisit one of Hollywood's best rom-coms.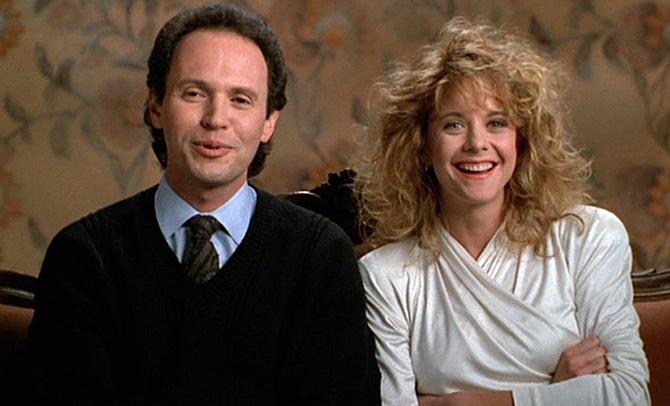 IMAGE: Billy Crystal and Meg Ryan in When Harry Met Sally.
When Harry Met Sally was a defining moment for a generation of young filmgoers, figuring out the complexities of love.
But with its documentary-style witnesses -- older couples, who appear throughout the film and narrate their real life love stories -- the film crossed over generation lines and became a hit.
Twenty-eight years later -- the film opened in theatres on July 21, 1989 -- When Harry Met Sally still feels fresh, relatable and very, very funny.
The crucial premise of the film is discussed in the first 12 minutes when Harry (a hilarious, sardonic, although sometimes heartbroken and goofy looking Billy Crystal, who improvised throughout) and Sally (the cute, charming but uber controlling Meg Ryan, who later became the face of Nora Ephron's rom-coms) are in the car.
During a stopover at a diner, Harry makes a pass at Sally. The conversation continues in the car:
Sally: Harry, we're just going to be friends. Okay?
Harry: Great. Friends! It's the best thing. (And then after a slight pause). You realise, of course, that we could never be friends.
Sally: Why not?
Harry: What I am saying is -- and this is not a come on in any way, shape or form -- is that men and women can't be friends, because the sex part always gets in the way.
They continue to argue where Sally insists she has a number of male friends with whom she has not had sex.
Harry challenges her.
Sally: You're saying I am having sex with these men without my knowledge?
Harry: No. What I am saying is they all want to have sex with you.
Such smart, crisp writing and a conversation people would have today as much as others had towards end of the last century in 1989.
And the credit for that goes to the friendship Reiner and Ephron developed (reportedly, they never had sex) after the director was divorced from a fellow filmmaker named Penny Marshall.
They talked about this issue a lot -- whether it was possible for men and women to be just friends without the issue of sex lurking in the corner.
And they talked about how men and women had different ways of looking at friendships, relationships and of course, sex.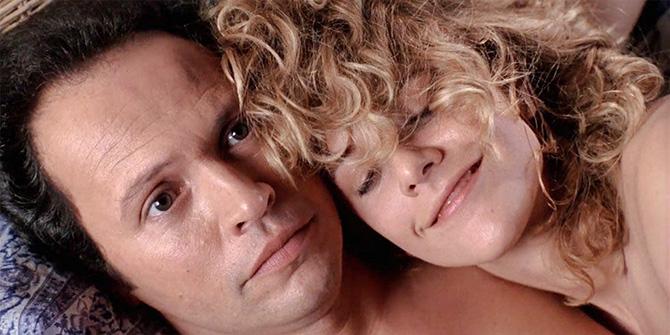 IMAGE: Billy Crystal's Harry seems shocked at the turn of events.
I will not give away how the plot of WHMS unfolds, since I am sure there are younger readers who have not seen the film. But I will say this much: They will connect with the film as much as I did in 1989 when I saw the film in a theatre in New York City's Upper West Side. And I feel connected with it even now.
New York City has changed a lot since the film was made, but parts of the city still look the same.
After the 18-hour drive, Sally drops Harry in Greenwich Village right next to the Washington Square Arch.
Later in the film, the two take a stroll through Central Park surrounded with bright colourful fall leaves.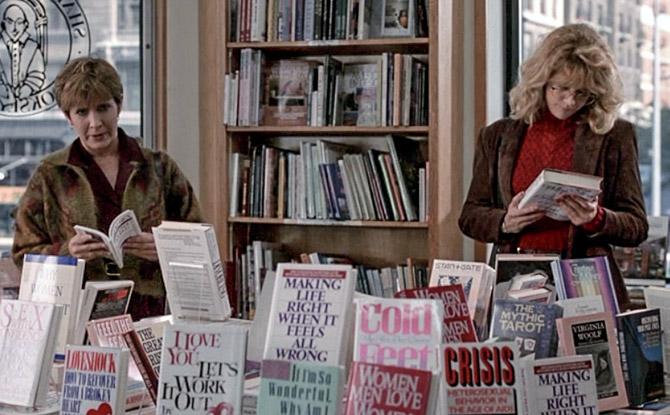 IMAGE: Meg Ryan's Sally tries to act busy in the Shakespeare & Company bookstore even as her BFF Carrie Fisher looks out for her.
In one scene, Harry and Sally bump into each other at Shakespeare & Company, the Upper West Side bookstore which closed in 1996.
Later, it became an inspiration for Ephron's charming 1998 film, You've Got Mail (Meg Ryan again, but this time she co-stars with Tom Hanks).
During the best scene in the film, the two discuss whether women sometimes fake orgasms and if men can tell.
The scene, improvised by Crystal and Ryan, is shot in Katz's Delicatessen in Manhattan's Lower East Side (the restaurant has a marking on the table where the scene was shot).



IMAGE: The iconic orgasm scene.
The scene ends with one of the funniest lines ever spoken in a Hollywood film: 'I'll have what she's having.' And Reiner cast his mother Estelle for that brief iconic moment.
The same year WHMS was released, Larry David and Jerry Seinfeld created a sit-com called Seinfeld, which many people (including this writer) believe is by far the funniest show ever on American television.
That show started with the premise that its protagonists Jerry Seinfeld (playing himself) and Elaine Benes were once in a relationship and now are just good friends.
They go out on random dates, make fun of people they meet for a drink or a movie, but can never keep a relationship.
Despite their past, Jerry and Elaine feel close to each other (they do have sex in one episode), and hang out everyday, along with the two sidekicks (I hope I am not offending the show's fans) George Costanza and Cosmo Kramer.
All of this goes to show that the jury is still out on complex issues about men, women, friendships, relationships and the elephant in the room called sex.
We are just lucky that a film like WHMS and a show like Seinfeld keep us entertained and engaged, while the debate continues.