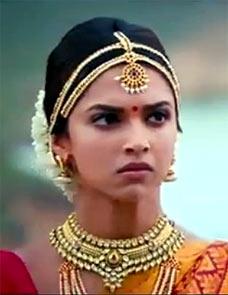 Rohit Shetty's Shah Rukh Khan and Deepika Padukone starrer Chennai Express is in the middle of a major North-South divide on the social media.

Tamils as well as non-Tamils are quite upset about the stereotyping of Tamil people, their accent and their culture.

Questions are being asked about Deepika Padukone's saris -- which some claim are more from Andhra Pradesh than they are from Tamil Nadu -- as well as her accent.

If Chennai Express is stereotyping Tamils, it would not be the only film to do so. Shah Rukh Khan's own Rs 150 crore dream project Ra.One featured him being overly, typically, unrealistically Tamil -- saying "aiyyo" in every second sentence, eating with his hands and mixing curd in his noodles. Not to forget his abnormally long name.

Even though Mr Khan had a particularly horrible experience at the Newark airport in the US of A, this stereotyping of his own countrymen was apparently all right.

Perhaps the best known and most famous stereotype is Krishnan Iyer Yem Yey from Agneepath, the lungi-wearing nariyal-cutting, and "aiyooji' speaking Tamil character.

Perhaps it is best that Iyer was missing from the film's 2012 remake because, for one, coconut vendors can speak proper English/Hindi and secondly, it is no longer 1973, thank you.

The stereotyping doesn't end here.

There have been countless films with countless stereotypes of Africans as primitive people, villains as Vastu-believing Kali worshippers, Muslims are not without the standard beard and burqa and the Urdu-ised Hindi etc.

These stereotypes have been around for ages and judging by the way we're going, they're not bound to disappear any time soon (although I really hope I'm wrong about this one). The question is: for a nation of permanently offended persons, why do we let artists get away with it?

Is it because glamour wins over the basic courtesy of treating an individual as an individual and not a projection of where they come from? Or is it because looking at individual characters, exploring them, looking at their actions and thoughts instead of just passing a quick judgment on single-dimensional people is a mentally tiring process that calls for more thought than we are willing to give?

It would be unfair to blame it on the big screen. Stereotypes exist in films because stereotypes exist in society; and cinema, as it has been said a billion times, is a reflection of society.

Bollywood did not put a gun to our heads and make us buy tickets to completely culturally insensitive films. We did that to ourselves. We supported crass cinema and excused it as being "entertainment". It's only when our respective communities are at the wrong end of the stereotyping that the entertainment turns into offence.
Be it Chennai Express, Ra.One or Agneepath, stereotypes are aplenty. We can complain about them, troll stars on Twitter for them and vow that Hollywood is a hundred times better than "this Hindi film rubbish" in our very SoBo accents, but ultimately, we'll be the ones watching these films -- if not in the theatres then on TV.

Even though we say we're against them, what do we do about it? That's right -- nothing.

So, sickening stereotypes in society and sickening stereotypes on screen?
Theek hai.