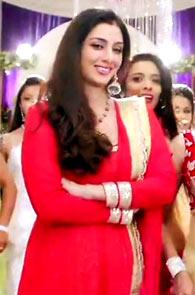 'I miss Tabu's beauty, her graceful presence, her delicate smile and the texture of her voice, with which she can convey so many things -- the lonely mother, the lover, the seductress, the wronged woman, or a young woman charmed by an older man,' says Aseem Chhabra.

I have been repeatedly asked one question for the past couple of days.

Why did I go to see a loud Bollywood masala film like Jai Ho that had bone-crunching sound effects, Suniel Shetty riding a tank to the middle of a road and Salman Khan wearing bright coloured sunglasses, growling like a tiger as he propagates an idea of peace inspired from the Hollywood film Pay It Forward?

The simple answer is that I had read that Tabassum Hashmi, better known as Tabu, was in the film and I instantly wanted to know where she had been all these years and what she looked like now.

I had seen Tabu two years ago in Ang Lee's Life of Pi. While she looked pretty, that film failed to impress me. I felt Lee did not make the best use of his two hugely talented supporting actors -- Irrfan Khan and Tabu.

Frankly, Sohail Khan did not give Tabu much to do in Jai Ho either, but then I had no expectations from him.

The thing is, I really miss Tabu's beauty, her graceful presence, her delicate smile and the texture of her voice, with which she can convey so many things -- the lonely mother, the lover, the seductress, the wronged woman, or a young woman charmed by an older man.

Tabu is so gifted, she is like a national treasure.

It is such a shame that the Indian film industry, especially Bollywood, just does not know how to write strong scripts that could use an intelligent actress like her.

Even greater shame is the fact that she had to sign up for Jai Ho, a film that falls below the benchmark of a standard Salman Khan film.
In the role of Khan's sister and a mother, Tabu gets a lot of camera time, where all she gets to do is nod, shoot knowing glances, and look worried. It is a role that anyone could have played.
I wonder if she really took the job because she wanted money, because that would be very unfortunate. But this isn't a one-off case.
Things are so bad in this male-dominated sphere that films rarely have roles for older women, while the troika of Khans -- all approaching 50 -- continue to star opposite women half their age.
And that is the reason why we are blown away when someone like Aparna Sen makes films like 36 Chowringhee Lane or Paroma (both made in the 1980s), or a Gauri Shinde directs English Vinglish or Abhishek Chaubey writes a special role for a 40-something former leading lady in Dedh Ishqiya.
When did I fall in love with Tabu -- the star, the actress, the enchantress? That is a difficult question to answer.
I will have to go back to the time when I watched her as a sad, lonely Sikh woman in Gulzar's Maachis, as she lip-synched to Lata Mangeshkar's playback in Pani Pani Re, set to the soulful music of Vishal Bhardwaj.
Or maybe it was in Virasat when she sang the playful Payalein Chunmun Vhunmun in the voice of K S Chithra.
It was a real delight to see Tabu's face, her lips and wide eyes as she expressed every word of the song.
I loved her in Rajiv Menon's Kandukondain Kandukondain, especially in the stunning song sequence set in Rajasthan and then Egypt with Shankar Mahadevan's haunting voice, singing Enna Solla Pogirai to A R Rahman's music.
Tabu looked ravishing in that scene in her Gujarati outfit -- a backless blouse, a black ghagra, and her head and face partially covered with a red dupatta.
I loved Tabu in Vishal Bhardwaj's Maqbool as the seductive Lady Macbeth, where she uses all her feminine charms to influence Irrfan Khan's Maqbool to kill the underworld leader Abbaji (Pankaj Kapur).
Bhardwaj created one of the most attractive femme fatales in Hindi cinema and as he always does with his actors, he got Tabu to deliver her career's best performance.
And then there is Tabu's role as Ashima in Mira Nair's The Namesake, a role that speaks directly to my immigrant heart.
First created by novelist Jhumpa Lahiri and then reinterpreted for the screen by Nair and her scriptwriter Sooni Taraporevala, Ashima's journey is no different than that of many of us.
She is a young bride who experiences the harsh cold winters and other realities of New York, makes her home in the US, while dreaming of one day returning to India, and quietly copes with her loneliness and losses.
Tabu approached Ashima with such finesse and maturity. She looked deep into the soul of Lahiri's character and took us along our own immigrant lives.
The New York Times critic A O Scott was so moved by Tabu's performance that he hoped and predicted that she could get a best supporting actress Oscar nomination.
The Namesake did fairly good business in the US and critics liked it, but it is so rare that a foreign film -- or in this case an immigrant story set in the US -- breaks the glass ceiling set by big budget Hollywood productions.
I met Tabu in 2006, first during the shoot of The Namesake and later to interview her ahead of the film's release.
We spoke about her work including in Maqbool and then I mentioned Bhardwaj's Omkara since I had just seen it a short while earlier.
"How was Omkara?" she asked, adding she had not seen it yet.
I praised Bhardwaj's interpretation of Othello and then said that in some ways it was a fuller film and perhaps even better than Maqbool.
Tabu smiled and then in an assertive tone questioned, "How is that possible? How can any film be better than Maqbool?"
What was this?
The woman I greatly admired and had a serious crush on, appeared cross with me, although the smile never left her face.
There was a sense of playful flirtatiousness. I someone managed to find my voice. I knew not to contradict her.
"No actually Maqbool was much better," I said, as she nodded with approval!
Now I know better. I will agree with her all the time.
I just wish someone would give her good solid work.
Image: Tabu in Jai Ho