'He has given us a history, a heritage that we can share with generations to come,' says Aseem Chhabra.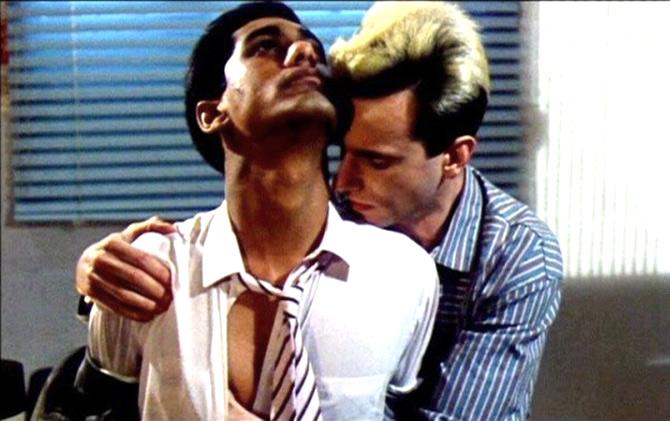 IMAGE: Gordon Warnecke and Daniel Day-Lewis, right, in Stephen Frears' My Beautiful Laundrette.
In the spring of 1986, I drove to the Beverly Centre mall in Beverly Hills to see a small indie British film My Beautiful Laundrette.
I had heard it was a gay story about the romance between a Pakistani man and his British friend from school.
The script was written by a Pakistani-British author Hanif Kureishi, whose works I was not familiar with.
Thirty-one years later, that film still haunts me.
It was the first time I saw the representation of South Asians -- Pakistanis in this case -- as real immigrants, with their success stories and the dark passages they passed through to maintain their lives in England.
There were strong performances by Saeed Jaffrey and Roshan Seth. I saw for the first time a brown desi man kiss a white man on screen.
And I saw a charming young 29-year-old British actor, with a long face, a solid jaw structure, a broad smile that would light up his eyes, playing a punk, street guy, with bleached hair.
And he was sexy like no British actor I had seen.
This was Daniel Day-Lewis.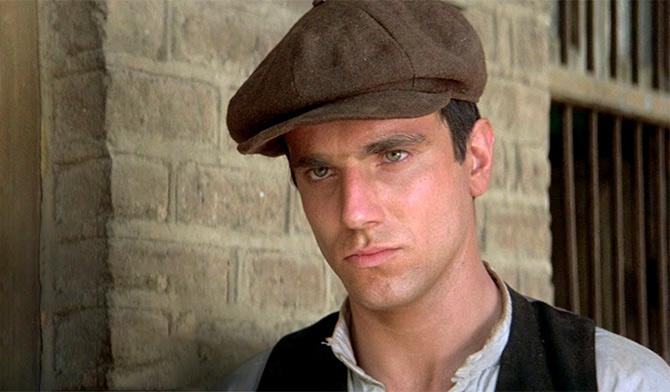 IMAGE: Daniel Day-Lewis in Richard Attenborough's Gandhi.
A few years later, while revisiting Richard Attenborough's Gandhi, I would realise I had already seen Day-Lewis on the screen (in a film in which I also played the role of an extra).
There was Day-Lewis in a brief role, playing a racist white South African giving a menacing look to Ben Kingsley's Mahatma Gandhi saying 'Get off the pavement, you bloody coon.'
It was a brief moment with two future Oscar winners captured together in a scene, and in a single frame.
In the last three decades, I have seen this genius of a man -- the only actor to win three best actor Oscar trophies -- in many varied roles (although he has only acted in 20 films so far).
These have been some of the strongest male performances of the last and the current centuries.
The news of Day-Lewis' retirement from acting -- at the age of 60 -- is disappointing. We don't know the reason why he made this decision, but I am not mourning the end of a brilliant acting career.
Rather, I feel like celebrating a man whose presence in films has given me so much joy.
His roles have enriched my life. I feel blessed to have lived in the times of Daniel Day-Lewis.
IMAGE: Daniel Day-Lewis in James Ivory's A Room With a View.
A couple of months after I watched My Beautiful Laundrette, I saw Day-Lewis in a small art-house theatre in southern California's beach town, Balboa Peninsula.
The film would be James Ivory's art-house hit A Room With A View, based on E M Forster's novel, in which Day-Lewis played the supporting role of an effete and pretentious Cecil Vyse who proposes twice to Helena Bonham Carter's Lucy Honeychurch.
Lucy rejects him both times and eventually after much romantic confusion she marries George Emerson (Julian Sands).
In A Room With a View, Day-Lewis's performance was in stark contrast to his role in My Beautiful Launderette.
As The New York Times critic Vincent Canby noted, 'Spectacular, too, is a new young actor named Daniel Day Lewis, who plays the insufferable Cecil Vyse with a style and a wit that are all the more remarkable when compared to his very different characterisation in My Beautiful Laundrette.'
Suddenly, 1986 looked like the year of Daniel Day-Lewis.
Two years later, in the winter of 1988, I was in Boston, (yes, I mark the time and cities with watching Daniel Day-Lewis' films).
I went with a few friends to Harvard Square in Cambridge to watch The Unbearable Lightness of Being, directed by Phillip Kaufman and based on Milan Kundera's best seller.
I am not embarrassed to say I discovered Kundera as a writer through the film. I also discovered two wonderful European actresses -- the sexy Lena Olin (Sabina) and the luminous Julliette Binoche (Tereza) whose work continues to thrill me.
But it was Daniel Day-Lewis's Tomas, the charismatic surgeon and his relationship with the two women in his life that struck me as the heart of the film.
While Soviet tanks rumble down the streets of Prague, the sexual permutations of Kundera's three characters keep us enthralled despite the harsh political realities of the times.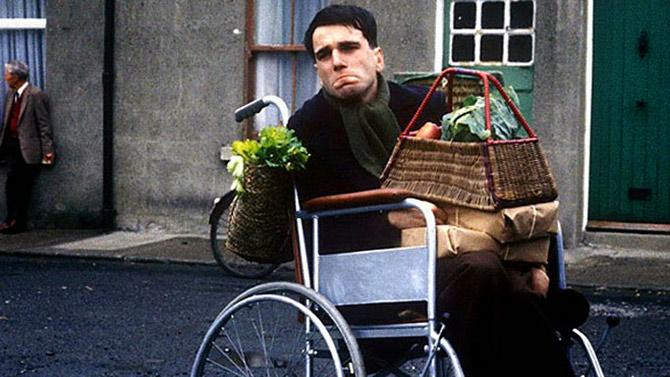 IMAGE: Daniel Day-Lewis in Jim Sheridian's My Left Foot.
Everybody I knew seemed to love Daniel Day-Lewis.
I cannot begin to describe my emotional state when I watched him in the role of a cerebral palsy patient in Jim Sheridan's My Left Foot.
I do not think I had seen such an intense and yet heartwarming performance in a long time.
What a transition he had made to get into the skin of Christy Brown!
The Oscar for My Left Foot was his for the asking, even though he had a tough competition from the likes of Robin Williams (Dead Poets Society) and Tom Cruise (Born on the Fourth of July).
Daniel Day-Lewis would act in two more films directed by Jim Sheridan, both gripping IRA tales -- In the Name of the Father (1993) and The Boxer (1997).
In the first film, Day-Lewis played a wrongfully imprisoned man, while in the second his character struggles for rehabilitation after years of incarceration.
Day-Lewis' bonding with Pete Postlethwaite, who played his father in In the Name of the Father, provided the emotional core of the film.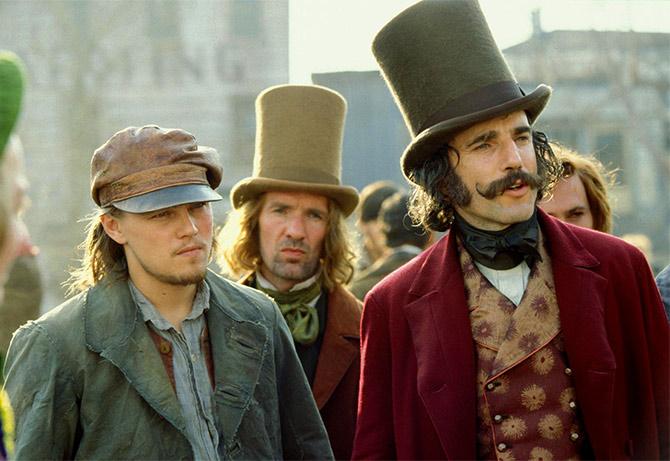 IMAGE: Daniel Day-Lewis and Leonardo DiCaprio in Martin Scorsese's Gangs of New York.
Meanwhile, also in 1993, Day-Lewis was discovered by another major filmmaker.
Martin Scorsese cast him in the quiet romantic masterpiece, The Age of Innocence, set in late 19th century New York (although mostly shot in Boston) where the actor plays a member of high society, torn between a woman he is engaged to marry (Wynona Ryder), and her cousin (Michelle Pfeiffer) who he falls in love with.
The gorgeously shot costume drama with terrific production design established Day-Lewis' position as a romantic lead actor.
But he surprised us with the next Scorsese production, Gangs of New York (2002), where he played a ruthless gangster.
Bill 'The Butcher' Cutting, hates Irish immigrants (a sharp change from the sympathetic Irish characters Day-Lewis played in the three Jim Sheridan films).
With a giant moustache, sideburns and a loud booming voice, Day-Lewis made The Butcher a menacing character.
And so his clash with the young Amsterdam Vallon (Leonardo DiCaprio, in the first of his five films with Scorsese), who is seeking revenge for his father's death, gave the film a terrifying edge.


IMAGE: Daniel Day-Lewis and Dillon Freasier in Paul Thomas Anderson's There Will Be Blood.
By all counts, Daniel Day-Lewis' finest performance was in Paul Thomas Anderson's There Will Be Blood.
One of the greatest American films of all time, showing Hollywood at its best, There Will Be Blood gave Day-Lewis the opportunity to be a larger than life oilman with a crazy drive and zeal for revenge.
His Oscar for There Will Be Blood was well deserved even as it was the most showy performance of the year in a Hollywood film.
Daniel Day-Lewis won his third Oscar for Steven Spielberg's Lincoln.
A strange film, with very slow pacing, Lincoln didn't work for many people, but Day-Lewis was remarkable and very believable as the conflicted Abraham Lincoln watching over America's civil war.
He also performed in The Crucible, based on the classic American play with a screenplay written by his soon-to-be father-in-law, the playwright Arthur Miller.
And he appeared in another American classic tale, The Last of the Mohicans, directed by Michael Mann.
Twenty films is not a large track record for an actor who has been working for over three decades.
Day-Lewis has one more film scheduled to open late this year: Paul Thomas Anderson's Phantom Thread.
No one can say if Day-Lewis' decision to retire is final. But he has left us such a valuable treasure of films and most can be streamed online.
He has given us a history, a heritage that we can share with generations to come.