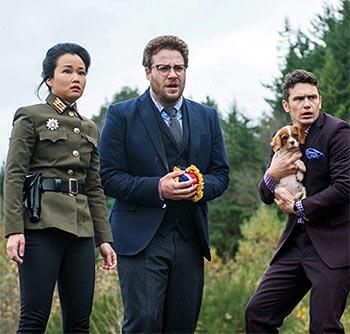 '67 years after India gained independence, its people still get offended by the slightest issues in films.'
Aseem Chhabra points out lessons India and the US need to learn from the Sony hack and subsequent ban on The Interview.

It has been a peculiar month, when the news about a relatively lowbrow film -- The Interview -- has occupied the news cycles, with Sony executives, the politicians and, most of all, President Barack Obama weighing in.

The latest report that some independent theatres across the US will release the Seth Rogen, James Franco comedy has been welcomed by many people.
The matter is certainly not finished.

We still have to see whether people will show up to watch the film on December 25, given that the hackers -- perhaps speaking on behalf of North Korea, have threatened the theatres of 9/11-type attacks.
There are lessons to be learned from The Interview affair, especially for India -- the largest film producing country in the world, and the US -- a democratic society, where people's freedoms have been somewhat curtailed after the September 11 attacks.
For a democracy, India seems to be the land where people get offended by way too many things.

And most of all, people get offended by films. The latest case is that of Raj Kumar Hirani's PK that is driving many Hindutva supporters crazy.
At any given time, it seems as if members of one Hindu caste or another, or of other religions, are offended by some film.

And there are always demands for boycotting or banning of films.
Politicians, lawyers, common folk all step in, joining protests, burning effigies, destroying film posters and even theatres. It can be a mess.
Here in the US, the situation is the opposite.

Last week we were surprised to see President Obama take a strong position in support of a Hollywood film, especially since few would have cared about this comedy had the hackers not threatened Sony.
Speaking to ABC News last week, Obama acknowledged that while the hacking episode is a matter of huge concern, Americans should feel safe to go to the movies.

He was not endorsing The Interview. He was endorsing freedom of speech -- the right for a film to be shown in America.
Then at his year-end press conference, Obama called Sony's decision to cancel the release of The Interview a 'mistake.'

'If somebody can prevent a satirical movie from being released,' Obama asked, 'imagine what might happen if they see a documentary they don't like?'
'Or if producers and distributors and others start engaging in self-censorship because they don't want to offend the sensibilities of someone whose sensibilities probably need to be offended. That's not America. That's not who we are.'
Those are powerful and important words coming from Obama. In fact, Indiewire even called Obama America's first Cinephile-in-Chief.
So here is the lesson for India.

Cinema is a big part of Indian lives.

But even 67 years after India gained independence, its people still get offended by the slightest issues in films.

India and Indians have to grow up. And India requires a strong mature leader to guide its citizens through this process.
As the country makes significant efforts to become a world player, Prime Minister Narendra Modi and other leaders should step in by asking people to stay calm.

A film is finally a film. People can skip a film if they do not want to watch it.

But prolonged campaigns on social media and on the streets only damage India's democracy, reflects badly on the country and its image in the rest of the world.
When Sony initially decided to release The Interview despite the threats from the hackers, perhaps the company should have followed India's model.

After a series of terrorist attacks over the years in public spaces, most Indian multiplexes now have metal detectors installed at the entrances and theatres do not allow people to carry bags, including backpacks.

Once a person passes through the metal detector s/he has to go through a pat-down security check-up.
It seems like a major inconvenience and visitors from the US may think it is a pain to go through airport type security lines before they sit down to watch a movie. But Indians in major cities have accepted this as part of the movie going experience, just as they seem perfectly fine with the fortress-like security outside five-star hotels.
It is hard to say if the metal detectors are the only reason, but in the recent years there have been no terrorist attacks inside movie theatres in India. The last reported attack in a movie theater was in Ludhiana in 2007 that killed six people.
I do not know if the Sony executives and movie theatre owners considered installing metal detectors outside theatres where they had planned to release The Interview.

Given that The Interview is a mainstream film, its initial release would have been wide.

Installing metal detectors could have cost a lot and that expense was obviously not built into the film's marketing budget.
Following the September 11, 2001 terrorist attacks, Americans have become used to enhanced security at public places, as well as their freedoms partially curtailed.

Violence inside movie theaters in America is rare, but when it happens -- in 2012 a crazy man killed 12 people inside a multiplex in Aurora, Colorado -- it shakes up the nation.
So perhaps it is not a bad idea for theatre chains in the US to consider installing metal detectors as a measure of security for their patrons.

An investment for sure, but it will go a long way to ensure that people feel secure while watching films, especially if there are threats.
ALSO READ: