A generation of Indian children may know Alia Bhatt's songs by heart, but don't know what the real India is all about.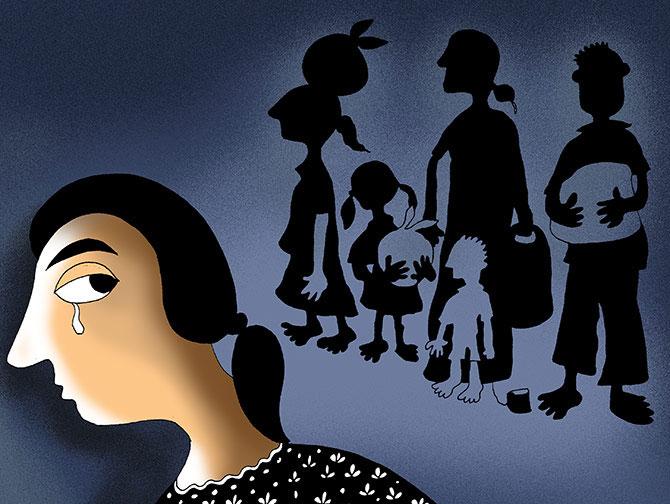 A month ago, a homeless family camped on the footpath outside my home.
No one noticed it initially, but two weeks later, the family -- husband, wife and three children -- had become an unbearable 'nuisance' to residents of the neighbourhood.
No one knew where they came from.
Were they farmers?
Landless labourers?
Bangladeshis?
Slum dwellers who wanted to capture a corner of the footpath?
A watchman at an ATM nearby told me they were from out of Mumbai, but did not have any more details.
The family had one trait: They came at night, slept till 9 am and then disappeared, only to reappear the next night.
Every morning, when I take my 12-year-old daughter to school, I see this family sleeping on the street. They just have a blanket each.
As a teenager, I had asked a Nepali watchman why people from outside Mumbai come to the city.
'Shaabji,' he said, 'there are two reasons. You get work in Mumbai easily if you are hard working. Secondly, Mumbai is the only city in India where the weather is bearable. You can take a bed sheet and sleep anywhere. That's not possible in other cities because they are colder.'
Twenty five years after this conversation, I felt that as a teenager, I had the sensitivity and curiosity to know why people were ready to brave the often inhuman conditions in Mumbai to make a living.
My daughter, on the contrary, was not thinking on these lines.
I wanted to make her understand the plight of homeless people, but somehow I could not get my point across.
I tried to explain that nobody likes to shit in the open, but they don't have a choice.
She felt they had no right to dirty the city and should be thrown out immediately.
My neighbours agreed with my daughter and felt the authorities must evict this unwanted family.
Their view didn't bother me, but my daughter's attitude did.
A generation of children may know Alia Bhatt's songs by heart, but don't know what the real India is all about.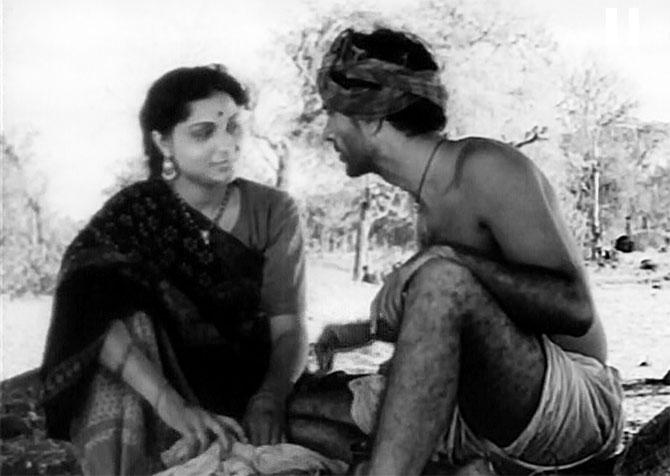 IMAGE: Nirupa Roy and Balraj Sahni in Bimal Roy's Do Bigha Zameen.
As I wondered how to explain my view to my daughter, I saw an advertisement for Do Bigha Zameen's telecast on television.
I told my daughter she had to watch the film.
With great reluctance, she agreed.
For those who don't know, Do Bigha Zameen is a 1953 film starring Balraj Sahni and Nirupa Roy, directed by the legendary Bimal Roy.
The film tells the story of Shambhu Mahato, played by Balraj Sahni, who mortgages his land to Thakur Harnam Singh. Shambhu has to repay a debt of Rs 235 in three months else his land will become the thakur's.
The thakur has planned this because he wants to build a factory on Shambhu's land.
To repay his loan, Shambhu migrates to Calcutta and works as a rickshaw puller.
As we watched the film, my daughter could not control her emotions. She started crying, upset at Shambhu and his wife Parvati's plight. She asked me to stop the film.
I insisted she watch it.
The film further shows how misery strikes Shambhu, who tries to work honestly. His son Kanhaiya (Rattan Kumar) becomes a pickpocket briefly, but honest Shambhu does not accept this ill-gotten money.
In the end, Shambhu loses his land and a factory is built.
After the film, my daughter realised why I wanted her to watch the film and why she needed to look at that homeless family, who may be desperate farmers trying to survive in Mumbai, in a different light.
"I feel very sad for them," my daughter said. "They are living a very sad life."
Shambhu may have lost his land, but Bimal Roy made my daughter change her view. Sixty-two years after it released, Do Bigha Zameen is just as relevant and effective.
Illustration: Uttam Ghosh/Rediff.com