'For me, he was a bridge to lifelong friendships in a land where I had none.'
'He helped break barriers of language and suspicion.'
Maharaj Damodardas salutes the one and only Rajinikanth!
Illustration: Uttam Ghosh/Rediff.com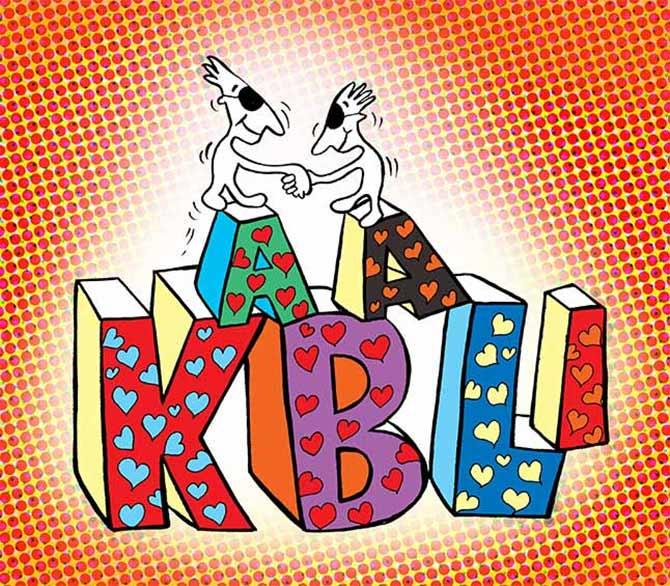 An Indian has the privilege of being part of a range of festivities. Diwali and Holi, for example, bring in a different atmosphere as people break away from the rigmarole of daily life and get together to celebrate.
As the devout break their fast for Ramzan, folks flock to the eateries that crop up across the length and breadth of the country. In December, you can listen to melodious carols amidst glittering Christmas trees in Shillong or usher in a new year in Goa. For all I know, you may have already experienced all of these.
Yet, your 'festivity hopping' would be incomplete without the fanfare of a Rajinikanth movie in Tamil Nadu. It will create bonds that will last beyond your lifetime.
In the mid-1990s, my brother made his way down south for higher studies. Shifting from one part of the country to another, brings its own set of concerns, especially about food and language. But we kids were made of different stuff, thanks to my mother.
I remember her telling us long time back, "When you go out, enjoy the world with all its culture, language, and customs." We took that message seriously and over the years we made friends all over the country, if not the world.
My first personal link to Tamil Nadu was through my brother's roommate in college, Prakash. In 2005, I made my way to Dindigul from Delhi along with my brother to attend Prakash's wedding. Soon, I would be overwhelmed by great food, tons of love, and a Rajinikanth movie.
Being a 'small town guy,' I discovered an instant attachment to Dindigul, especially the biryani for which the city is famous. On the second day of my visit, one of Prakash's cousins floated an idea, which my brother couldn't refuse. "You guys want to go for a Rajinikanth movie? It's a great experience, you know."
So, off we went to see Chandramukhi. The cousin had told me that the movie was a hit and he had seen it once, which he sheepishly admitted was way less than his friends' scores.
Prior to that, I had seen a Rajinikanth movie -- Thalapati -- only once, but within the confines of my house. I liked the movie, especially the fight sequences and the item number featuring the sensuous Sonu Walia.
But Chandramukhi in a hall in Dindigul was another experience altogether. As soon as Rajinikanth's name came on screen, the crowd broke into a frenzy. People cheered and danced. And we did the same, soaking up all the thrills and emotions of the audience thereafter.
It would change my narrow definition of festivity and brotherhood forever.
My brother was no stranger to such celebrations. He had vividly described to me the fervor surrounding the icon's first-day-first-show. He was in Tiruchirappalli once, visiting friends, when a Rajinikanth movie had released. Tickets had sold out for the week, but he nevertheless made his way to experience the festivities first hand.
He saw fans pouring milk on Rajinikanth's cutouts and ushering in the movie with prayers. They distributed sweets, burst firecrackers, and indulged in revelry that one would normally reserve for a major festival.
A month after that, my brother got the chance to see the movie in Chennai. The celebrations had continued, especially inside the hall. People danced, laughed at the jokes on screen, cried with the actor, and hailed him when he vanquished evil.
By the end of the movie, my brother lost count of the people he had hugged. In his words, "Man, you meet complete strangers in the dark and still feel part of something."
Years later, I found myself back in Tamil Nadu, but this time for work. A friend had sent a taxi to pick me up at Chennai airport. The driver didn't speak much English and my knowledge of Tamil was close to non-existent.
As he ushered me to his taxi, I asked his name. "Badshah," he replied. "Ah, you must be the real hero," I said, hinting at the Rajinikanth movie of the same name. His eyes lit up and we soon became friends.
Over the next three months, I often bumped into Badshah and his more cavalier friend, Venkat, who used to drive his auto as if he had just 60 seconds to save the world. Sometimes in the morning, over mouthwatering idlis and filter coffee at a small joint close to the taxi stand, the three of us would discuss cricket and, of course, movies.
I always let them fight over Rajinikanth's best role. And boy, the stories they had about their hero -- his action scenes, his heroines, his modesty despite being a superstar. They even told me that years back the traffic cops were prepared to stop the chief minister's convey to let Rajnikanth's car pass. It seems, their hero refused, thereby preventing any embarrassment. I asked my colleagues in office about the incident, but they were unable to verify it.
But those were not the only bridges to friendship, courtesy Rajinikanth. Once, I bonded with a no-nonsense bus conductor on my way to Thanjavur. The guy was extremely proud that one of India's greatest stars started life modestly in the bus service and still kept in touch with former colleagues.
My best conversation was perhaps with a diminutive man who owned an eatery by the highway that runs from Chennai to Pondicherry. I had stopped by for an early lunch along with a friend. As we chatted over rice, sambar, and Chicken 65, the owner joined us, remarking on the sights we shouldn't miss along the way.
Half an hour later, as we said goodbye, he remarked (given that my core work was in Mumbai) "Always friends with Marathi people," with a wink. The reason? Rajinikanth was born Shivaji Rao Gaekwad. My sly repartee -- "See, we are very generous."
As I wound up my work in Chennai, I realised that I still hadn't watched Sivaji, which had released a month back. The film was a super hit -- hell, there was almost a riot in Singapore. I asked a colleague about a movie hall close to office. "Let me take you," he answered. "You sure? You already seen it with the others, right?" I asked.
Dismissing my perceived ignorance about Rajinikanth's fame, he said "Thrice. Come, you won't be disappointed." And I wasn't. That was not my last Rajinikanth movie either. Back in Mumbai, I saw Rajnikanth's fame spread as I along with a whole bunch of friends made our way to see Enthiran.
What is it about Rajinikanth that makes him a superstar? Is it the magical way that he toys with villains or lights a cigarette?
What about his timelessness? Or, is it his modesty that sets him apart?
My guess is all of these and much more. I am no film critic, but there is something different about him.
For me, he was a bridge to lifelong friendships in a land where I had none. He helped break barriers of language and suspicion.
For a person who is interested in geopolitics, economics, and philosophy, Rajinikanth did make me an extrovert, forcing me to reach out to others. He and many more experiences helped make Chennai a home away from home.
So, as Kabali releases, make your way to the magical land of Tamil Nadu. Soak in history, culture, and food.
And when the great Rajinikanth comes on screen, just drop your inhibitions and be a part of the fanfare.
You will cherish those moments for the rest of your life. You will bridge so many bridges, you will lose count. Trust me on that one.