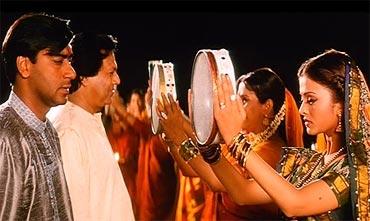 We asked readers to send us their favourite and funniest Bollywood bloopers they spotted.

Reader Priya Karnik shares with us a blooper that she has spotted in the movie Hum Dil De Chuke Sanam.
In the film, Salman Khan comes to Aishwarya's house to learn music from her father on the first day of Diwali.
But in the flashback scene, when Ash 'celebrates' her first Karva Chauth with husband Ajay Devgn, she remembers the previous year's Karva Chauth with Salman.

Karva Chauth is never after Diwali, it always occurs before Diwali (approximately 15 days before Diwali). So how come there is a song between Ash and Salman during Karva Chauth, if they hadn't met until Diwali?
Have you spotted any Bollywood bloopers recently?
Tell us about your favourite and funniest! Keep the Bollywood bloopers coming, guys!
Also Read When Big B, Aamir goofed up!
Aamir Khan goofed up in Jo Jeeta Wohi Sikander
Bollywood's movie bloopers