| | |
| --- | --- |
| Sushmita Sen | |
| | |
| | |
| | |
| | |
| | |
| | |
March 06, 2009 12:55 IST


At the press screening of Karma & Holi last night, we were handed biggish boxes of festive colour -- 'Rangeela, with floral fragrance' --  to go with the brochure containing information on the film and it's cast and crew.

This box, promising safe and non-toxic colour and costing Rs 45, is something I thank the film's makers for profusely, because it happens to be an infinitely better product than the film itself.

There are some films that somehow shouldn't be called films. They don't qualify. Manish Gupta's Karma & Holi is one of these, an amateurish, horrifically written effort. The closest example that comes to mind is Deepa Mehta's Bollywood/Hollywood, and at least that film had one decent song.

You can see what the filmmaker's attempt is, in terms of storytelling. Get a varied bunch of frustrated characters in the same house, play fast and loose with dysfunctionality, get them drunk enough to yammer about their lives and make significant revelations, and then let the magnificent festival of Holi magically make everything better. Nothing new, but at least there's a premise.

Except you can't possibly take this film seriously. I dare you to try, with a bevy of non-actresses thrust into stereotyped roles. With no sense of plot development or character consistency. With a few actors you genuinely feel sorry for, like Sushmita Sen [Images], Suresh Oberoi and even good ol' Vincent Curatola of the Sopranos.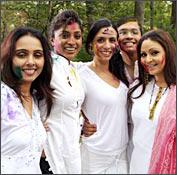 Oh, and then there's this unforgivably bad dubbing job. Evidently meant to be an English film, we are served Karma & Holi in Hindi, which means a simpering South Indian girl gets to voice Naomi Campbell [Images], a pathetic, geeky youth speaks like Suniel Shetty [Images], and a black man borrowed from a hiphop video calls his women 'laundiyaan' and 'item.'
It is the most inadvertently funny thing I've seen in ages -- with childishly explained racism and a traumatically bad scene exploring young lust via camcorders  --  but I urge you to not dare. We were a room full of critics who had no recourse but guffaws, but they were hard-earned. I doubt if any of us had the option, that delightful option all of you have, of walking out, we wouldn't have taken it.
Watch Subhash Ghai's [Images] Karma. Or Ketan Mehta's [Images] Holi. The two titles meeting in an unholy mix is karma you can do without.
Rediff Rating: