Home > India > Movies > Reviews


Discuss |
Email |
Print | Get latest news on your desktop

Luck By Chance: The music rocks

Sumit Bhattacharya | January 06, 2009 14:34 IST


| | |
| --- | --- |
| Farhan Akhtar | |
| | |
| | |
| | |
| | |
| | |
| | |
Shankar Mahadevan was an Indian classical vocalist before he became Shankar. Loy Mendonsa was a jazz-funk keyboard player before he became Loy. Ehsaan Noorani was a blues-rock-fusion guitar player before he became Ehsaan. And the best thing about Bollywood composer trio Shankar-Ehsaan-Loy is they can pick and choose from their influences almost at will.
When that kind of skill meets the Akhtars' creativity, it's a potent cocktail, as evidenced by soundtracks and movies like Dil Chahta Hai [Images] and Rock On!!
So, we picked up the Luck By Chance [Images] audio CD with a lot of expectation. The movie is Farhan Akhtar's [Images] sister Zoya Akhtar's directorial debut, and it is reportedly about the world of Bollywood strugglers.
The album starts with Yeh Zindagi Bhi, a lilting ode to dreams sung by Shekhar Ravijani and Loy Mendonsa. It has a nice melody with some neat keyboard arrangements, but a section of the song -- that goes with the lyrics Jo palkon ke tale hain apne -- is lifted almost ditto from the chorus of Australian pop star John Farnham's 1980s hit You're the Voice. Do a Google, you'll know what we mean.
That aside, the song is definitely one that will grow on you with multiple listening.
The Rajasthani folk of Baawre is up next. It has a driving rhythm section -- that goes from rural grind to urban electronica -- and a great ensemble of singers lending the song a very catchy feel. Proof of SEL's versatility, and definite party material, as they say.
Amit Paul and Mahalaxmi Iyer sing Pyaar Ki Dastaan, the next ballad, with a lot of Bollywood feel, and it could fit in very well with Luck By Chance's theme of movies within the movie. It's the kind of SEL sound we have heard before in many movies and many songs. And it still sounds nice.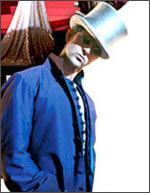 Sunidhi Chauhan [Images] sings Yeh Aaj Kya Ho Gaya, which almost sounds like en extension of the Rock On!! bunch of songs. And boy, is it evident that Ehsaan likes the 1970s southern rock pioneers The Allman Brothers Band! All said, Yeh Aaj is what is called a fresh, young Bollywood song.
Saapnon Se Bhare Naina is the darkest song of the album, with a throbbing electronic feel to it and Shankar doing what he does best -- merging raga-based vocals with 21st century loops. It's quite a good listen, more along the lines of Nitin Sawhney than mainstream Bollywood.
O Rahi Re, a sentimental ballad that follows next, is among the contenders of the song of the album award, and Ehsaan's tasty (probably 12-string) guitar licks provide the perfect bed for Shankar's vocals to meander through. Have it playing on a drive, you're bound to feel a twinge of sadness.
The album is rounded off by a rare achievement, a remix that definitely is one of the best songs of a very good bunch.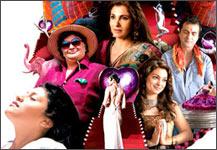 Baawre gets the Midival Punditz treatment, and the result is one sure fire dance-floor scorcher. This one will soon be all over the discs, you can bet your last stock on that. It breathes, grooves and meanders through all the right electronic lanes to an ecstatic high.
A word is also must for Javed Akhtar's lyrics -- they are just the right blend of universality and topicality.
The bottom line is that Luck By Chance's music is aimed at the Dil Chahta Hai generation of Bollywood viewers -- definitely urban. Let's hope the movie matches up.
Rediff Rating:

Want to see this movie? Check out Rediff Movie Tickets!

Email |
Print | Get latest news on your desktop