February 24, 2009 17:35 IST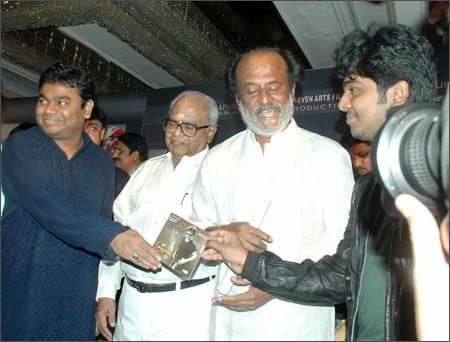 A R Rahman's double Oscar win has his family back home ecstatic. His nephew -- 21-year-old budding music composer G V Prakash (extreme right), son of Rahman's older sister, Reihana -- has obviously taken after his famous uncle. His debut in Tamil film, Veyil, has been sensational.
He talks to Shobha Warrier about Rahman, and the excited state of affairs at their Chennai home.
All of us watched the Oscars, live on television. It was a moment of pride for all of us that an Indian won the Oscars. More so for me, as he was my uncle. The feelings were mixed; I cannot explain them.

I expected him to win at least one Oscar, the  second one was a real bonus. I am very happy for him as 18 years of hard work have been rewarded. He deserves it for the kind of dedication he has for music.

I was very touched by his acceptance speech, especially him speaking in Tamil. Many Indians overseas are hesitant to say they are Indians, while here, this man spoke in his mother tongue. That is really great.

His mom is a big inspiration for him, so I was not surprised when he spoke about his mother. His mother is the main reason for his success. The kind of care she gives him is amazing. I feel it is her encouragement that has taken him so far. I think he owes his success to her.

I spoke to him after the ceremony, and wished him. They were all very happy that I called. They were jumping with joy.

I have so many Rahman favourites -- at least one favourite from each album. Every song is unique. In Slumdog Millionaire [Images], O Saya is my favourite. When O Saya and Jai Ho were nominated, I knew one would win. I was not bothered which song he would win the Oscar for. For me, all that mattered was Rahman getting an Oscar.

There is a lot to learn from him like the instruments he uses and the distinction in his music. The way he selects his songs is remarkable. How he mixes international music and how hard works is inspirational. He is an idol to all of us.

The serenity and the calmness on his face is because of his prayers. Prayers will always give you peace. The more you believe in God, the more peaceful you are. 

I am a very proud nephew of A R Rahman, and I am even more proud as his fan.

Text: Shobha Warrier | Photograph: Sreeram Selvaraj