February 19, 2009 17:54 IST


Thousands of people in Chandni Chowk watch with intensity as the Ramayana [Images] unfolds on stage when their attention is suddenly jarred by the appearance of a local politician in saffron clothes, who makes a spirited speech and disappears. The sequence, shot by director Rakeysh Omprakash Mehra [Images] in his consistently inventive, funny, entertaining and life-affirming cautionary tale Delhi-6 [Images], is highly comical.

But like most of the funny scenes in the film -- including the frantic search for the kala bandar (black monkey), who is reportedly harassing the citizens of Delhi -- the Ramayana scene is also linked to the darker situations that unfold in the film's last quarter.

Delhi-6, which had its world premiere in New York on Sunday, was greeted well by the audience. Word-of-mouth is crucial in letting the word spread when the film opens on February 20, that it rewards those who are not seeking instant gratification. All the episodes, which may seem isolated in the beginning, are seamlessly brought together in the second half.

Mehra says he wanted to show the film without an intermission but the distributors cautioned him that theatre owners would decide to have a break on their own.

The new film does not offer many complicated stories as those found in Mehra's previous hit, Rang De Basanti [Images], but this film is a worthy follow up to its predecessor.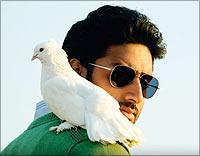 It may look like the film centres around Roshan (a thoroughly engaging Abhishek Bachchan [Images]), born and raised in America, who returns to Delhi to leave behind his ailing grandmother (Waheeda Rehman [Images]). He falls for a free-spirited but conflicted woman (Sonam Kapoor [Images]), who is preparing to become next Indian Idol [Images].
But the film is not just about two young people. It seeks to capture the bigger picture of a neighbourhood. Its episodes capture a raft of conflicts involving families, politicians and two religious communities, Hindus and Muslims. The film creates a wonderful world of a vast neighborhood in old Delhi. But its concerns -- including how the fear of the black monkey is manipulated by one community to punish the minority community -- have wider implications.
As Mehra says of his episodical film (written with lyricist Prasoon Joshi [Images]) that while it is firmly centered in old Delhi and is filled with local colour, its concerns are universal.
Despite Abhishek and Sonam's romantic entanglement being a major part of the film, its appeal is enhanced by half a dozen glorious performances. Mehra deftly exploits the comic talent of Vijay Raaz [Images], who is far more amusing here than in Monsoon Wedding [Images], as the pompous, corrupt and opinionated police officer. And then there is Rishi Kapoor's [Images] character, who cannot forgive himself for not having had the courage to declare his love years ago and who will now make sure that Roshan won't make the same mistake.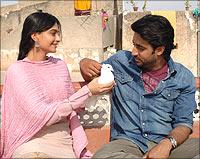 There is hardly a character in the film who is not anchored to the film, and Mehra ensures that even a small gesture adds to the film's proceeding.
Sonam Kapoor, who showed ample promise in her debut film Saawariya [Images], not only looks alluring but has also grown into an actress of subtle power. Whether she is doing a comic scene, or dancing to the feisty Masakali song or executing an act of rebellion against her family's plans for an arranged marriage, she hits the right notes. It is indeed not an easy thing to hold your own in a film filled with an admirable ensemble cast.        
Among the many amusing scenes that are also illuminating is the one that begins with dadi (Waheeda Rehman) suddenly taking ill. She is being rushed to a hospital in a cycle rickshaw much to the frustration of her grandson Roshan who is perhaps thinking the care she would have gotten in America. The rickshaw is stalled as hundreds of people have gathered to see a cow in labour in the middle of a road. The event has religious significance. But Roshan is petrified; he wants to get his grandmother to the hospital the soonest. He sets out to disperse the crowd and by the time he manages to do it -- you have guessed -- the grandmother has disappeared. We then see her gingerly walking towards the cow. She has more than recovered, and her heart is full of piety.
Mehra and Joshi do not ridicule her faith. But the sequence also serves as a powerful reminder of generational and faith gap between two people who love each other, and who can indeed tolerate each other's opinion.   
The climax, which also involves the black monkey, has been imaginatively devised but nevertheless, it is a bit labored. However,  it also serves as a good moral ending and could send viewers home in a happy mood.
Rediff Rating: