Salman admires Lord Buddha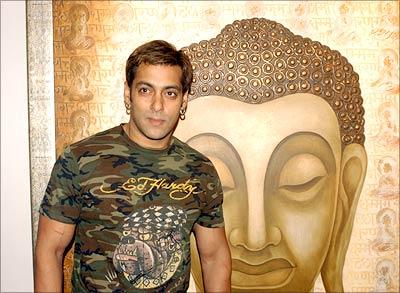 Salman Khan seems to be taking spirituality quite seriously.
Last month, we saw the star dancing at a Ganesh Chaturthi event.
On Monday, we saw the entire Khan family celebrating Eid at their farm house in Panvel.
Now, it seems Salman has turned to Lord Buddha.
Artist Pradeep Verma held an exhibition of his paintings titled Buddham Sharanam Gacchami at Suchitra Art gallery in Bandra, a western Mumbai suburb, recently.
The art aficionados who attended the exhibition were in for a pleasant surprise when Salman walked in with his family, including sisters-in-law Malaika Arora [Images] and Seema Khan, sister Alvira, and niece Alizeh.
Salman was very appreciative of the paintings and was heard discussing the same with his family and the artist. He also spoke at length about the inspiration behind his own paintings and his favourite colours and concepts.
Salman was also heard joking with his niece, who was busy collecting mushrooms, saying. 'Baccha, you need to adore the painting and not the mushrooms!'