| | |
| --- | --- |
| Aamir Khan | |
| | |
| | |
| | |
| | |
| | |
| | |
Advertisement
March 15, 2007


It's confirmed. Aamir Khan will not be part of Dhoom 3, as was reported in some sections of the press.

The actor is, in fact, busy with his only release of the year, Tare Zameen Pe, a film revolving around children. Aamir seems upbeat about his film, and calls it unique.

A day after his 42nd birthday on March 14, Aamir talks about his new film, the World Cup and more. Excerpts:

First things first. Many congratulations on your birthday.

Thank you.

What did you do for your birthday?

I spent the evening with my ammi, and the whole family. It was a simple get together.

Aamir, you have just turned 42. It's being said that once an individual crosses 40, his focus towards life undergoes a change. How far is this true for Aamir Khan?

I don't think my mindset has changed after I crossed 40. I don't believe age has anything to do with these things. Every human being goes through several experiments in his or her life and gradually, we pass through various phases. Because of these experiments, changes are bound to happen.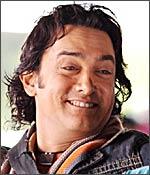 Which has been the biggest learning in your life?

(Laughs) That is a deep question. I guess the biggest learning has been the conviction of believing in things I believe in. I follow the dictates of my heart. I would do only those things in life I have utmost faith in. This has been the biggest learning experience for me till date.

If I were to talk about the year that went by, it was a stupendous year for you. Success came from all quarters -- be it Fanaa, Rang De Basanti, BAFTA or even the Oscars. Did you expect this or do you feel God could have given more?

I am really thankful to God. Whatever I have earned or achieved in life is courtesy Him and the good wishes of the people who happen to be my audience. I would like to thank my audience. Last year was quite fruitful for me. All my films did well at the box office and won people's hearts. I am very happy. In future too, I would like to do quality work and entertain people.

Your forthcoming film is called Tare Zameen Pe and the plot revolves around children. How was the experience of working with kids?

The film's plot attracted me. It's an emotional story and after going through the script, I really thought of acting in the film. This is the only release I have this year. The shooting is over; the film is in postproduction now.
All said and done, this industry does not make films for kids. The number is pretty less. Films meant for kids should be made on a regular basis. Every home has a child so invariably, they too happen to be an important audience for us and we can make so many films for them. Lets hope the audience appreciates this effort when it hits the theaters.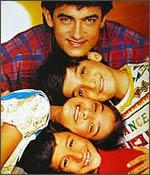 You have worked with children in two of your earlier films -- Hum Hai Rahi Pyaar Ke and Akele Hum Akele Tum. Is there a kid still hidden in Aamir Khan?

(Laughs) I think there is a kid in all of us. But it was fun working with them. Tare Zameen Pe has turned out to be unique because of its story.

The World Cup has begun. Do you plan to install big screens in your office for your colleagues so that they can be a part of the fun? 

My office has many television sets and they can enjoy the games. I myself want to see all the games especially the ones which feature India. I have this conviction that this year, India will lift the cup. I think the team is good and balanced but there is an intuition lurking deep within which tells me that we will emerge winners.

That means it's a conviction straight for the heart.

If we don't win, that should not bother us. Ours is a good team and they will play with full enthusiasm. Winning and losing games is something that is not in our hand. But we should do everything with full effort and straight from the heart. This team will surely play with its heart, entertain and in the process, bring the cup home also.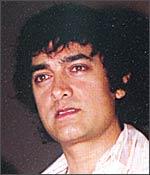 Some others also share your opinion. Which country, do you think, will be the other finalist?

That hardly matters.

Would you like to work in English films?

Yeah, I have received many offers but none of the stories excited me. I have this set criteria of doing films -- the plot, producer and director should appeal me. I should have full faith in them so that work happens in an efficient and smooth way. I have yet to encounter a project from foreign shores which charges me.

Finally, there are strong rumours that Aamir Khan is a part of Dhoom 3. How far is this true?

There is no truth in this news.