| | |
| --- | --- |
| Amitabh Bachchan | |
| | |
| | |
| | |
| | |
| | |
| | |
Advertisement
February 08, 2007 13:44 IST
Last Updated: February 08, 2007 14:43 IST


The Big B's performance in Eklavya was so terrific that he got a Rolls Royce for it!

That's right, director Vidhu Vinod Chopra was so impressed by Amitabh Bachchan's performance in his forthcoming movie Eklavya that he gifted him a Rolls Royce Phantom at the actor's office in Juhu on Wednesday in the presence of mediapersons.

The expensive token of appreciation comes just days after Abhishek Bachchan was gifted a Bentley on his birthday. Initial reports said Amitabh had presented his son with the car, but Bachchan denied this. Either way the father and son have gotten quite an impressive garage upgrade.

The actor was in such a happy mood during the filming of Eklavya that he even promised to buy the director a car.

"But I thought of gifting Bachchan a car before he gifts me one. I feel gifting a car is the least I could do for him. He has indeed given a great performance," Chopra said, adding, "He has not bought me a car yet. So this is a polite reminder for him to keep his promise."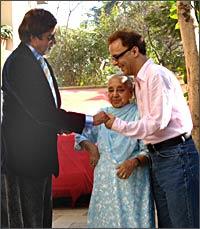 "I am not planning to gift him anything!" an amused Amitabh quipped.
Praising the actor for his role in the film, which also stars Sanjay Dutt, Saif Ali Khan, Jackie Shroff, Boman Irani, Jimmy Shergill, Sharmila Tagore, Vidya Balan and Raima Sen, Chopra said he was the real Ekavya (the royal guard). "He is such a committed actor, and for a writer; director there can't be a greater gift than that," the director added.
So impressive was Bachchan that even British actor Ralph Fiennes, who saw Eklavya congratulated the director and even hugged him, Chopra recalled. "He (Fiennes) met Bachchan and just kept hugging him," Chopra said.
Initially titled Yagna, the film revolves around the royalty of Devigarh, and boasts of eye-boggling action, one of which involves 600 camels.
Asked how far the story was connected to the Eklavya from Mahabharata, Chopra said, "This story belongs to today's India. But we have raised the question as to what happened that time (during the time of Mahabharata), and today was right or wrong. It is a contemporary dramatic thriller film; it does not go into the Mahabharata."
"In full honesty, directing the movie was great," Chopra said, praising the other actors too. "Everyone has done a fantastic job, but I can't afford cars for everyone... if I did, I would have to sell my house," the director joked.
Bachchan, as always was modest about his role.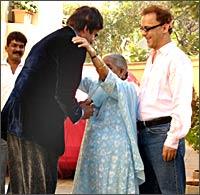 "I am over the moon. Chopra is very fond of saying that this is my best performance, but I don't agree with it," the actor said.
"I wanted to work with him for so long, but he didn't take me. Finally, I have made it. We have been meeting every year -- talking and discussing roles -- but later Chopra goes to another actor. I feel all the films that Chopra did were excellent -- whether it was Parinda or 1942 A Love story. I would have loved to be part of all. He has his own style of directing," he added.
Bachchan has already shot the trailer for Chopra's next movie, Talisman, which will come out along with Eklavya.
The only discordant note in the otherwise pleasant occasion was when the media was kept waiting and shoved from one corner to another every five minutes. Added to this was the barrier created between Bachchan and the media by a rope.
Photographs: Reuben NV