First of all, let me say that Jaan-E-Mann is one of the most bizarre movies I have ever seen.
Almost the very first scene introduces Salman Khan and Anupam Kher, who plays a short person (that's the politically correct term now). In the next 30 minutes, we get to see a Broadway musical, harem girls, singing dwarfs and a qawwali number. First-time director Shirish Kunder has thrown every visual gimmick he has ever seen into Jaan-E-Mann and the results, more often than not, jar your sensibilities.
I read in an interview that this film started off as a one-line idea. To make an educated guess, that line could have been: 'Ex-husband helps guy woo his ex-wife so he can get out of alimony payments.' If the concept sounds familiar, rest assured the execution is highly unexpected, sometimes bordering on the loony.
Salman Khan plays a has-been wannabe actor whose self-centeredness has driven away wife Preity Zinta. When Akshay Kumar shows up providentially at his door, Salman and sidekick Anupam Kher get the idea of hooking him up with Preity so the former can wriggle out of outstanding alimony. The film moves to New York, where Preity is now an interior designer. In drastic contrast to Kabhi Alvida Naa Kehna, where the city provides a sombre backdrop to the serious plot, the city here looks vibrant and colourful. All the signs appear to be psychedelic, the clothes are in various shades of shocking, and even the clouds are rainbow-coloured in one scene.
The songs don't follow the usual structure; they are more like musical dialogues. I can't remember a single tune except for Ajnabi, which is lovely. It is a beautifully choreographed number by Farah Khan, who is thankfully restrained on this one after a series of big production numbers sprinkled liberally through the movie.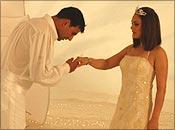 It's not much of a stretch to figure out which way the story is going. The second half, where the plot gets quite soppy with the addition of a baby, drags. There is the mandatory engagement party with the group number, once again shot in the style of a Broadway musical. Then comes the big reveal and plenty of tears until the final happy ending.
Most of the movie feels like a large theatre production, with surreal sets and big chorus lines. Technically, the film is dazzling, with some lovely and seamless transitions from present to flashback. But everything is over the top. There's just too much. Given the director's expertise as an editor, one would expect a much tighter movie, with just enough special effects to dazzle the audience. But, by overloading the senses, the movie tires you out. The real bits of emotion feel out of place, which is a pity because Salman and Akshay act their hearts out.
Salman is just great in the emotional scenes. Akshay has a trademark corny laugh that is sure to echo in every college in India. Their performances belong to a completely different movie -- a small, intimate one of the sort made by Hrishikesh Mukherjee. Preity's role is strictly decorative. The two men could be competing over a beautiful sports trophy for all the usefulness she has in the film. The baby steals most of the scenes anyway.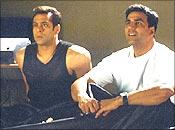 The humour is pretty juvenile, with most jokes at the expense of Anupam Kher's stature. It seems mean-spirited. You can't help comparing it to the humour of Main Hoon Na, which got its laughs without resorting to physical shortcomings.
Jaan-E-Mann is an ambitious movie. It has its moments but, ironically, it falls short because it over-reaches. Unless you're a fan of Salman or Akshay, stay home and watch Main Hoon Na instead.
-- Vidya Pradhan lives in California, writes for a local newspaper and is working on a children's novel.