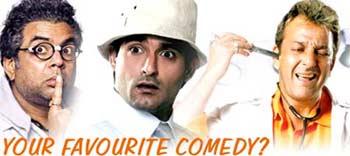 Malamaal Weekly is the newest comedy to be lapped up by the audience, and Priyadarshan seems to have successfully displaced Bollywood's comedy king, David Dhawan.
More often than not, comedies work because they are hugely entertaining. Some like slapstick, some like sex comedies while some like the good old laugh riots.
And that brings us to the big question: Which are your favourite comedy movies?
Do you like the Govinda's No 1 movies, Akshay Kumar's love stories gone awry, or Paresh Rawal's comedy of errors?
Tell us!