Home > Movies > Message Board

April 06, 2006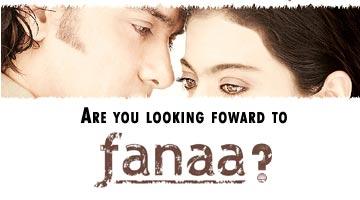 Aamir Khan. Kajol. May. Yash Raj Films' latest project has crept stealthily upon us, and suddenly we are overwhelmed by a trailer for a film barely a month away. Kajol -- who is blind in the film -- looking very K3G in a sari, Aamir dressing trendy. And as the promo winds down, sensuality gives way to sin, as a bare-chested Khan shoots menacingly into the lens.
What do you think of the film's promos? Are you looking foward to Kunal Kohli's latest movie? Tell us!


What do you think about the story?








Read what others have to say:





Number of User Comments: 302








Sub: Aamir-Kajol

Aamir is the greatest even better than the King Khan and he looks good with all heroins rather all heroins look good with him


Posted by Kulsum Hamid









Sub: My Opinion

I think that Fanaa will be a huge hit because the promos of the movie looks good and iam a huge fan of Amir khan ...


Posted by Masiuddin Ahmed









Sub: My Opinion

I think that Fanaa will be a huge hit because the promos of the movie looks good and iam a huge fan of Amir khan ...


Posted by Masiuddin Ahmed









Sub: Fanaa

It's Good to See Kajol again on Screen.


Posted by Eshwar









Sub: Fanna - worth to watch Aamir Khan and Kajol together

Aamir Khan is the greatest Star Actor of Indian film industry, Kajol is the one of the finest actres in her time. They r coming ...


Posted by Subha






Disclaimer