Home > Movies > Interviews

The Rediff Interview / Juhi Chawla

'I'm going to play my age'

October 28, 2004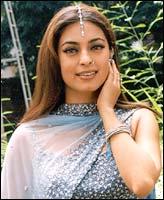 Juhi Chawla seems to have come out of semi-retirement.
Having earned kudos with her performance in Jhankaar Beats and Teen Deewarein, she signed on a couple of films like Onir's My Brother Nikhil (with Sanjay Suri, Victor Banerjee, Lilette Dubey and Purab Kohli) and Deepak Tijori's Khamosh (with Shilpa Shetty, Shawar Ali).
She will also feature in a Punjabi film, Des Ho Ya Pardes (Gurdas Mann, Parmeet Sethi) directed by Manoj Punj.
On the sets of Khamosh, at Poonawalla Bunglow, Madh Island, Juhi took time off to speak to Vickey Lalwani, amid plenty of giggles.
We thought Jhankaar Beats and Teen Deewarein were just flashes in the pan. But you seem to be coming back with a vengeance.
(Laughs) Vengeance is the wrong word, but yes, I am coming back strongly. But on a different track.
I am going to play my age. I don't think I will look good running around the trees now. I have definitely outgrown that. But let me tell you, some producers still come to me with roles that require me to play far younger characters.
You were away from the camera for almost 20 months. How did it feel on the first day of your comeback?
Strange, initially. A tinge of nervousness, I must admit. But after two or three scenes, I was sailing smoothly.
Tell us about your role in Khamosh.
I am not supposed to reveal anything about the film. Khamosh is edge-of-the-seat suspense. Mine is a brief role, but integral to the plot. I have long, serious dialogues that I have never said before (giggles). To put things in proper perspective, I am doing just a friendly appearance in the film, and I am doing it because of Deepak.
| | |
| --- | --- |
| | More on rediff.com! |
| | |
Please elaborate.
Deepak is a friend. We worked together in a couple of films. When he came home with the script, I went into a flashback (laughs).
Did you do any homework for this role?
No. Does one require homework to play a criminal psychiatrist? (Roars with laughter) Oh, God! I said it! Why did you probe me so much?
Do producers come to you with roles requiring you to look older?
(Laughs) Yes. There have been offers where they wanted me to play mother to 16 and 17-year-olds (pauses).
Some producers come with half-baked ideas and one-liners. I don't listen to them. At this point in my career, I want a bound script before I sign on the dotted line. Or at least, a full narration. It need not be the world's best role. Filmmakers know what I am capable of, they should approach me accordingly.
How important is the signing amount before you sign films?
I do not expect people to shell out massive amounts to me because the kind of films I choose to do cannot afford that. I am going to cut my coat according to the cloth, but I want people to keep their word. Once the deal is struck, I don't want any complications.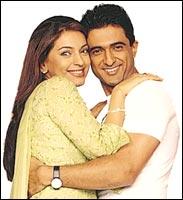 What is your role in My Brother Nikhil?

I play sister to AIDS victim Sanjay Suri. It's the story of a very happy family, which has to face a lot of humiliation and tragedy as time goes on.

Victor Banerjee and Lilette Dubey play our parents.

You must have had a ball doing the Punjabi film, Des Ho Ya Pardes?

Because I am a Panju?

Still, I somewhat hesitate while speaking in Punjabi (laughs).

But I must say I got an overwhelming response from people when I was shooting for this film in Punjab. Des Ho Ya Pardes is a family film which will definitely attract people.

Have you been offered roles on television?

Lots, but except for one Amitabh Bachchan show (Kaun Banega Crorepati), a lot of work by my contemporaries has crashed.

Besides, I am not familiar with the medium. I would like to tread cautiously. I would take up a television show only if it is a very well written one. One reason why I am not too comfortable with television is the speed at which they work, because the episode has to be readied at any cost, even at the cost of creativity.

What kind of television offers have you got?

All kinds. I have been offered chat shows, talk shows, roles like Sridevi is doing in Malini Iyer.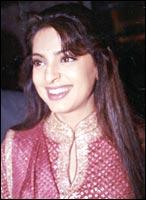 How do your kids react when they see your films on television?
My son Arjun is just one and half years old. My daughter Jhanvi has started reacting a bit. Frankly, I don't let her watch much television, except for cartoons. I don't know who told her, but the other day when I was leaving my house, she asked, "Mummy, shooting?"
What's happening on the iDreams front? People say you and Shah Rukh Khan have split professionally.
We are still wondering, still writing. We are not sure what we are going to make. Let's see.
Does the birth of Red Chillies [SRK's new production company with his wife Gauri] signify the end of iDreams?
I wouldn't like to look at it so morbidly.


What do you think about the story?








Read what others have to say:





Number of User Comments: 7








Sub: juhi is the best actress

hello juhi you are really verry handsome and so cute i m waiting for ur best movie with shahrukh khan.


Posted by fozai









Sub: Hi Juhi waiting for your strong comeback With Shahrukh

Hi Juhi , I am your big fan, Plz comeback strongly With Shahrukh, I am a great fan of yours Ankit


Posted by Ankit









Sub: aamir-juhi

I think, we all are waiting for this pair to come together once again. They have always created magic and i hope we get to ...


Posted by priti









Sub: juhi is the most charming heroine ever.

juhi you are the most charming heroine ever. and the way you potrayed your roles with soo much grace, is extinct in today's cheap bollywood ...


Posted by thewisecracker









Sub: PLEASE INCLUDE INTERVIEW WITH AAMIR KHAN & REVIEWS ON REVOLT OF 1857

Dear Rediff, Thanx a lot on the wonderful interview with Juhi Chawla.It really has been a long time since she went into hibernation.Pls include interview ...


Posted by george bthomas






Disclaimer