Home > Movies > Bollywood News

'Shankar has taken Tamil films to new depths'

N Sathiya Moorthy in Chennai | September 09, 2003 18:40 IST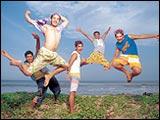 Ravi, a medical student, was excited.
He and a group of friends from medical college had first day first show tickets for Shankar's Boys.
Inside the cinema hall, however, they were in for a shock. As the film began to unspool, the boys in the group found themselves squirming.
"The film was vulgar, though the concept itself is not," explains Ravi. "As teenagers and medicos, we have no problem discussing sex with girls our age. But this film was revolting."
The story is about five teenage boys, their escapades and sexual awakening.
Boys has not only earned the disapproval of its target audience, teenagers and moviegoers at large, it has also angered political leaders and the film industry with its vulgar content.
| | |
| --- | --- |
| | More on Boys |
| | |
"The film lacked aesthetics," says Mohana, a college student. "Otherwise, it could have made a difference in presenting teenage inquisitiveness towards sex. The five boys are shown sharing the same call girl. They are also shown preparing for this in great detail. And that's one of the better scenes!

"You cannot go for the movie with your parents or with your male friends," she adds.

Mohana's friend Archana says she will have to give an explanation to her mother, now that magazines and newspapers are writing about Boys. She had told her mother that she was going for the film's first show. "I thought I could silently bury the idea [about discussing the movie with her parents]. But now she [her mother] may ask questions, not only about the film, but about the company I keep, my tastes and my innocence."

Moviegoers are irked as much by Shankar's involvement in Boys as they are by veteran writer Sujatha Rangarajan's script. An electronics engineer who made it big as a new wave writer in Tamil in the 1970s, he is close to being a cult figure today.

"We did not expect Sujatha to write such dirty, double-meaning lines. Not at his age," says Revathi, a regular reader of his books and columns in Tamil magazines.

But her elder cousin Priya, who is in her early forties, is not too surprised. She says, "He [Sujatha] became popular only by writing similar stuff in serialised stories in Tamil magazines. When he switched over from the mundane to the sublime, we thought age had weathered him." As for Boys, Priya has decided she will not see the film.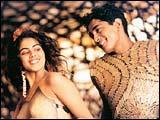 Boys obtained the censor certificate from Hyderabad, not Chennai, as should have been the case ordinarily. An industry source says the trailer of the movie itself went through eight cuts in Chennai. The filmmakers, who feared the film would also be cut, reportedly decided not to produce the film for certification in Chennai. 
It is learnt that the Chennai censors have now questioned the propriety of their Hyderabad colleagues clearing a Tamil film.
Following pressure from political leaders like Dr K Krishnaswamy, founder-leader of the dalit organisation Puthiya Thamizhagam, who said the movie is a bad lesson for the youth, the producers have deleted some scenes and dialogues. They have also released advertisements in newspapers stating that objectionable scenes and dialogues have been cut and the film is now appropriate for 'family viewing'.
Krishnaswamy, a medical doctor, had earlier forced Kamal Haasan to change the title of his new venture Sandiyar (meaning rogue), reportedly a reference to the anti-Dalit Thevar community in southern Tamil Nadu.
An industry person says, "Filmmakers were irritated about Shankar's high price tag after successive hits. He is believed to have charged Rs 5 crore [approximately US $1.1 million] for this film. The cost of the project is said to have escalated from Rs 100 million to Rs 200 million after Shankar was forced to reshoot much of the film. Apparently, an earlier film had a similar story. But Shankar wanted to save the project one way or the other."
Few Tamil films in recent times have raised as many expectations from audiences and filmmakers alike as Boys. Shankar is known for a slew of superhits, from Gentleman to Kadhalan to Indian and Jeans. Indian, a Kamal Haasan-starrer, was dubbed in Hindi as Hindustani. Shankar's Mudhalvan was a superhit in Tamil, but bombed when remade in Hindi as Nayak with Anil Kapoor and Rani Mukerji.
The pre-release reports for Boys were good. And, like all Shankar films, this one too had good music from A R Rahman.
But Boys has tanked at the box office. "We thought that after the failure of Rajni's [superstar Rajinikanth's] Baba, Shankar would revive the industry. Not only has he not helped, he has taken Tamil filmdom to new depths. Now, it has suddenly become a target of derision and possible contempt," says a film veteran.
Click here for More Features