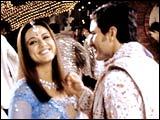 For all those who want to know whether Kal Ho Naa Ho is a remake of Hrishikesh Mukherjee's Anand, the answer is yes. And no.
Shah Rukh Khan's character (Aman) is largely inspired by Rajesh Khanna's happy-go-lucky charmer in Anand. But on the whole, Kal Ho Naa Ho is as different as they come.
The film kicks off with Manhattan resident Naina Catherine Kapur (Preity Zinta) narrating the story of her life over her daily morning jog.
| | |
| --- | --- |
| | Don't Miss! |
| | |
The characters in Naina's life are introduced with the same energy that Naina puts into her jog. There is her mom Jennifer (Jaya Bachchan in jeans), who shares a love-hate relationship with her mother-in-law Sushma Seth (at her loudest Punjabi best).
Mommy runs a flop restaurant. Grandmother is a flop singer. Together they are chaos.
Enough reason for Naina to turn into a boring, bespectacled spinster type who takes life too seriously.
The only interesting person in Naina's life is buddy Rohit Patel (Saif Ali Khan). He is uncool with women but thinks he is cool. He is also a typical Gujarati, whose father (Satish Shah) runs a business called Dial A Dhokla.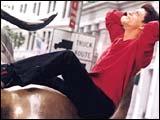 Enter funny guy Aman, who turns out to be the proverbial angel in Naina's life. He is Dale Carnegie-Jim Carrey-Richard Gere-Deepak Chopra all rolled into one. He zooms into Naina's neighbourhood singing Pretty woman and woos everyone in sight, including uppity Naina.
Naina hates him at first sight, but can't help being overwhelmed by Aman's charm.
Even Rohit takes tips from Aman on how to be cool and influence people. Life is a song and dance till the interval.
| | |
| --- | --- |
| | More on rediff.com! |
| | |
Post interval, it is time to bring out the tissues -- an entire box of them in fact. It is time for the audience to discover that Aman is not what he seems.
You will sob all the way to the end.
The second half is moving, yet humorous.
Full marks to director Nikhil Advani and producer Karan Johar for not letting the proceedings turn heavy.
The climax is a revelation. Set against the superbly picturised Mahi ve, the film ends on a note that can be best described as clapworthy.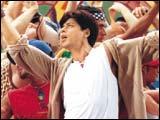 Though Karan Johar's influence looms large all over the film -- be it the gripping story/screenplay, the costumes or the spicy humour -- Nikhil Advani makes a superb debut.
The film is fresh in treatment and storytelling.
Shah Rukh excels as the supercool Aman. He reiterates his King Khan status with Kal Ho Naa Ho. You understand why it is difficult for Karan to work with any other actor, because SRK steals the show with a designer-made role.
Given SRK's performance, it is all the more important to take note of Saif, whose Rohit Patel will be remembered just as much as his Sameer in Dil Chahta Hai. Saif is first-rate, and your heart goes out to this under-rated actor.
Preity Zinta slips into character beautifully. Right from the preppy spectacles to her no-nonsense demeanor, Preity captures the spirit of Naina Kapur. She has never looked so pretty.
Kal Ho Naa Ho will carry you with its exuberance.
Would you like to review this film? Here's your chance!
CREDITS:
Cast: Shah Rukh Khan, Saif Ali Khan, Preity Zinta, Jaya Bachchan
Director: Nikhil Advani
Producer: Dharma Productions
Music: Shankar-Ehsaan-Loy