'As long as Amul was coming in with products it was not a problem because it was something value added and with a shelf life.'
'When it gets into the local market by procuring locally, it cuts into the market-share of local cooperatives.'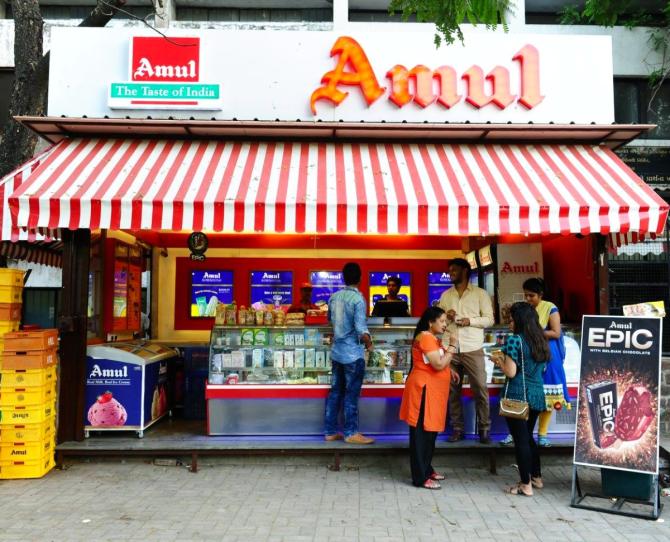 The recent battles between the Gujarat Cooperative Milk Marketing Federation (GCMMF), which owns the Amul brand, and Nandini in Karnataka and Aavin in Tamil Nadu may have some roots in a ten-year-old headline-grabbing tussle between Verghese Kurien, the driving force behind India's White Revolution and GCMMF chairman, and Amrita Patel, chairman of the National Dairy Development Board (NDDB).
Patel, a Verghese protegé, had wanted to create an umbrella brand under Mother Dairy (an NDDB subsidiary), by setting up joint ventures with state federations to create a centralised brand.
Mother Dairy would hold a 51 per cent stake in each joint venture.
Kurien resisted fiercely on grounds that it would corporatise the dairy sector.
After several rounds of truce talks, in which even the then deputy prime minister L K Advani had to intervene, Patel's plan was shelved.
That episode may well have created an aversion to centralisation in the cooperative dairy sector -- hence, Nandini and Aavin's reluctance to tie-up with Amul.
Moreover, the cooperative sector dynamics have changed since 2003.
When Kurien resigned from GCMMF in 2006, it was a Rs 3,600 crore (Rs 36 billion) federation.
Now Amul is India's largest FMCG brand with a reported group turnover of Rs 72,000 crore (Rs 720 billion) in 2022-2023.
Naturally, it has the money power to compete against any state cooperative.
The current controversy started in December last year, when Union Cooperation Minister Amit Shah said, 'Cooperation between Amul and Nandini can do wonders in the dairy sector.'
Opposition parties in then BJP-ruled Karnataka immediately saw in this a move to merge the Rs 21,000 crore (Rs 210 billion) Nandini with Gujarat-based Amul.
In April, in the middle of the assembly election campaign, Amul announced that it would enter Karnataka to supply milk and curd.
This led to widespread protests across the state, providing the Congress with a handy issue to mobilise pro-Kannada sentiments.
A recent change in the Multi-State Co-operative Societies Act, making the merger of two state co-operatives easier, fuelled the Opposition's argument.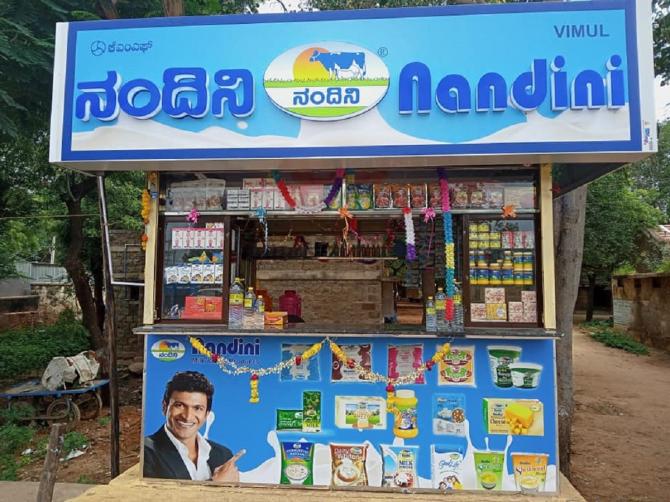 On May 25, Tamil Nadu Chief Minister M K Stalin approached Shah, seeking his intervention to direct Amul to desist from milk procurement from the milk shed catchment area of Aavin (the Tamil Nadu Co-operative Milk Producers Federation) in his state with immediate effect.
Though Nandini and Aavin are small brands compared to Amul, they have a strong market presence in their respective states.
Nandini, owned by the Karnataka Milk Federation, produces over 90 lakh litres of milk per day (LLPD) and has 2.64 million members dependent on it.
Meanwhile, Aavin procures 35 LLPD with around 450,000 members.
Amul's annual numbers for 2022-2023 show that it has 3.6 million registered members and procures an average of 270 LLPD.
What is more, Amul products were already being sold in both states. So what was the problem?
"As long as Amul was coming in with products it was not a problem because it was something value added and with a shelf life. When it gets into the local market by procuring locally, it cuts into the market-share of local cooperatives," M S Sriram, a professor at the Centre for Public Policy, Indian Institute of Management-Bangalore, tells Business Standard.
"This choking in procurement itself may hit the rest of the value chain of the local co-operatives," Sriram adds.
But a senior industry official and a long-timer with Amul says, nobody can stop Amul from entering into procurement tie-ups legally, because "it is not creating new members, which it cannot do being a state cooperative registered under the state laws."
In fact, he adds, Amul currently procures milk in 10 or 12 states apart from Gujarat, including Uttar Pradesh, Bihar, Haryana, Rajasthan, Punjab, and West Bengal either on its own or through local cooperatives.
"To me it's a win-win situation because Amul will pay a higher and better price to farmers for their milk, consumers will get cheaper milk products and it is also good for the dairy industry," he says.
As more organised players enter the market, he adds, it brings transparency in operations and pricing and also benefits consumers.
"More buyers means a better price of the milk for farmers," the official says. In some states, even the state governments invite Amul to set up its own procurement and chilling centres to help milk farmers.
But critics say that Amul's foray is welcome in those states where the cooperative structure is weak, but in southern states where milk cooperatives are big and strong such creeping entry has started creating problems.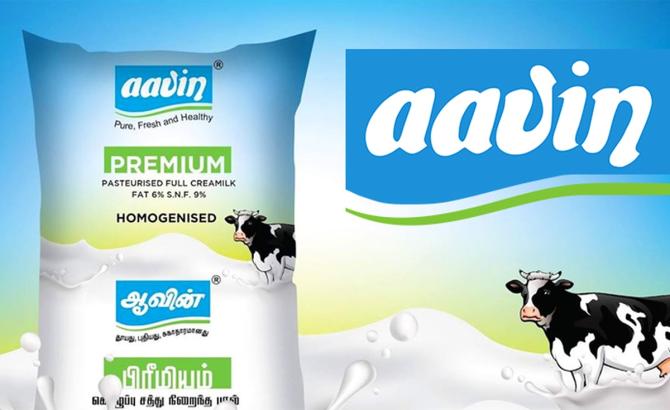 To those who pitch this argument and the portrayal of Amul as a co-operative, Sriram has a counter view.
"When it comes to other states, Amul is not a co-operative, because it is a co-operative of the farmers of Gujarat and accountable to the farmers of Gujarat and not to the farmers of Karnataka or Tamil Nadu, even if they procure from them," he says.
As he wrote on The Wire Web site, other strong local brands lost out in Gujarat when Amul was given prominence -- Sagar by the Dudhsagar Dairy in Mehsana, Sugam in Vadodara, Sumul from Surat and, Vasudhara from Valsad.
Another major argument put forward by those supporting Amul entry is that the private sector is also procuring milk from these states. But the fact is that the private sector's market share in liquid milk is much lower.
The reason several experts do not think competition in milk procurement is good is the structure of the milk value chain.
Milk has to be procured from villages, and then transported and processed at the nearest plant.
"That means that procurement has to be monopolistic in nature. It becomes unviable for the other players, if they are unable to procure milk. Amul has deep pockets and can bleed for a while and sustain such operations," Sriram tells Business Standard.
Interestingly, according to the Amul Web site, it has plants in Gujarat, Delhi/NCR region, UP, Maharashtra, Rajasthan, Madhya Pradesh, Assam, Chattisgarh, Jammu and Kashmir, and Jharkhand, but no plants in south India, indicating that the region is still a roadblock for the mega player.
Whether Amul becomes a pan-India brand or not is a pure business decision.
However, experts indicate that the move may deviate from Kurien's dream of having hundred Amul-like brands in India.
Feature Presentation: Rajesh Alva/Rediff.com