'What made him different was that he was not a banker at all by temperament.'
'He was a businessman, a typical lalaji at that.'
'He had to win at any cost.'
Raghu Mohan glances at Rana Kapoor's fall from grace.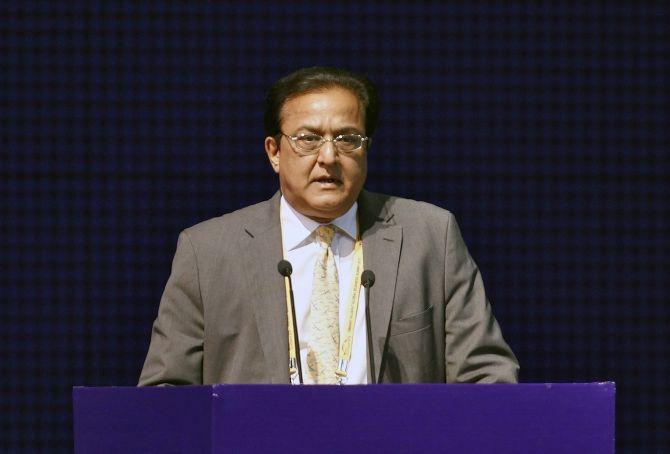 When 32-year-old Rana Kapoor swung the United States's consular business account in India for Bank of America in 1990, folks in our country's elite foreign banking circuit sat up.
The relationship had been with Citigroup for decades; its shift meant Rs 400 crore a year in float-money, substantial for a foreign bank back in the day.
It also held the promise of huge spinoffs arising from the handling of increased US government business and a reset of strategic relations following the end of the Cold War.
The deal saw Kapoor's lapel being adorned with the prestigious 'Eagle Pin' handed out by the bank's global chairman.
It was an honour that would have been coveted by the highly regarded Vikram Talwar -- BankAm's longest-serving India country manager to date (1970-1996) -- who had hired Kapoor.
"Kapoor's greatest talent was that he could sell coals to Newcastle. An equal failing was the love affair with the man in his mirror," says a rival-cum-peer who does not wish to be named (similar requests were made by other senior bankers as well).
The manner in which Kapoor's stint at BankAm ended bore this out.
In 1996, Kapoor was forced to resign by Ambi Venkateswaran who had taken over from Talwar two years earlier as BankAm's India boss.
The reason: Protocol had not been followed when sanctioning a huge credit-line to one of the country's largest corporate houses.
Was it a slipup big enough to cost Kapoor his job? He might well have perceived his action as befitting a proactive banker, with no real risk arising to the bank.
"You can't sign off on limits on a whim. But then in his head, Kapoor (who was responsible for important corporate and institutional clients
Nearly a quarter century later, the spectacular meltdown at YES Bank reveals the mental makeup of someone only too eager to walk on life's wild side.
It is the first case -- anywhere in the world -- of a bank's promoter being allegedly caught with his hands in the till.
He was arrested on charges of money laundering.
It would not have ended this way for Kapoor had two other events not taken place.
One, the death of Ashok Kapur -- his brother-in-law and partner at the bank -- in the 26/11 Mumbai terror attacks.
And two, the residual effects of the 2008 financial crisis, which finally torpedoed YES Bank's business model.
These put Kapoor -- a man with a hugely inflated sense of self-worth with a buccaneer's attitude to banking -- at centre stage with no strategy to take care of ground realities.
It only fed his considerable ego and, as was his wont, saw him resort to managing affairs creatively on the run.
The many questionable transactions that have come to light involving Kapoor, his wife Bindu, and their three daughters -- Radha, Roshni and Rakhee -- show up a desperate individual who tried to game the system, only to get gamed by wilder beings.
The 'I' specialist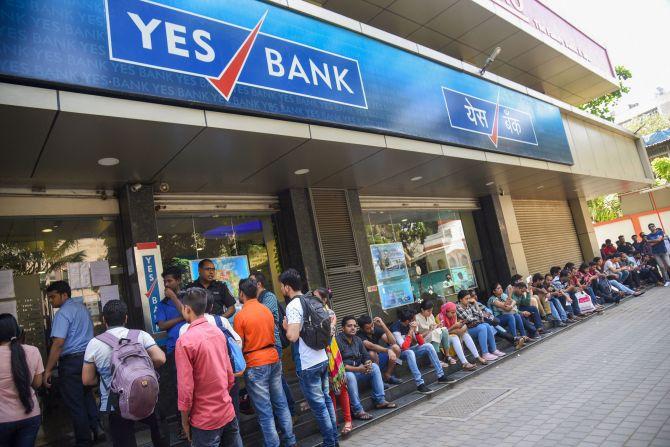 Much has been made of Kapoor burning gallons of midnight oil; of his being a great networker, and a cut above the rest in whatever he did.
Its currency had a lot to do with his natural inclination towards public relations, and he was to become a giant in his own right in this area.
He started small: The first banker to hire a PR agent to build up his profile while still at his BankAm desk.
It's not that BankAmers of Kapoor's vintage were any less competent.
There was Jaspal Singh Bindra, the executive chairman of the Centrum Group (he was also the former group executive director and CEO for Asia at Standard Chartered Bank, or StanChart); V Shankar, now CEO of the private equity firm, Gateway Partners, and former CEO of StanChart's Middle East, Africa and Americas business; and Vishwavir Ahuja, the reticent managing director and CEO of RBL Bank (he was also boss at BankAm for a decade, a post Kapoor aspired to).
Three others from BankAm would walk alongside Kapoor: Srikrishnan H, YES Bank's first executive director and now managing director and CEO of Jio Payments Bank; Sunil Gulati, who sits on the board of many financial companies, including fintechs; and the relatively younger Ajay Mahajan, who recently resigned as the wholesale banking head of IDFC First Bank.
Kapoor thought he was streets ahead of them.
"You please set aside this bit of Kapoor being more hardworking and networked compared to the rest of us. What made him different was that he was not a banker at all by temperament. He was a businessman, a typical lalaji at that. He had to win at any cost," notes a banker.
What further helped bolster the Kapoor mythology was that the 1990s were a time when only a handful of journalists covered foreign banks.
As a result, they knew senior officials personally.
As the media exploded in the decade to follow and access became rare, any narrative would be lapped up.
That is why references to Kapoor's family connections never caught fire during the 1990s.
That his father, an Indian Airlines pilot for 37 years, had been a mentor pilot to a young Rajiv Gandhi and a close associate of Congress leader Satish Sharma.
At BankAm, where many of his colleagues were drawn from the IIMs and IITs or were the cream among chartered accountants, Kapoor, with an MBA from Rutgers University, New Jersey, was an upstart.
His hankering for exclusivity would see him create a prime minister's office-like setup within YES Bank on the 9th floor of the Nehru Centre in Worli, south central Mumbai.
Even the senior-most colleagues did not have easy access to him.
A control freak, Kapoor would involve himself in the minutiae of every small credit decision.
Kapoor sahib hated to be kept waiting, even at the lift -- it would be held up and kept open for him.
The power play was par for the course -- page 3 parties and hobnobbing with the rich, powerful and famous.
"Books, art, literature, culture -- he had little to do with any of these. But, he had his YES Foundation's 'YES! I Am The CHANGE' social film movement. (It made short films with social messages.) Had fate not caught up with him, he would have cameoed in a Bollywood movie," notes a corporate borrower.
An entire movie may well be made on him now.
He never let go of a chance to be in the news cycle.
During the United Progressive Alliance years, Kapoor would insert himself into the frame whenever the finance minister of the time -- Pranab Mukherjee or P Chidambaram -- interacted with industry.
"I truly admired him for pulling off these feats when there were much bigger names around," says a rival.
This obsession with the media sometimes reached ridiculous levels.
Like when he issued this press release on Republic Day in 2016: 'I would like to extend a warm welcome to French President Francois Hollande. I am greatly encouraged by the agreements signed by our two leaders... the landmark deal for procuring 36 Rafale Jets will greatly benefit India's armed forces.'
He was sensitive enough to add: 'It is with great pride that I wish all fellow Indians a happy and prosperous Republic Day.'
It reminds one of the character Private Zero from Mort Walker's Beetle Bailey comic strips.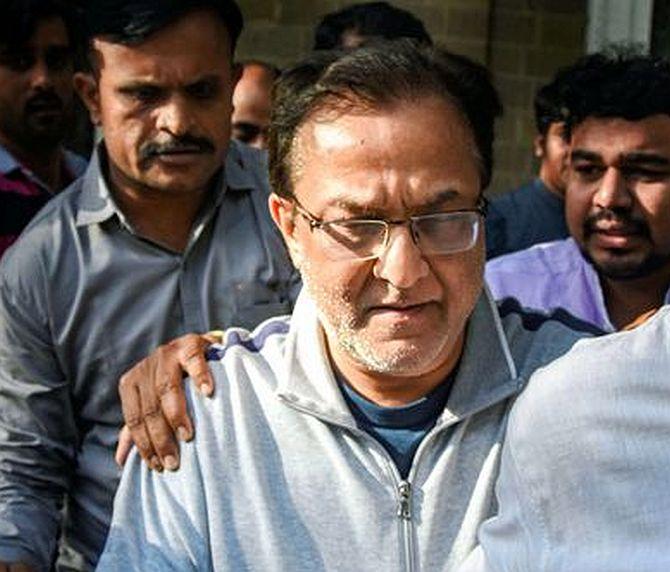 Lady luck and Rana Kapoor
It remains a mystery why Harkirat Singh, who helmed Deutsche Bank in India for nearly two decades till late 1997, agreed to have Kapoor onboard as a partner in YES Bank.
A much-respected banker, Singh was the brain behind 'project YES Bank' and had initiated talks with Mint Road and North Block to make a case for a private bank to be set up by professionals.
In the original business plan, YES Bank was to mirror Rabobank in its profile -- with interests in agri-tech, pharma, telecom, education, green-power and by offering financing technology solutions for the future.
The partnership with The Netherland-based triple-A rated cooperative bank -- the only one in the world as on date -- by YES Bank's three original promoters (Singh, Kapur and Kapoor, who came on board a little later) was a well-planned dry run. Through Rabo India Finance.
There is a backstory worth telling here.
Post-BankAm, Kapoor had taken on the country head's role at ANZ Investment Bank.
<>It is said this job came his way because Kapur, an old ANZ Grindlays Bank hand, knew its then CEO in India, Mehli Mistry, well.
Now ANZ Investment Bank was largely into cross-border syndicated loans and power projects.
The Pokhran-II nuclear tests in May 1998 saw the cross-border syndicated loan market collapse because of sanctions being imposed; many power projects in the works over which there was a question mark were now simply unviable.
Kapoor was for all practical purposes in the job market once again.
It's unlikely that Singh was coerced into taking on Kapoor in the YES Bank arrangement.
The grapevine has it that Kapur, being generous, "felt obliged to settle his brother-in-law professionally".
It's another matter that by the time YES Bank rolled out in 2004, Singh was out of the tent like the Arab in the fable, 'The Camel and the Arab', and the Rabobank-like model was junked.
Kapoor later pulled off a similar stunt with Kapur's family as well -- with regard to a YES Bank board seat to his niece, Shagun Kapur Gogia (she finally joined the board in 2019 after years of infighting and litigation).
Madness in the method
"Let me tell you this. Until Kapur's unfortunate and untimely death in 2008, the quality of internal controls and board debates at YES was top class," says a former board member.
Kapoor, too, had mellowed down a lot, though he retained his arrogance.
"He worked like a maniac, and drank only on weekends. He did not push his luck with senior colleagues."