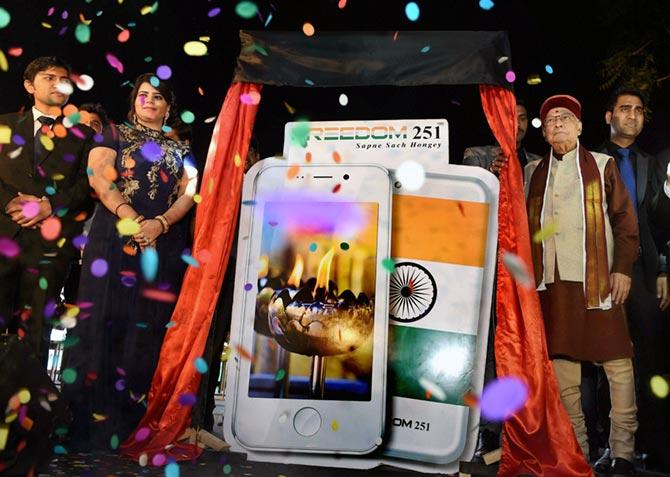 One has to negotiate narrow lanes of Delhi's Gandhi Nagar before reaching the office of Freedom 251 smartphones in Mukharjee Gali
A day after Ringing Bells took the country's mobile phone market by storm with its Rs 251-smart phone, Business Standard went looking for its registered office.
According to the Ministry of Corporate Affairs filings, the registered office is "Old-678-B-New-I-X-6273 G/F Mukharjee Gali, Gandhi Nagar New Delhi -- 110031 Delhi - INDIA".
Till this week, not many would have identified Gandhi Nagar market with mobile phone makers or electronics of any kind.
The bustling East Delhi locality is a wholesale hub of local textiles and ready-made garments.
Tiny 4ftx4ft shops line its dirty, narrow main road with garments of all kinds -- traditional, jeans and kidswear, some on mannequins others on hangers -- inviting potential customers from around the country.
Pan chewing shopkeepers direct enquiries for "Mukharjee Gali" with a slant of the head hinting down the road.
The main road intersects with Ashok Bazar, slightly broader but cut by a median restricting transportation to three wheels or less. Mukharjee Gali makes an appearance after lanes named after Arya Samaj and Jawahar Lal Nehru.
About half the width of the main road, the lane is lined with more whole sale garment shops on both sides with the odd tea shop or a grocer in between.
Legal and illegal overhead electrical wires threaten to fall over any time.
At the far end of the lane, door numbers went missing after 6271. A new series began.
Random enquiries for mobile phone maker get responses like, "The entire market is of readymade garments.
"You won't find any mobile company here."
Finally, strangers lead us to an unmarked shop, which also has racks with garments, but relatively spacious and empty.
A bespectacled man in his late twenties confirms that the shop was indeed the address we are looking for.
He also sounds familiar with Ringing Bells.
Identifying himself as Hemant Surana, he explains that though this is the given address, the books of accounts and other functions are now at the company's "Corporate office" in Noida.
Surana initially identified himself as the proprietor of Shree Suswani garments.
Asked how he came to be related to Ringing Bells, he said it was a client relationship in which Anmol Goel of Ringing Bells had reached out to him through a chartered accountant named Sumit Gupta.
Gupta, who is said to have an office in Barakhamba Road, said the books of accounts and statutory documents are in its corporate office at Noida.
Meanwhile, Surana changed his version and said he was also a chartered accountant and even shared a business card, which identified him as a partner of Surana Associates.
He admitted that Ringing Bells was looking to create hype and ensure a minimum demand for their products but the response far exceeded their expectations.
According to MCA documents, Mohit Goel owns 499,990 shares of Rs 10 each in Ringing Bells. Anmol owns the remaining 10 shares taking the total paid up capital to Rs 50 lakh (Rs 5 million).
The authorised share capital of the company is Rs 1 crore (Rs 10 million).
Bank statements of Goels filed during the time of incorporation in September show balances of a few thousand rupees.
To put this in perspective, even going by the official figures of 30,000 orders received by the company for its Rs 251 phone, it has raised Rs 75.30 lakh (Rs 7.5 million).
In January, the company whose original objects included "telecom products" and "m-commerce" filed an altered memorandum which additionally included "e-commerce, virtual shopping mall with online catalogues." Some of the filings in January mention the Noida address as "Corporate/Branch office."
BJP parliamentarian Kirit Somaiya is worried that this could be a money raising scheme and has moved authorities, there are other troubles coming up as well.
Kamal Gandhi, proprietor of the Mukharjee Gali property, where Ringing Bells is registered, said he has filed a police complaint against the company on Friday.
"We don't have anything to do with the company.
"We have not allowed them to use the address. We have let out the place to a garment shop owned by Kamal Nahata.
"We understand Nahata's nephew by name Hemant Surana has used it for this company. Anybody can misuse other's address, what can we do?"
Accepting the fact that the company or Goels did not have any legal arrangement with Gandhi to use the place as their registered address, Sumit Gupta, the Chartered Account who incorporated the company, and Chadha revealed to Business Standard that they only had a "verbal arrangement with him to use the address for six months".
Anmol Goel, a shareholder and brother of promoter Mohit Goel, who is also said to have liaised with Gupta and Surana, initially said, "Our manager Hemant Surana is there. He is managing the office."
Asked about how nothing related to Ringing Bells or mobile phones or even a name board could be found in the office, he said he would connect to the president Ashok Chadha.
As we left, Surana had promised to meet us at our office in a couple of hours with all documents and explain everything in detail.
When reached on his mobile phone after he did not turn up even long after the appointed hour, he directed us back to the Noida office.