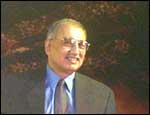 November 2004 will remain a memorable month for B V R Subbu, president, Hyundai Motor India Ltd.
It was this month that HMIL, under his stewardship, overtook market leader Maruti Udyog Ltd, by reporting a record booking of 27,000 units of its B-segment car Santro, surpassing the volumes of Maruti's Alto and M800.
Though automobile manufacturers don't usually share model-wise volume data for competitive reasons, there is strong word from the market that Santro's November performance is true.
Unusually, Subbu prefers to play down this achievement. The reason is easy to understand; it would take a miracle to repeat this feat in December or any of the coming months.
For one, Santro, both in terms of price and its capacity, is not in the same league as the Maruti 800 or Alto. The sheer generosity of the Diwali discount (between Rs 30,000 and Rs 40,000 a piece) on the Sunshine car from HMIL's stable, helped the model emerge as the best-selling model in November.
The Diwali discount was not, however, a mindless price cut. It was "arranged" in such a way that the damage to the company's realisation on each piece dipped by less than Rs 3,000.
"By offering a discount on the pre-tax price, the cut in realisation was spread between excise duty, sales tax, dealer margin and the company's margin. What is important is that we offered it in a month in which sales would peak," Subbu explains.
HMIL's three-day Diwali celebration scheme was made to end with the festival of  Dhanteras (when people traditionally buy metal objects).
It was a well-crafted strategy that took the competition by surprise. The fact that market-leader Maruti announced its offering later during the day is one indication of the efficacy of the scheme.
Subbu will enjoy HMIL's brief moment in the sun, not least because HMIL has certainly established itself as a credible challenger, a fact the industry acknowledges.
In less than a decade HMIL has emerged as India's second largest car maker in India. The Santro alone sells roughly 7,500 units every month. This, analysts say, is impressive considering the volume gap between Santro and Alto or M800 is not wide enough to reflect the two segments to which they belong.
A post graduate of Jawaharlal Nehru University and a product of the Tata Administrative Services, Subbu is a sought-after man in the Indian automobile industry.
"He is one of the few CEOs in the automobile industry who can discuss economics with the same confidence as cars," says a colleague, adding that his boss could be pushy too. "But then, he does a lot of work," he concedes.
Subbu attributes his achievements to a near two-decade haul in Telco (now Tata Motors). He recollects as his best achievement in his Telco days as the headway the Tata models managed in the LCV and MUV segments.
He is also acknowledged for pioneering the concept of third-party logistics for the Tata's automobile business.
His differences with the Tata top management made him the Trojan horse for the Koreans to make a dent in the lucrative Indian automobile market.
In 1996, he parted ways with the Tatas and joined HMIL as director -- marketing & sales. Six years later he was appointed president.
Subbu is good at selling cars. The one thing he cannot do is mince his words. His rather frank comments on the Indo-Thai Free Trade Agreement got him in trouble more than once.
After reading his comments on the Indo-Thai FTA in an interview, former Commerce Minister Arun Jaitley cancelled his visit to Hyundai plant in Korea. However, Subbu is philosophical about people's reaction to his rather unpopular views.
"People can bash you and beat you up for telling the truth. But remember, in the end, truth will prevail," he says.
Candour works both ways for Subbu. He is ready to acknowledge competitors' good performance. For instance, he says Alto is a "good car" and believes that the A- and B-segment cars in India will continue to dominate the Indian roads with a 70 to 75 per cent market share.
As always, Subbu is pressed for time. He can spare half an hour for this article but only during a car ride to Commerce Minister Kamal Nath's office. For once, heavy evening traffic turns into a blessing since it extends the interview beyond the stipulated time.
As his driver steers the enticing Sonata into the Udyog Bhavan parking lot, Subbu instructs him to park behind an M800. That is almost an unconscious acknowledgement of the "little master" that triggered the automobile revolution in India. At any rate, it certainly keeps Subbu on his toes, leaving him hungrier month after month.