If you're a Delhiite, and there's a considerable distance between your home and your workplace, you'll know your day's work isn't done when office closes.
Driving back home, you'll have to contend with the most exasperatingly democratic of roads where buses and cycles jostle for space; with diversions necessitated by work still underway on the Metro; with flyovers that have seemingly been under construction since the Beginning of Days.
Then, when you finally reach home, you'll find the power's gone, the water supply's been erratic through the day and there isn't even a good park nearby where you can go to unwind.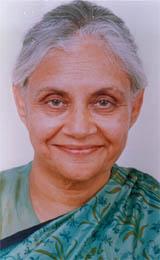 Cut to 2010. The Commonwealth Games are around the corner, and with development on various fronts having been expedited in the past few years, the city can finally be said to have taken its place among the great metropolises of the world.
Where there were once elevated heaps of rubble that you had to manouevre your way around, there are now completed flyovers. A new high-capacity bus service ensures that buses stay in their own lane, segregated from the rest of the road.
No traces of the Metro are visible where they shouldn't be; it's connecting all parts of the city with quiet efficiency. Loadshedding is a term youngsters have to look up in the dictionary.
That scenario may not be as improbable as it sounds. When the plans drawn up for city development by the various authorities are implemented, we could see the emergence of one of the world's great metropolises.
Around 25 per cent of the total outlay of Rs 23,000 crore during the 10th Plan has been set aside for the transportation sector.
What makes road planning and traffic regulation a priority area, says DTC chairman Rajeev Talwar, is that Delhi is a transit city with between 15,000 and 20,000 vehicles moving through the capital en route to other destinations.
A suggestion has already been made to build a 225-km-long "super ring road" around the city's periphery for trucks and buses that enter the city at night.
A number of plans are simultaneously underway to give the city's transport culture a complete makeover before the Commonwealth Games.
Prominent among these is the High-Capacity Bus System (HCBS), which will segregate traffic by designing a special buses-only corridor on selected roads; anyone who's ever had to deal with buses moving their enormous bulk from one lane to the next will know how vital this step is.
Six corridors with a total road-length of 115 km have been identified for the project, for which around Rs 1,000 crore (Rs 10 billion) has been earmarked. "This will enable better utilisation of road space," says Talwar, pointing out that better-quality buses are also in the offing.
Ten thousand buses will be replaced by 2009. The new vehicles will have pneumatic doors, low floorboards to ensure easy boarding and alighting, and an automatic vehicle tracking system for monitoring purposes.
The new road divisions will, of course, make "walk" lights and foot bridges necessary. "The foot bridges will be artistically designed and hoardings will be a definite no-no," says Talwar. "There must be complete visibility so people feel safe using them."
The process of setting up mini-ISBTs (inter-state bus terminals) is underway. "This will help prevent bus congestion from occurring at one centre," says Talwar.
A study is also being conducted with the IL&FS (Infrastructure Leasing & Financial Services) to determine the particulars for implementation of an elevated road project for the city.
The Rs 2,400 crore (Rs 24 billion) Integrated Rail Bus Transit System project, which received approval from the NCR Planning Board in October, will run from Inderlok to Gurgaon and from Shahdara to Anand Vihar via Sahibabad, connecting the capital with its suburbs.
Meanwhile, road expansion and flyover construction continues; Talwar refers to the last major overhaul of Delhi's roads, which was in preparation for the 1982 Asian Games.
"Back then, the flyovers built were perpendicular to the Ring Road," he says. "Now we have reached a stage of congestion again and flyovers are being planned along the road itself." Twenty-two of the 42 flyovers planned have been completed and the rest are under construction.
There are, of course, dissenting voices. "We tend to go in for monolithic solutions," says Dr Arun Kumar, vice-president, Development Alternatives, a research, development and consultancy organisation.
"It's all very well to make elaborate plans for the Metro and high-capacity buses now, but it's 25 years too late. It should have been done when the preparations for the Asiad Games were on. But back then, the thinking was along the lines of flyover-solves-all."
Kumar's colleague Shrashtant Patara, an architect, believes current road plans are aimed at making life easier for car drivers.
"But how much can you stretch the available physical road space?" he asks, visibly sceptical about the practicality of elevated roadways, one atop the other.
"Passenger cars take up disproportionate road space given that they generally don't carry more than one or two people," he says. "It's counter-productive to pander to them."
Patara says we need to look for solutions that exist between the car and the Metro -- like allowing large companies to run bus services rather than having a DTC monopoly.
Or providing for the 10-seater "Maxi-Cabs" that exist in most major cities. "But here, it suits people to keep services illegal," he says. "That way, more money changes hands."
But transport authorities are optimistic that Delhi Metro will solve many of the city's congestion problems.
The second phase of the Metro, which will cost $2 billion, is scheduled for completion by 2008-end and will cover 57 km within Delhi; extensions to Ghaziabad, Gurgaon and Noida are being considered.
"The routes in the second phase will factor in the locations of all the major sports stadia to be used in the Games," says Talwar.
One joke has it that one of the ways to tell that you're among Delhi's elite is if you've never been on the Metro and don't know anyone who has. Given this perception, can the Metro become a practical means of transport for people who have their own cars, the way the tube is in London?
Lalit Nirula, managing director, Nirula's, who has lived in Delhi for over 60 years, believes it can. "Eventually," says Nirula, "road congestion will reach boiling point and the Metro will be a convenient option for upper-middle class office-goers."
However, he cautions, this will happen when all the phases are complete so that the whole city is connected -- "which should be 15
years from now. By that time there will be a generation of people who have grown up without this peculiar snobbishness towards the underground train."
Nirula believes that by the time this happens, Connaught Place will see a radical makeover. Once the centre of Delhi both literally and symbolically, the marketplace has become somewhat downmarket in recent decades with the city's southward expansion.
But Nirula says it should become fashionable again because it will be so well connected by the Metro in all directions. "Parking space will be reduced, the middle circle made completely vehicle-free and the market will ideally become a cultural centre, Delhi's equivalent of Leicester Square."
On the power front, more generating units are in the planning. Land in Bawana, north Delhi, is being developed for a new 1,000 MW power plant and simultaneously a second 330 MW plant will be built at Pragati, next to the existing one.
Both plants should be complete in around three years. "Keeping pollution control in mind, we are looking at a shift from coal-based to gas-based power plants. The Bawana and Pragati plants will be gas-based," says Arun Goyal, CMD, Transco. Self-sufficiency is one of the key objectives.
At present, Delhi's power generation (approximately 700-750 MW) is only around 25 per cent of its total consumption (2,900 MW), making the city heavily dependent on external sources. With the operation of the power plants at Bawana and Pragati, this figure will rise to around 40 per cent.
Transco is also building 400 KV sub-stations at Maharani Bagh and Mundka to improve the quality of power supply in the capital. New transformers are being added; the transformation capacity by March 2005 will be 8,090 MVA (Mega Volt Ampere), up from 7,175 last year.
"After unbundling in the power sector, each entity has become more focused," says Goyal. "Our aim is to make loadshedding a distant memory within three to four years."
Meanwhile, the Delhi Electricity Regulatory Commission is taking steps to regulate the still-faulty metering and billing system.
Kumar of Development Alternatives says water and solid waste management are two of the areas where the city needs to pull up its socks.
Kumar's own office is located on the fringes of the Kishengarh forest in south-west Delhi, and he laments that these woods, which could have been put to valuable use in rainwater harvesting, are being systematically encroached upon instead.
Rakesh Mohan, CEO, Delhi Jal Board, counters that rainwater harvesting is another priority area. "We have spoken to the MCD about not approving building plans unless there is provision for rooftop collection."
Mohan says demand management is essential. "We have to prioritise the use of water and reduce leakages." Flushing and cleaning has begun on the Sonia Jal Vihar project to bring in 140 MGD of water from the Sonia Vihar Water Treatment Plant.
"The trouble with us," Kumar says, "is that we wait for a problem to boil over into crisis before we take remedial steps." The air problem, he points out, was tackled efficiently with the conversion of all public transport to CNG. "We need citizens and the government to work together in other areas too."
But a city needs more than just its civic infrastructure to qualify as a world city. In recent years, that's one aspect that has already gained a fair bit, with hotels and restaurants, theatre and world food, multiplexes and malls storming its cultural landscape.
The international airport, however slowly, is due for privatisation. There are more golf courses and leisure parks, residential apartments with penthouses and swimming pools and health clubs; services -- everything from restaurant takeaways to groceries -- are on call.
On any evening, there are art shows and international bands performing at prominent venues. The signs are all there for
Delhi -- so far infamous only as India's capital -- becoming a world-class megapolis. But only if the development and growth of its infrastructure keep their date with destiny.
Sheila Dikshit
CEO SPEAK
---
Are we missing the wood for the trees by planning only with the 2010 Commonwealth Games in mind?
Not at all. If project planning is expedited, it can only be a good thing in the long run as well. And don't forget, we intend to make a bid for the 2016 Olympics too, so there's no question of becoming complacent after the Commonwealth Games.
Why do roadway projects consistently fail to meet deadlines?
The problem we often face is that of multiplicity. Sometimes, for instance, one side of a road might be controlled by the MCD and the other side by the NDMC.
Transport management faces similar pitfalls which make for tortuous processes and cause delays. We are trying to smoothen these things out.
What is the present status of the Sonia Jal Vihar water project? There have been so many delays already.
The project has started, flushing is currently underway. Drinking water is a high-priority area for us. The reason for occasional hitches is that Delhi doesn't produce anything itself -- everything has to come in from other states and the supply chain is often a complicated, cumbersome one.
What will the future of housing be like?
I think the plot-of-land concept is outdated. We need to go high-rise. Also, labourers -- who have so far been setting up shanties/jhuggis near their place of work -- must be given the option to take two-room flats.
What is being done by way of cultural activities and entertainment?
We have successfully organised the Qutab and Ananya festivals, and are planning Dilli Haats in East and West Delhi. Creating parks is another priority area.
Are you satisfied with the state of your financial management?
It's been pretty good so far. We aim for transparency, and to spend money well. We've greatly improved the efficiency of the tax collection mechanism, which means there's been a 22 per cent increase in tax collection without an increase in taxes.
What is your overriding vision for the capital?
Delhi's citizens -- be they carpenters, civil servants or artists -- must feel the city belongs to them.
They must believe their contribution to Delhi is as important as anyone else's; that's the essence of Bhagidari. Too often in the past, there's been the attitude of taking from Delhi without putting anything back into it.