Turbocharged with technology is becoming the Holy Grail of retail.
Indrajit Gupta reports.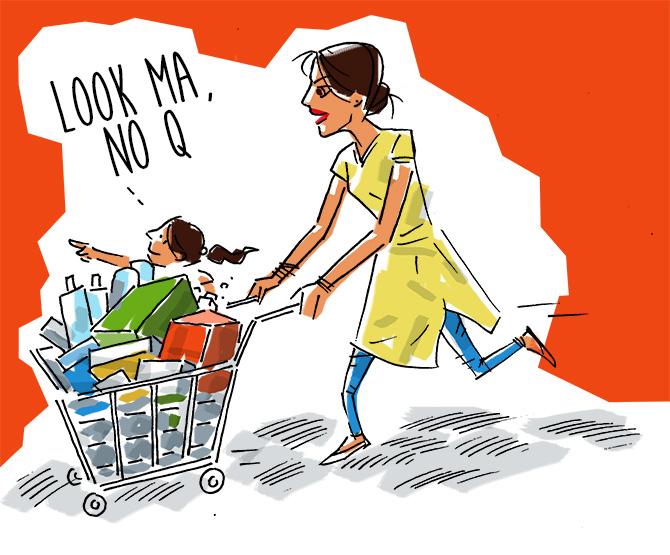 Illustration: Dominic Xavier/Rediff.com
Last month, Kishore Biyani set the cat among the pigeons by unveiling an audacious blueprint -- Retail 3.0.
The Future Group czar's vision is to create 10,000 small stores by 2022 that would be turbocharged with technology -- shopping assistants, ordering apps, in-store sensors, digital coupons, voice-activated ordering, self-check outs options, et al -- to offer a seamless physical and virtual experience to the customer.
In many ways, this is becoming the Holy Grail of retail.
Alibaba has been experimenting with a model, which it calls New Retail, for the past 18 months at its Huma supermarket stores in China.
Walmart's blended commerce business is starting to rev up.
Back home, Reliance Jio is getting ready to partner with its retail business in a similar fashion.
German retailer Metro AG began experimenting with deploying all the emerging technologies at its model Metro Future Store, just outside Dusseldorf. (In 2004, I was part of a visiting delegation of global journalists that was taken to see what was then described as the future of shopping).
This vision of a technology-enabled commerce is compelling. Not just because it makes the process of buying and selling more efficient, but also because of a tiny instrument that dominates our lives: The smartphone.
Retailers believe that the smartphone presents a perfect gateway to engage and offer exciting new shopping options for customers.
The moot point: Will customers in India embrace this revolution?
And more importantly, can old-style retailers dramatically transform themselves from within to serve customers in new, innovative ways?
Like everything in life, it will be a mixed bag.
None of these new digital shopping methods are rocket science for the tech-savvy new generation of consumers. The real challenge will be for retailers to become more nimble and agile, and disrupt their own ways of working.
And there's one other critical issue: Technology is at best an enabler. And too much of it can confuse, unnecessarily complicate lives, and also become intrusive -- something that most techies sometimes miss.
At the best of times, all that customers look for is the right assortment being available whenever they need it and at the right price.
So just how much of technology should one chose to deploy, especially when customers are looking for simple conveniences while buying everyday groceries is worth mulling over.
Real-time data:
Customer data was available with a time lag. And most retailers took decisions based on past data. Digital has now made it theoretically possible to collapse that decision-making and make it almost real-time. And in many ways, machine learning led.
Significant investments are required to build real-time data management capabilities. And it is sometimes easy to be seduced by powerful tech evangelists such as Google and Facebook. But is there a proven business case to do that?
The jury is still out on that.
Democratisation of data:
Today's digital technologies allows one to strip away management layers and carry the signals from the customer directly to key decision makers, without old-style MIS folks getting in the way. It is a fundamental disruption.
And it needs both loads of data scientists who can make sense of the data, identify patterns and also, line managers who are trained to act quickly based on what they see.
Telecom executives have had access to rich data for years. And, yet done very little with it so far.
Creating a sense-and-respond culture will take some effort.
Digital champions:
Expecting everyone, especially those in their 40s and 50s, to change with the times is hard. That's why the Future Group has injected a few lightening rods, in social media and in data sciences. These champions have been given the freedom to form teams, hiring relevant talent and find partners from outside along with a bunch of change-ready insiders.
And the change, especially in the way it manages social media, has been palpable. And demonstrable results then provide a good momentum for change, helping the large pool of sceptics from within to join the bandwagon.
Digital natives:
The average age of shoppers in India will continue to fall. And who is best placed to understand what a 21-year-old college kid is looking for?
Here, too, the Future Group has understood this dynamic well. It has build a cadre of young brand owners, hired fresh from campus and put them in charge.
These young folks have a far better handle on the kind of merchandise and or even social media engagement that will appeal to their cohort of singles. And it is quite different from what today's 30-year-olds seek.
Resetting expectations:
Tracking customer preferences and generating rich profiles sometimes gives the impression that every customer need can be meet. There is, however, a cost to serve. And retailers need to be careful of setting the right expectations so that they can consistently serve customers.
That's where creating a home-delivery model within a 2-km radius in its easy day store is a sensible approach.
The search for a new, yet sustainable, Retail 3.0 model has begun.
The writer is co-founder at Founding Fuel.